Hann Trier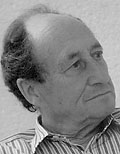 1915 Kaiserswerth/Rheinland
1999 Castiglione della Pescaia


In 1934 Hann Trier began studying at the Staatliche Kunstakademie in Dusseldorf completing his state examination four years later in Berlin. After his military service Trier became an engineering draughtsman in Berlin in 1941, but was drafted once more into military service in 1944. He returned to the Rhineland in 1946, where he founded together with Toni Feldenkirchen, Hermann Schnitzler, Joseph Faßbender and others the "Donnerstagsgesellschaft" [Thursday society], with whom he arranged a 'Tag der abstrakten Kunst' [Day of abstract art]. Trier was searching for his own abstract image language, oriented himself to Paul Klee and Juan Gris' synthetic Cubism. Soon he disengaged from the geometric austerity of coloured areas and tried to depict the principle of speed and acceleration. The line became an important element, which displayed, in his eyes, power and movement. In this he can be associated with Hans Hartung, by whom he was influenced during that period of work. The years from 1950 on were dominated by numerous travels to France, the USA and South America, where he stayed from 1952-1955. There he tried to paint with both hands, with two brushes in a simultaneous movement, which soon became a principle of form. Returning to Germany in 1955 he accepted the position as a guest lecturer in Hamburg and taught at the Hochschule für Bildende Künste. Two years later he was called to the Hochschule für Bildende Künste Berlin where he stayed until 1980. Since c. 1961 Hans Trier's act of painting was centre line oriented. Symmetrical compositions came into existence, in which broad brush strokes were constructed to a differentiatedly modulated tone of colour. In 1972 he created the big ceiling picture in Charlottenburg Castle. Another ceiling picture came into being in the town hall in Cologne in 1977/80, a third one was made for the German embassy in Rome in 1984. For the Wallraff/Richartz-Museum/Museum Ludwig in Cologne he created a mural in large format, another one like this was installed in the stair well of the Von-der-Heydt-Museum in Wuppertal where a retrospective of his paintings took place the very same year. Hann Trier received numerous awards, e.g. the Verdienstorden of North Rhine-Westphalia. He participated regularly in exhibitions and took repeatedly part in the documenta in Kassel. The Von der Heydt-Museum Wuppertal organised a retrospective of his paintings on canvas on the occasion of his 75. birthday.
Related artists
Mathieu, G.
Sale 410 - Dec. 07, 13
Lot 1203
Oil on canvas 1958
50,000 EUR / 68,000 $ Place Bids
Details
Tàpies, Antoni
Sale 410 - Dec. 07, 13
Lot 890
Etching and aquatint in colors 1990
8,000 EUR / 10,880 $ Place Bids
Details
Schumacher, E.
Sale 410 - Dec. 07, 13
Lot 726
Etching and aquatint 1990
4,500 EUR / 6,120 $ Place Bids
Details
7 more offers
Winter, Fritz
Sale 410 - Dec. 07, 13
Lot 710
Monotype 1934
3,200 EUR / 4,352 $ Place Bids
Details
1 more offer
Hartung, Hans
Sale 410 - Dec. 07, 13
Lot 749
Pencil drawing 1961
3,500 EUR / 4,760 $ Place Bids
Details
2 more offers
Schultze, B.
Sale 410 - Dec. 07, 13
Lot 748
Chalk drawing 1992
7,000 EUR / 9,520 $ Place Bids
Details
1 more offer
Dahn, Walter
Gallery Sale
Lot 811
Mixed media 1986
1,400 EUR / 1,904 $
Details
Kreutz, Heinz
Gallery Sale
Lot 714
Silkscreen in colors 1969
390 EUR / 530 $
Details in German