Internet auction by Fine Art Auctions, ends in: 8 day(s)
Lot: 410806033
Renoir, Pierre-Auguste
Baigneuse debout, a mi-jambes, 1910.
Starting bid: 1,240 EUR / 1,637 $
Yes,
I'd like
to receive future offers: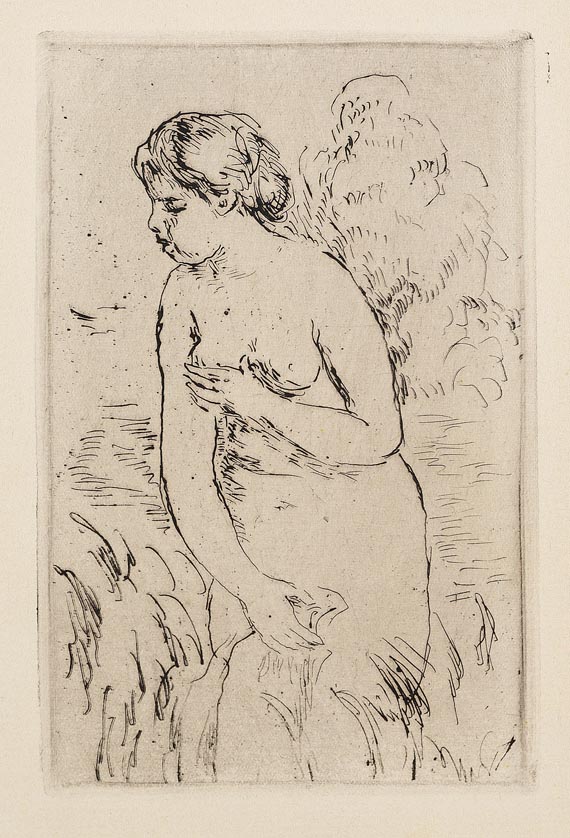 Lot: 410806033
Pierre-Auguste Renoir
1841 Limoges - 1919 Cagnes-sur-Mer
Baigneuse debout, a mi-jambes.
Etching.
On laid paper. 16,8 x 11,1 cm (6,6 x 4,3 in). Sheet: 24,4 x 15,7 cm ( x 6,1 in).
First released in: Théodore Duret, Manet and the French Impressionists, London 1910. Presumably later impression.

Good overall impression. Slightly discolored, Margin more obvious as well as with few small brownish spots. Lower left with with small skinning and small hole. [KP].
Renoir
Sale 406 - June 08, 13
Lot 10 - in 20 days
Lithograph 1898
15,000 EUR / 19,800 $ Place Bids
Details
Renoir
Sale 403 - April 19, 13
Lot 87
Lithograph in colors 1898
8,000 EUR / 10,560 $ Place Bids
Details
Renoir
Sale 403 - April 19, 13
Lot 88
Lithograph 1904
1,800 EUR / 2,376 $ Place Bids
Details
More Current Offers: 2