Sale: 300 / XXth Century Classics, June 02. 2006

Lot 46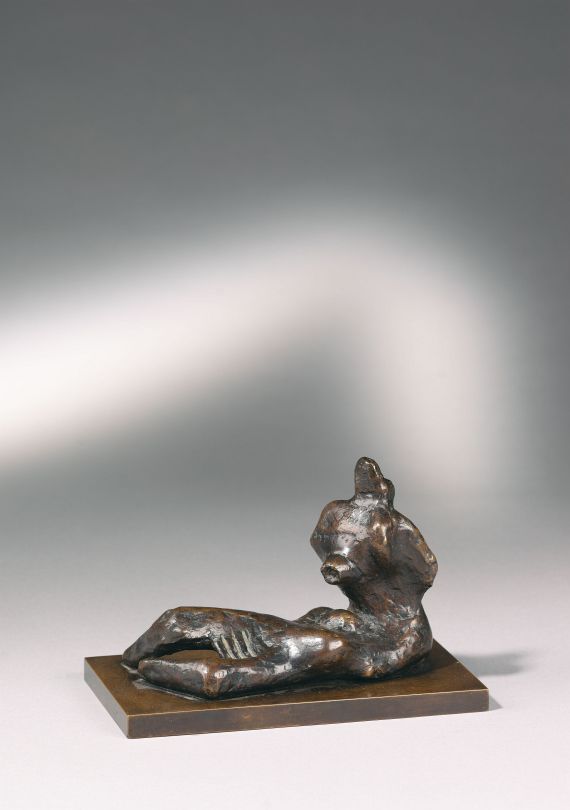 46
Reclining Figure: Flint, 1977.
Bronze
Estimate:
€ 50,000 / $ 55,000
Sold:

€ 32,130 / $ 35,343
(incl. 19% surcharge)
Reclining Figure: Flint. 1977.
Bronze mit dunkelbrauner Patina, auf Bronzeplinthe.
Moore. Catalogue raisonné, Band 5, Nr. 739. Hinten an der Plinthe mit dem eingeschlagenen Signaturstempel und der Nummerierung. Exemplar 2/9. 12,4 x 17,3 x 9,2 cm ( 4,8 x 6,8 x 3,6 in), ohne die Plinthe.
Obwohl Henry Moore schon zu Schulzeiten von seiner Kunsterzieherin ermutigt wird, seiner künstlerischen Begabung nachzugehen und er diese Leidenschaft auch zum Beruf machen möchte, kommt er dem Wunsch seines Vaters, Lehrer zu werden, nach. So besucht Moore 1915 das Lehrerseminar und erhält daraufhin eine Stelle an der Temple Street School in Castleford. 1919 nimmt er diese wieder auf, entschließt sich, kurze Zeit später an die Leeds School of Art zu wechseln, um zu studieren. Man richtet ihm als vorläufig einzigen Schüler eine eigene Bildhauerei-Ausbildung ein. Als Moore 1921 ein Stipendium für das Royal College of Art erhält, siedelt er nach London über, wo er sich im British Museum dem Studium mexikanischer Plastik sowie der Kunst der Naturvölker widmet. In der ersten Hälfte der 1930er Jahre durchläuft Moore eine Phase, in der er mit surrealistischen, dann mit geometrisch-abstrakten Ideen experimentiert. Zu den Grundthemen seiner Arbeiten zählen menschliche Figuren, die aus Holz, Stein, Zement, Terrakotta und Bronze in teils naturnahen, teils abstrakten Formen gearbeitet sind. In den 1940er Jahren erhält Moore zahlreiche Aufträge für den öffentlichen Raum sowie mehrere Auszeichnungen u.a. den Internationalen Preis für Skulptur der Biennale Venedig 1948.
Das Charakteristische der Plastiken Henry Moores ist ihr archaisch anmutendes, erdhaft-schweres Formengut. Seine liegende Figuren scheinen gerade der Erde entstiegen zu sein und bleiben mit ihr verwurzelt. Das Körperhafte, das Moore unter Zurücknahme des individuellen Ausdrucks betont, bestimmt die Gesamtstrukur seiner Plastiken. Selbst in den kleinen Maquetten lässt sich der Künstler von den Formen einer ins Große gedachten Körperlichkeit leiten. Auch sie haben den Zug zum Monumentalen ohne jedoch in eine künstliche Monumentalität zu verfallen. Moores Plastiken sind wenig raumgreifend, da sie den Raum bereits in sich tragen. Basierend auf einer in sich beharrenden Formensprache behaupten sie sich in ihrer Geschlossenheit. Obwohl der Abstraktion nahe, bleibt Moore in seinen gestalterischen Mitteln der Tradition verpflichtet. Doch im Gegensatz zum klassischen Formengut betont der Künstler in seiner Plastik das Kreatürliche.
Henry Moores Figuration und Abstraktion verbindender Stil hat die europäische Skulptur der ersten Nachkriegszeit erheblich beeinflusst. Der Künstler stirbt am 31. August 1986 in Much Hadham/Hertfordshire. [KD]
46
Reclining Figure: Flint, 1977.
Bronze
Estimate:
€ 50,000 / $ 55,000
Sold:

€ 32,130 / $ 35,343
(incl. 19% surcharge)
You might also be interested in
Henry Moore - lots sold by Ketterer Kunst