Sale: 350 / Modern Art, June 19. 2009 in Munich

Lot 208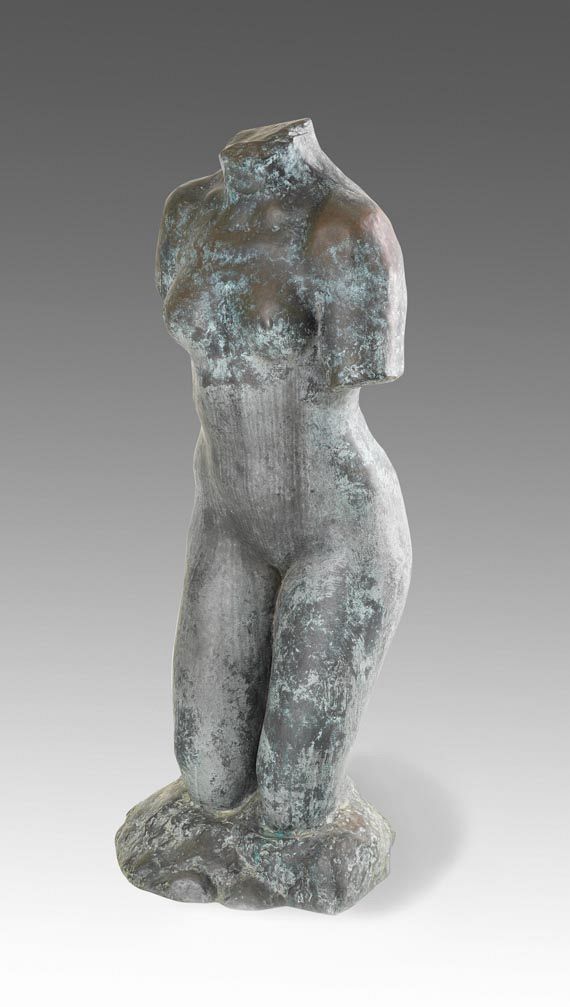 208
Nach - La Prière (étude), 1909.
Bronze
Estimate:
€ 40,000 / $ 44,000
Sold:

€ 68,320 / $ 75,152
(incl. 22% surcharge)
Lot: 208
Auguste Rodin
1840 Paris - 1917 Meudon
Nach - La Prière (étude). 1909.
Bronze with greenish-black patina .
With foundry mark "Bronzart F. Amici Mendr(isio)" on base. One of 4 unauthorised casts, executed by the Kunsthaus Zürich, previous to an edition of 12 copies. 121 x 49 x 46 cm (47,6 x 19,2 x 18,1 in).
Replica from 1968 of the original in gypsum in the Kunsthaus Zurich, which is going to be officially noted on the sculpture according to the Comité Auguste Rodin, Paris.

We are grateful to the Comité Auguste Rodin, Paris, for the kind support in cataloguing this lot.

PROVENANCE: Kunsthaus Zurich.
M. Peter Sequin, Zurich (since 1968).
Private collection Spain.

LITERATURE: Judith Cladel, Auguste Rodin. L'œuvre et l'homme, Brussels 1908 p. 120 (with illustration).
Auguste Rodin und die Kunst. Gespräche des Meisters gesammelt von Paul Gsell, Leipzig 1916 (with illustrations between pp. 84 and 85).

While attending the Petite École (which was actually intended as a trade school for practitioners of the applied arts) for three years beginning in 1854, Rodin discovered that he was interested in sculpture. He applied to the Grande École but failed the admissions examination three times. Since that excluded him from the classic course of training, Rodin at first worked on the side as a decorator and architectural sculptor, which enabled him to earn a livelihood as a freelance artist. The following decade saw Rodin the recipient of major state commissions: "The Gates of Hell", "The Burghers [Citizens] of Calais", the "Victor Hugo" monument and a large marble version of the famous sculpture "The Kiss". In 1183 Rodin met Camille Claudel, who would be his assistant, model and lover for fifteen years.
In "La Prière", a female torso, notable for classic similicity, incorporates forms that would, however, play a rather unusual role in Rodin's œuvre. Auguste Rodin loved drama, be it in his gestural or his formal language. It was no coincidence that his contemporaries viewed him as the interpreter of impressionism in sculptural form. The very titles of Rodin's works reveal his urge to pathos, his way of lending a dramatically meaniningful content with exaggerated expression. Yet Rodin's masterly handling of form and his brilliant feeling for the space surround it put him at a far remove from the overstated emotions informing the formal canon of Historicism, which matched the taste prevailing at the time. The poet Rainer Maria Rilke wrote on Rodin's "armless picture herms" as follows; "It is not from simply looking that one has the feeling that this is unfinished but from the ponderous consideration, from petty pedantry, which dictates that arms belong to a body and that there can be no body without arms, not at all [...] An artist is permitted to make one thing from many and a world from the most minute part of a thing" (quoted in Auguste Rodin, in: Die Kunst, Richard Muther/Julius Bard (eds.), Berlin n. d. [probably 1902], p. 27f.). Already anticipating the direction that would assert itself openly at the turn to the 20th century, "La Prière" returns its core quality to sculpture: pure form.
Rodin's reputation as a universally acclaimed sculptor was not consolidated until the late 1880s, when an exhibition featuring thirty-six of is works was a resounding success. In 1905/06 Rainer Maria Rilke was Rodin's secretary. In 1911 Rodin's book on art, which is the most important source on his theory of art, was published in 1911. In 1916 the Rodin Museum was established in the Hôtel Biron based on a donation of works to the state. Auguste Rodin died at Meudon in 1917. [KD].

In very good condition.

EUR: 40.000 - 60.000 DIFF.(19%)
US$: 54.560 - 81.840


208
Nach - La Prière (étude), 1909.
Bronze
Estimate:
€ 40,000 / $ 44,000
Sold:

€ 68,320 / $ 75,152
(incl. 22% surcharge)
Auguste Rodin - lots sold by Ketterer Kunst