Sale: 351 / Post War, June 20. 2009 in Munich

Lot 138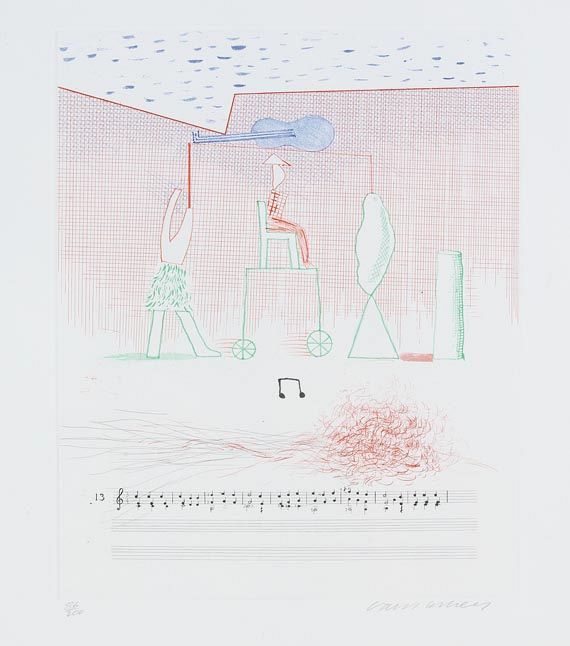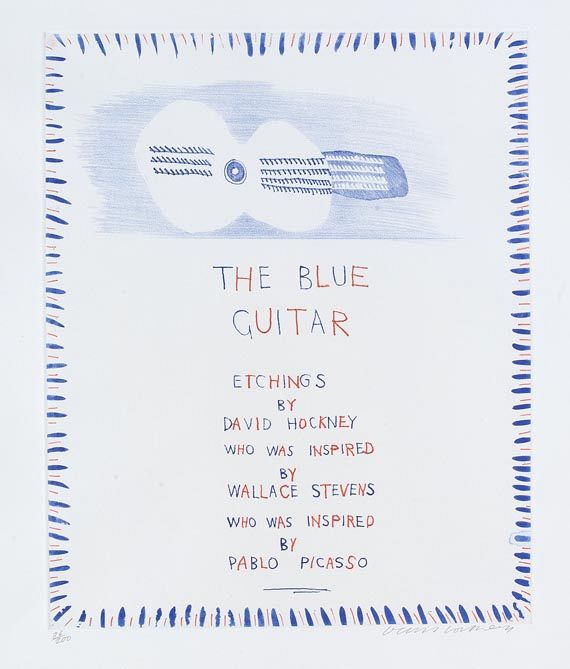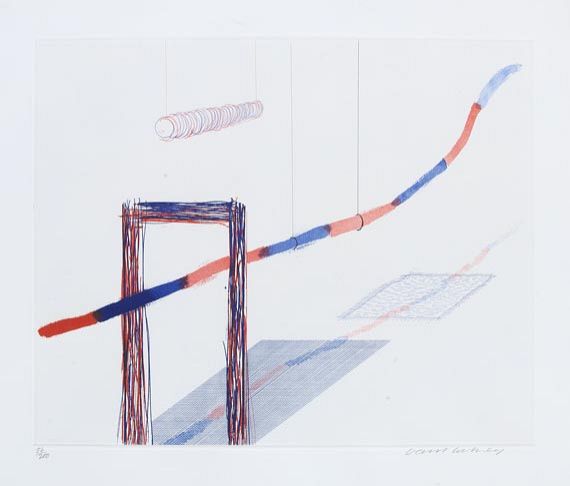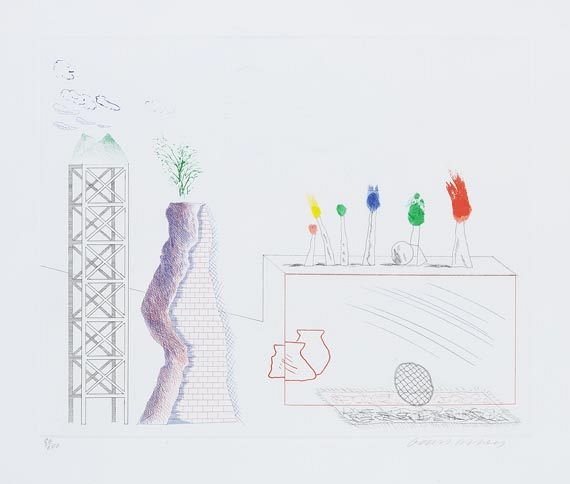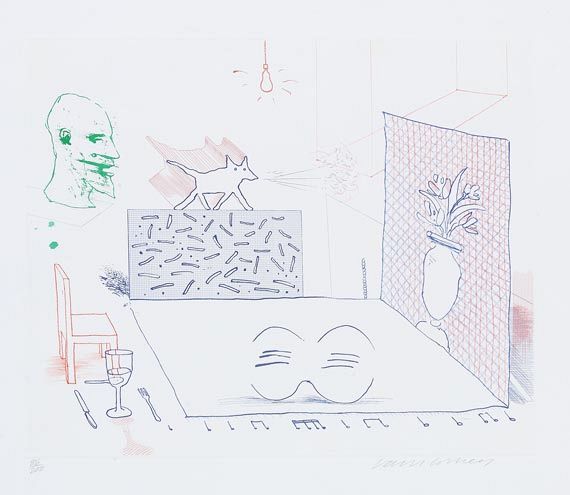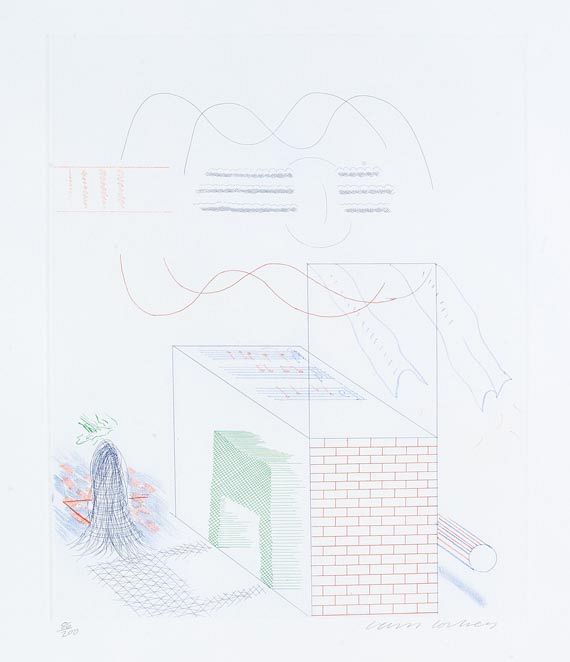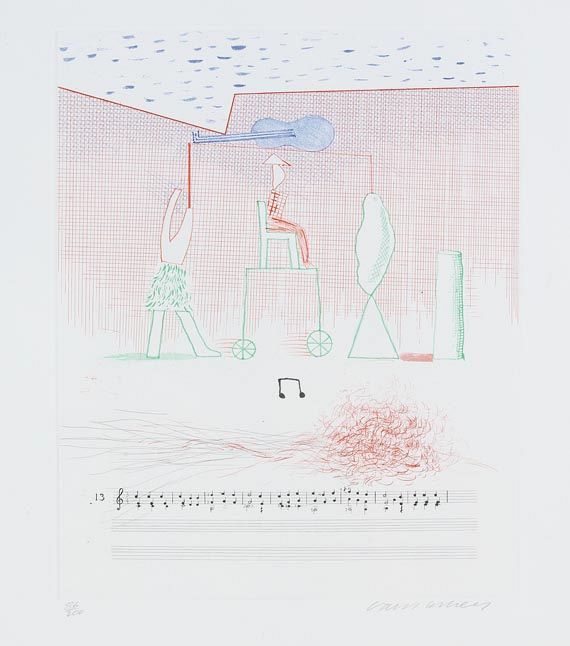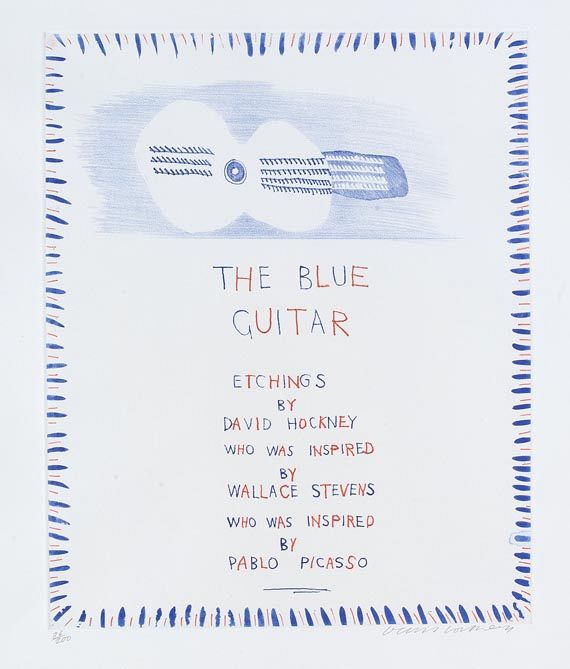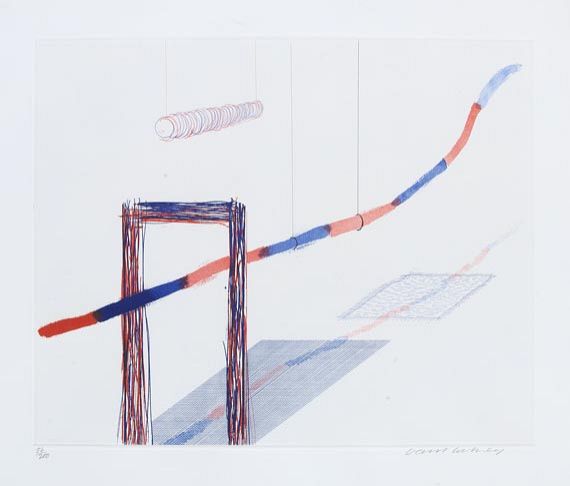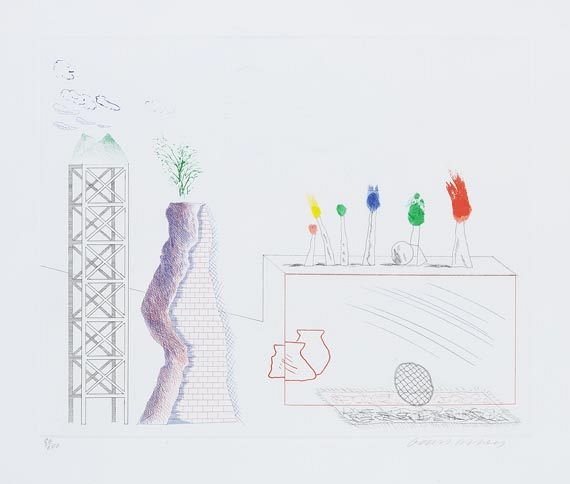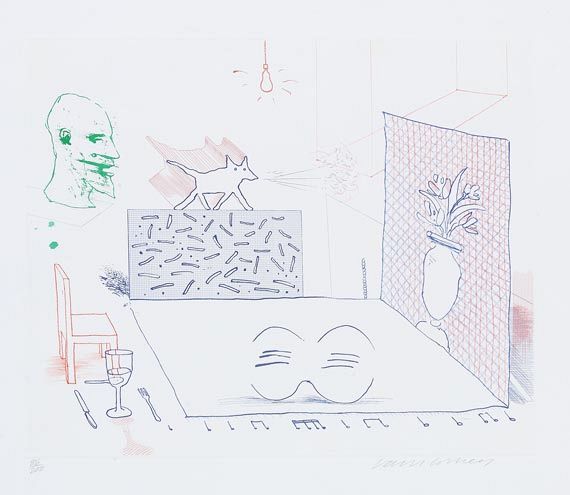 138
The blue Guitar, 1976.
Etching in colours
Estimate:
€ 14,000 / $ 13,160
Sold:

€ 14,640 / $ 13,761
(incl. 22% surcharge)
Lot: 138
David Hockney
1937 Bradford - lebt und arbeitet in London und Los Angeles
The blue Guitar. 1976/77.
The portfolio comprising 20 Etching in colors and imprint and table of contents, released by Petersburg Press 1977.
Scottish Arts Council 199-218. All signed and numbered 86/200. Each with stamped title on verso. On firm wove paper by Somerset Inveresk (without watermark). Each 34,4 x 42,4 cm (13,5 x 16,6 in). Sheet: 45,5 x 52,2 cm (17,9 x 20,5 in)..
Printed by Dany Levy, London. Loose sheets in orig. imitation calf case. The complete set.

David Hockney spent the summer of 1976 on Fire Island off New York with a friend, who drew his attention to a collection of poems by the American poet Wallace Stevens. Hockney was particularly entranced with the Stevens poem The Man with the Blue Guitar . The background was a visit Wallace Stevens paid to an exhibition in 1936, where he saw the Pablo Picasso painting "The Old Guitarist" \u8210 painted in 1903 when Picasso was in his Blue Period. In the Wallace Stevens poem, the blue guitar becomes a symbol for the creative artistic imagination. No wonder then that Hockney, as an artist and admirer of Picasso, found a rich source of inspiration in that particular poem. Making use of the few drawing materials he had at hand on Fire Island, Hockney spontaneously produced ten drawings in which he interpreted Picasso's style in his own way. After working on several paintings dealing with the subject, Hockney decided in autumn 1976 to expand the theme into a sequence of color etchings. The result is the present portfolio, which bears the apposite title "The Blue Guitar, etchings by David Hockney, who was inspired by Wallace Stevens, who was inspired by Pablo Picasso". [NB]

In very good condition. With remains of a former mounting on verso, slightly overlapping. Slightly foxed in places of margins.

EUR: 14.000 - 18.000 REGEL(7%)
US$: 19.096 - 24.552


138
The blue Guitar, 1976.
Etching in colours
Estimate:
€ 14,000 / $ 13,160
Sold:

€ 14,640 / $ 13,761
(incl. 22% surcharge)
David Hockney - lots sold by Ketterer Kunst