Sale: 355 / Old Masters and Art of the 19th Century, June 19. 2009 in Munich

Lot 329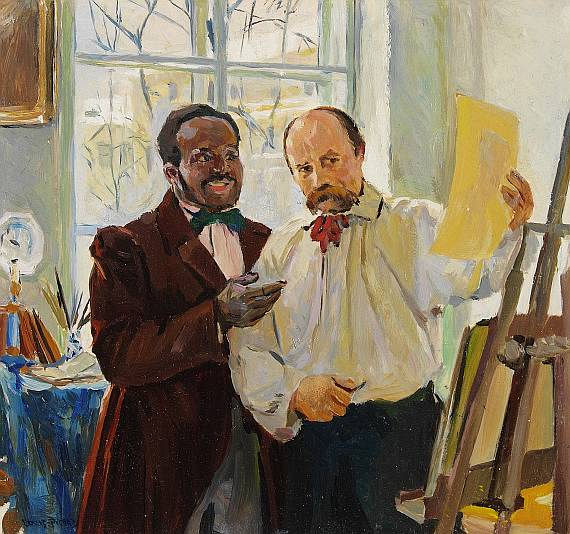 329
Ira Aldridge im Atelier Taras Schewtschenkos, 1900.
Oil
Estimate:
€ 8,000 / $ 8,000
Sold:

€ 17,080 / $ 17.080
(incl. 22% surcharge)
Lot: 329
Louis Picard
1861 Paris - 1940 Paris
Ira Aldridge im Atelier Taras Schewtschenkos. Um 1900.
Oil on cardboard.
21,8 x 23 cm (8,5 x 9 in).

The people who Louis Picard depicted in a studio as a collector and an artist are most likely to be the Ukrainian national poet Tara Schewtschenko (1814-1861) and the then internationally acclaimed actor Ira Aldridge (1807-1867). The latter appeared in plays in St. Petersburg and Moscow in the late 1850s, when he met Schewtschenko who was both active as painter and writer. Aldridge, who was one of the first colored Othello actors, embodied for Schewtschenko and his contemporaries the hope for a successful emancipation from their own serfdom. It is therefore that Louis Picard's posthumous portrait can be interpreted not only as a document of the artists' friendship, but also from a political perspective. Picard, born the year Schewtschenko died, presumably was familiarised with the subject through Théophile Gautier's Russian travelogues and their accounts of a performance of Ira Aldridge in St. Petersburg. Additionally, it is also the physiologic similarity of the depicted persons with contemporary photographs that confirms this historic background.
Taras Schewtschenko's critical writings on Russia's social policies lead to several years in exile and in prison, as well as to an occupational ban regarding writing and painting. Picard depicts the writer and painter in his studio after he had been released from prison and returned to St. Petersburg in 1858. Standing next to him is Ira Aldridge, who played the roles of Othello and King Lear at the St. Petersburg Theatre. A portrait of Aldrige by the hand of Schewtschenko from winter 1858 can be regarded proof of their friendship. [KA].

Colors in good and fresh condition.

EUR: 8.000 - 12.000 DIFF.(19%)
US$: 10.912 - 16.368


329
Ira Aldridge im Atelier Taras Schewtschenkos, 1900.
Oil
Estimate:
€ 8,000 / $ 8,000
Sold:

€ 17,080 / $ 17.080
(incl. 22% surcharge)
You might also be interested in
Louis Picard - lots sold by Ketterer Kunst