Sale: 361 / Post War/ Contemporary Art, Dec. 12. 2009 in Munich

Lot 350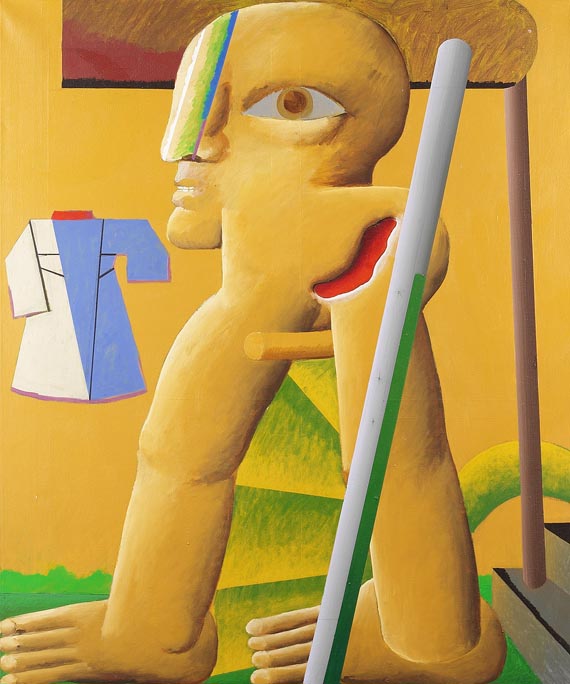 350
Ocker-Figur mit Wunde (und farbigen Rock von Max Tilke), 1970.
Aquatec
Estimate:
€ 40,000 / $ 42,400
Sold:

€ 91,500 / $ 96,990
(incl. 22% surcharge)

Aquatec on canvas
Signed, dated, titled and inscribed "Aquatec" on verso. 120 x 100,5 cm (47,2 x 39,5 in)

PROVENANCE: Galerie d'Eent, Amsterdam.
Private collection Netherlands.

EXHIBITION: Antes - Bilder 1965 - 71, Staatliche Kunsthalle Baden-Baden, 30 July - 26 September 1971, cat. no. 93 (with label on stretcher).

Horst Antes was born in Heppenheim on the Bergstraße on October 28, 1936. After his Abitur he studied under the important woodcutter HAP Grieshaber, who held on to figuration despite the then prevailing trend, at the Academy of Visual Arts in Karlsruhe from 1957 to 1959. But yet, Antes' origins can be located in the Informel and its gestural expression. One of his most important role models was Willem de Kooning, who combined informal and figurative elements in his work.
In 1960, he gradually thinks up the figure of the 'Kopffüßler' (literal translation: Head-Footer) from vehemently jotted color structures, a form which preoccupied the artist in numerous variations and artistic techniques. By 1963 his 'Kopffüßler' was fully developed in its stylistic and contextual premises and became also compulsory for his sculptural work, which began the very same year.
During this period his liking for a profile view consolidated, however, it was abandoned later on and color was subordinate to form.

Narrative elements are integrated in the composition by adding objects. The figure depicted undergoes a transformation from the formulaic to the individual. On the one hand, the beholder sees the coat of Max Tilke. Max Tilke (1869-1943) was a well-known expert on clothes, he was particularly interested in clothes from East Asia. The artist Horst Antes also holds a deep interest in cultures outside of Europe, he is occupied with myths and traditions of other people and is also a collector of their art. Another element is the cicatrize on the Head-Footer's head, as it occurred in the 1970s, in this case it seems to hint at man's vulnerability. The other objects that surround the figure can also be found on the "Große Okerbild" (Big Ochre Picture ) from 1970, which today is in possession of the Bayerischen Staatsgemäldesammlung (inventory number 15562): cross, lance and vinegar sponge hint at the passion of Christ.

Horst Antes also gives away his ideas of a new figuration in the context of his various teaching activities, from 1965 to 1971 at the Karlsruhe Academy, a guest-professorship in Berlin from 1968 to 1984. Besides numerous other awards, the artist received the Hans-Molfenter Prize from the state capital Stuttgart in 1989. Since 1990 the artist has been living and working in Karlsruhe, Florence and Berlin. Antes' oeuvre includes not only paintings and graphic art, but also sculptures in public spaces. His works are exhibited throughout the world and are represented in all of the most important German collections, in the Kunsthalle Hamburg, the Museum Ludwig in Cologne or the Nationalgalerie Berlin. [EH].


350
Ocker-Figur mit Wunde (und farbigen Rock von Max Tilke), 1970.
Aquatec
Estimate:
€ 40,000 / $ 42,400
Sold:

€ 91,500 / $ 96,990
(incl. 22% surcharge)
You might also be interested in
Horst Antes - lots sold by Ketterer Kunst