Sale: 361 / Post War/ Contemporary Art, Dec. 12. 2009 in Munich

Lot 396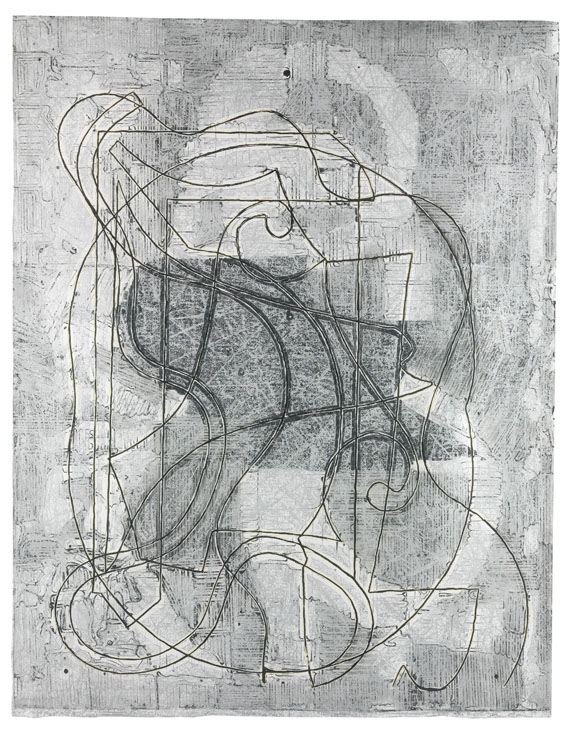 396
Imola Three I, 1982.
Etching in colours
Estimate:
€ 5,000 / $ 5,650
Sold:

€ 10,370 / $ 11.718
(incl. 22% surcharge)

Farbradierung mit Prägedruck
Axsom 142. Signiert, datiert und nummeriert. Exemplar 29/30. Auf festem Velin. 167,5 x 130 cm (65,9 x 51,1 in), blattgroß
Herausgegeben von Tyler Graphics Ltd.

Frank Stella wird 1936 in Malden, Massachusetts, geboren. Nach dem Besuch der Phillips Academy in Andover studiert er von 1954 bis 1958 in Princeton. Neben seinem Hauptfach Geschichte besucht er eine Malklasse der Universität. Anschließend nimmt er sich ein Atelier in New York, wo ihn der Abstrakte Expressionismus und insbesondere die Arbeiten von Jasper Johns beeindrucken. Bald darauf entstehen die ersten Werke der "Black paintings"-Serie. 1959 kann Stella vier dieser riesigen Leinwände auf der Ausstellung "Sixteen Americans" des Museum of Modern Art ausstellen und wird schlagartig bekannt. Das Experimentieren mit symmetrischen Mustern in verschiedenen Serien wird zum Kennzeichen seiner Kunst. 1970 zieht eine große Retrospektive im Museum of Modern Art, die später unter anderem in der Haywoard Gallery in London und im Stedelijk Museum Amsterdam gezeigt wird, eine erste Bilanz seines Schaffens. Seit den 1970 Jahren drängen die Arbeiten Stellas durch das Medium des Reliefs auch in den Raum. 1983 wird Frank Stella zur Charles Eliot Norton Professor of Poetry an der Harvard University in Cambrigde ernannt.

In der Werkgruppe "Circuits", zu der auch unser Blatt gehört, bezieht sich Frank Stella auf seine Besuche verschiedener Autorennstrecken und die in der Folge entstandenen Gemälde. Der immer wieder folgende Ablauf des Rennkurses wird auf dem tonigen Farbgrund zu einem mehrschichtigen Liniengewirr. Die Arbeiten dieser druckgrafischen Serie sind technisch höchst innovativ. Stella entdeckt für sich eine Kombination aus Tief- und Reliefdruck. Er findet abseits des sonst für ihn so typischen klaren Gestaltens zu einer ausdrucksstarken Darstellung des Spannungsverhältnisses zwischen Ordnung und Unordnung.

Ab 1990 arbeitet der Künstler auch an Architekturprojekten und schafft Entwürfe für das Neue Museum in Groningen. 1991 beginnt er mit Planungen für eine Kunsthalle in Dresden, die nicht verwirklicht werden können. Stellas Werke nehmen eine Sonderstellung innerhalb der amerikanischen Pop Art ein und lassen zugleich Anklänge an die Minimal Art wie den Abstrakten Expressionismus erkennen. "What you see is what you see". Dieser zunächst banal klingende Ausspruch des Künstlers fasst prägnant die Kernaussage seiner Arbeit zusammen und ist auch in der vorliegenden Arbeit nachvollziehbar. Die ganze Idee des Bildes soll ohne Vorwissen erkennbar und erlebbar sein. [EH].


396
Imola Three I, 1982.
Etching in colours
Estimate:
€ 5,000 / $ 5,650
Sold:

€ 10,370 / $ 11.718
(incl. 22% surcharge)
You might also be interested in
Frank Stella - lots sold by Ketterer Kunst