Sale: 364 / Modern Art, April 23. 2010 in Munich

Lot 455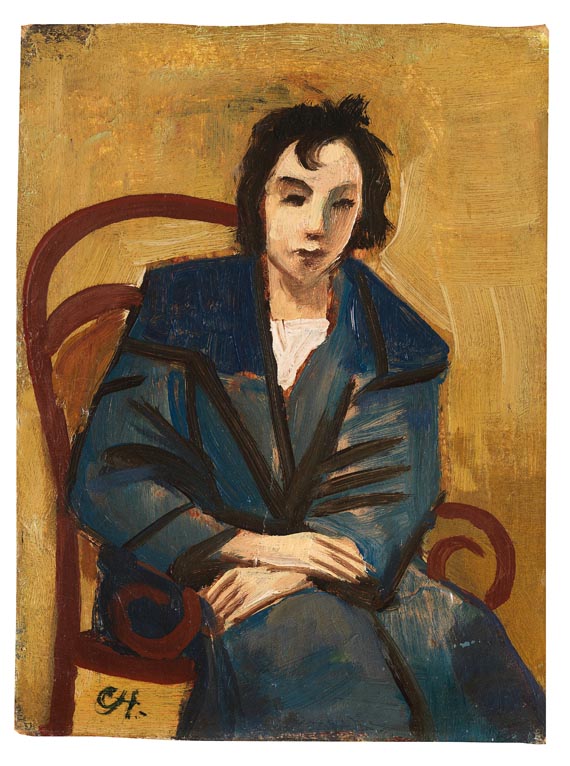 455
Mädchen im Sessel, 1924.
Oil
Estimate:
€ 10,000 / $ 11,400
Sold:

€ 14,640 / $ 16.689
(incl. 22% surcharge)
Lot description

Oil on cardboard
Wohlert 563. Monogrammed lower left as well as dedicated "Meiner lieben Thilus zu Weihnachten 1924" on verso. 24,2 x 17,8 cm (9,5 x 7 in)

PROVENANCE: Present from the artist to his first wife Ms Mathilde Hofer.
Galerie Baukunst, Cologn (with label on verso).
Galerie Vömel, Düsseldorf (with label on verso).
Private ownership Switzerland.
Private collection southern Germany.

EXHIBITION: Karl Hofer. Baukunst-Galerie, Cologne 1967, no. 11 (with illu.).

Karl Hofer, der Zeit seines Lebens ein Außenseiter zwischen den verschiedenen Avantgarden der Moderne bleibt, konzentriert sich in seinem Schaffen ganz auf die Darstellung des Menschen. Bildnisse von Jünglingen und Mädchen beherrschen sein ¼uvre. Während Hofers Frühwerk als eine Phase des Suchens zunächst Anklänge an die symbolistische Malerei Böcklins und Parallelen zu Cézanne aufweist, findet Hofer im Anschluss an den Ersten Weltkrieg in Berlin zu einer eigenständigen Bildsprache. In jenen Arbeiten der Nachkriegsjahre treten die expressiven Züge zugunsten einer formalen Strenge zurück, welche Hofer zuweilen in die Nähe der Neuen Sachlichkeit rückt. 1919 werden 38 Arbeiten Hofers in der Galerie Paul Cassirer gezeigt, jene Ausstellung "brachte Hofer schlagartig in die vorderste Reihe der Persönlichkeiten des Berliner Kunstlebens, und in der Mitte der Zwanziger Jahre gehörte er unbestritten zu den führenden deutschen Malern." (zit. nach: Renate Hertleb, Karl Hofer, Leipzig 1987, S. 34). In den frühen 1920er Jahren entstehen nämlich erstmals jene seltsam entrückten Figuren, welche Hofer dauerhaft berühmt machen sollen. Wie unser in jener bedeutenden Schaffensphase entstandenes "Mädchen im Sessel", das uns mit tiefen, scheinbar blicklosen Augenhöhlen gegenübertritt, sind Hofers Figuren meist sinnende, zerbrechliche Geschöpfe, Verkörperungen von Schönheit und Melancholie zugleich. [JS].


455
Mädchen im Sessel, 1924.
Oil
Estimate:
€ 10,000 / $ 11,400
Sold:

€ 14,640 / $ 16.689
(incl. 22% surcharge)
More offers for Karl Hofer

You might also be interested in

Karl Hofer - lots sold by Ketterer Kunst