Sale: 374 / Modern Art, Dec. 04. 2010 in Munich

Lot 43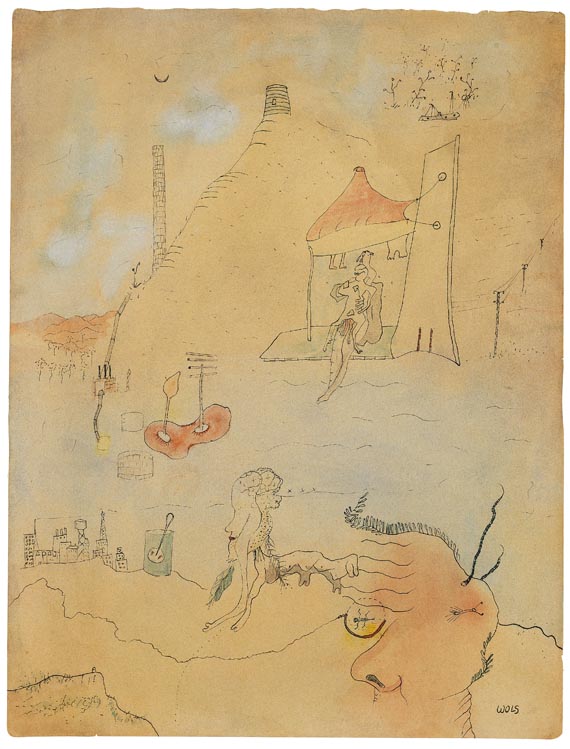 43
Wols (d.i. Wolfgang Schulze)
Masque rouge, 1940.
Watercolour
Estimate:
€ 35,000 / $ 37,100
Sold:

€ 47,580 / $ 50,434
(incl. 22% surcharge)
Watercolor and India ink drawing
Inscribed "Wols" by a hand other than that of the artist in lower right. On brownish wove paper. 31,5 x 23,8 cm (12,4 x 9,3 in), the full sheet

Accompanied by a photo expertise by Dr. Ewald Rathke, Frankfurt am Main, dated 03 May 2010.

LITERATURE: Shigeo Chiba, L' œuvre de Wols, University of Paris I, Paris 1974, p.140.
Philipp Gutbrod, Wols, Die Arbeiten auf Papier (catalog raisonné), dissertation University of Heidelberg, Heidelberg 2003, no. A 147 (with illu.).

Wols - born as Alfred Otto Wolfgang Schulze in Paris in 1913 - is considered one of the most important modern artists. Wols moved to Dresden with his family in 1919, where he discovered his lively interest in painting in 1927. He was impressed above all by Paul Klee, Otto Dix and George Grosz. The artist began an apprenticeship as a photographer in 1930 and attended classes at the Reiman-Schule, the Berlin school of applied arts. Moholy-Nagy advised Wols, who had applied at the Bauhaus, to go to Paris. Here he painted and worked as a portrait photographer and a German teacher. He was given his first large commission as a photographer in 1937 at the Paris World Exhibition. At the outbreak of the war Wols was sent to an internment camp near Aix-en-Provence. He managed to flee in 1940 and hid in Cassis near Marseilles, where he spent his time drawing and painting in watercolor.

Wols "often begins with a diffuse color surface, which gains contours similar to the process of developing a photography. He contrasts drawn motifs with one another and uses them to boost memories of reality into the phantasmagorical. He often illustrates – at times paradox - circumstances, but no actions. The sheets' mysteriousness and ambivalence is due to the specific room in which the fantastic figuration seems to hover. Recurring architectural features, such as the tower - also present in this work – emanate rootedness and security, [..]. As of 1939 solidity in Wols' work must be seen in the context of the his detention in the brickworks Camp des Milles, where making drawings and watercolors gave him an opportunity to escape from the world of the camp and to experience new worlds in art." (Translation of quote from Annabelle Görgen, Im Blickfeld: Wols Komposition, on occasion of the exhibition in the Hamburger Kunsthalle, Hamburg 2002, pp. 39/40).

He had to flee from the Germans in 1942 and went to Montélimar. After his return to Paris he had his first exhibition of watercolors in 1945 at the Galerie Drouin, which was not very successful, however. A second exhibition in the same gallery two years later, on the other hand, was a sensational success. His encounter with J.-P. Sartre and S. de Beauvoir awakened a lively interest in Existentialist philosophy which is also reflected in Wols' artistic work. As a precursor of the Informel and one of the main artists of Tachisme Wols produced a rich oeuvre he refers to as 'Zirkus Wols', which was initially inspired by the Surrealist psychic Automatism. The different aspects in his work seem to continually inspire one another. Wols occupied himself not only with painting and graphic art but also with photography. His musical and literary talents are also reflected in his art. His painted work contains figurative elements as well as free improvisations and abstract elements. Spontaneity and immediateness determine the creative work of Wols, who never underwent any formal artistic training. Randomness plays an important role in his unstructured compositions. In later years Wols was particularly interested in the combination of powerful brushstrokes with a relief-like painted surface structure. After his death in 1951 works by Wols were shown at the Kassel documenta II - III between 1955 and 1964. [DB].


43
Wols (d.i. Wolfgang Schulze)
Masque rouge, 1940.
Watercolour
Estimate:
€ 35,000 / $ 37,100
Sold:

€ 47,580 / $ 50,434
(incl. 22% surcharge)
Wols (d.i. Wolfgang Schulze) - lots sold by Ketterer Kunst