Sale: 380 / Modern Art, June 04. 2011 in Munich

Lot 65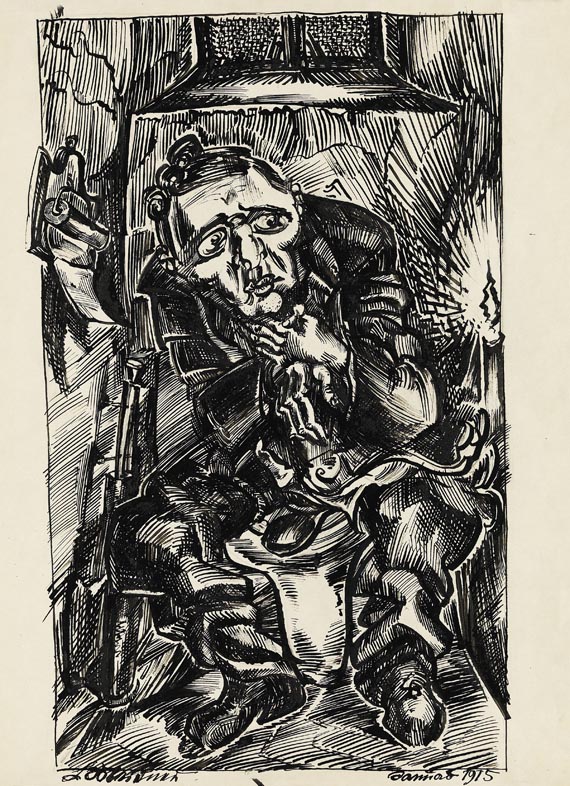 65
Die Notdurft, 1915.
Reed pen drawing
Estimate:
€ 6,000 / $ 6,960
Sold:

€ 12,500 / $ 14.499
(incl. 25% surcharge)
Lot description
Reed pen drawing over pencil
Signed lower left, dated "Januar 1915" lower right. On firm wove paper. 48,5 x 38,2 cm (19 x 15 in), size of sheet

PROVENANCE: Collection D. Thomas Bergen, London and New York (loan to Art Institute, Chicago).
Galerie Nierendorf, Berlin.
Collection Marvin and Janet Fishman.

EXHIBITION: The Graphic Work of Ludwig Meidner. Drawings and Prints from the D. Thomas Bergen Collection, Art Gallery University of Notre Dame, Indiana, 12 November - 24 December 1972, no. 12.

Following his parents' wishes the young Meidner began an apprenticeship as a mason, but broke it off. In 1903 he was admitted to the Breslau Academy for Fine Art and the Applied arts, which he left after two years to move to Berlin. The instruction he took in etching from the artist Hermann Struck was important for his later career. Meidner only did a few paintings in his early Berlin years: 'Industrial Urban Landscapes', which resemble the work of the French Fauves formally and in the palette he chose for them. Meidner was interested in the aggressive suppression of nature by the expanding metropolis, which he described as eerily menacing, rather than the aesthetic of urban architecture. In 1906 he went for about a year to Paris, where he met Amedeo Modigliani. The years that followed in Berlin saw Meidner haunted by dire financial straits although he intensively experienced Expressionist bohemian life. His favorite sitters were the men of letters who were his friends. The year 1912 was an important one for the artist: he painted the first of his compelling self-portraits and 'Apocalyptic Landscapes'. He also joined forces with Jacob Steinhardt and Richard Janthur to found 'Die Pathetiker' ['The Exponents of Pathos'], a group that showed their works at 'Der Sturm', Herwarth Walden's gallery. There he met Robert Delaunay, whose Orphic Cubism, with Italian Futurism, inspired his style. Plagued by existential fears, he turned to painting religious themes.

Ludwig Meidner approaches the unusual subject in such a fulminant manner so that the object of this work falls behind the remarkable drawing technique. The intimate situation is reinterpreted by Meidner into a tragic situation in life. How great is the despair of a petty bourgeoisie man who is usually caught in his correctness when his pants are down. The flickering light of the candle in the restroom illuminates an image of human misery in the moment of truth. With this drawing Ludwig Meidner proves to be a keen observer of human nature, who traces the most elementary things life in order to ingeniously reinterpret them.

Conscripted into the military in 1916, Meider served as an interpreter and censor at an internment camp for prisoners of war. There he began to write. After the war he joined the 'Novembergruppe' ['November Group'] and the revolutionary 'Arbeitsrat der Kunst' ['Workers' Council for Art'] in 1918. Disappointed at the failure of the Revolution, the artist retired to nurse his disillusionment in private, abandoning Expressionism, which by then was so popular that its commercial outlook increasingly brightened. In 'Autobiographische Plauderei' ['Autobiographical Chat'] he offended companions and friends by repudiating his early work. Religious themes, landscapes, still lives and more portraits would thenceforth be his dominant genres. Denounced as 'degenerate' in 1933 and persecuted because he was a Jew, the painter emigrated to England, only returning to Germany in 1953. In a last, very productive, creative phase he further developed the style of painterly realism he had developed in the 1920s. [KD].


65
Die Notdurft, 1915.
Reed pen drawing
Estimate:
€ 6,000 / $ 6,960
Sold:

€ 12,500 / $ 14.499
(incl. 25% surcharge)
You might also be interested in
Ludwig Meidner - lots sold by Ketterer Kunst