Sale: 282 / Tremmel Collection, May 05./06. 2003

Lot 439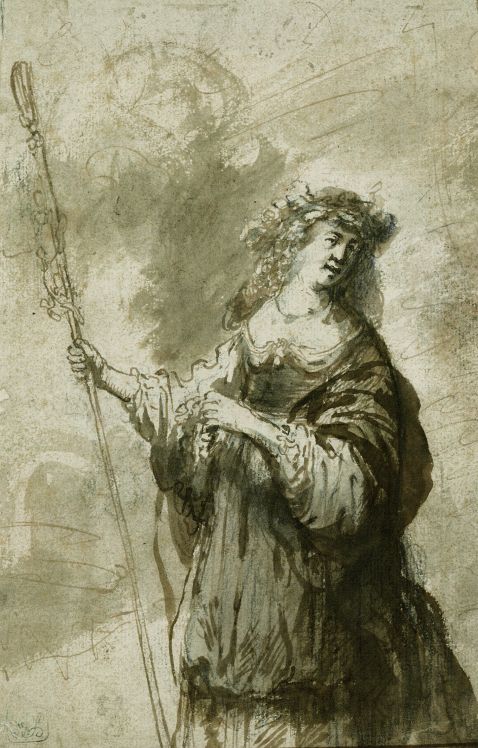 439
Schäferin (Lady as Shepherdess)
Brush and ink drawing
Estimate:
€ 8,000 / $ 8,000
Sold:

€ 7,475 / $ 7,475
(incl. 15% surcharge)
Schäferin (Lady as Shepherdess)
Feder- und Pinselzeichnung in Grau und Braun über Kreide, braun und braungrau laviert, auf Bütten mit wappenähnlichem Wz.
Sumowsky 141. 19,7 x 12,6 cm ( 7,7 x 4,9 in), blattgroß.
Unten links mit dem Sammlungsstempel Georg Plach (Lugt 1188). Verso unten links mit dem Sammlungsstempel Freiherr Adalbert von Lanna (Lugt 2773, Variante), oben links mit dem Sammlungsstempel Joseph Daniel Böhm (Lugt 1442). Verso Rötel-, Kreide und Kohleproben sowie hs. bezeichnet "Rembr., Ferd. Bol, in Coll. Böhm + go...", sowie verschiedene Zahlen, darunter eine alte Addition. Alte Zuschreibung an Gerbrand van den Eeckhoust.
PROVENIENZ: Sammlung Joseph Daniel Böhm, Wien.
Sammlung Georg Plach, Wien.
Sammlung Freiherr Adalbert von Lanna, Prag (Auktion Gutekunst, Stuttgart 6 Mai 1910, Nr. 105: Bol).
Auktion Christies London, 10/13/14 Juli 1936.
Sammlung Oppenheimer, Nr. 301: Rembrandt Schule.
Auktion Weinmüller München, 20. Mai 1951, Nr. 305: Gerbrand van den Eeckhout?
LITERATUR: Parker 1936, S. 146, Nr. 301, dort in der Art von Bol oder Flinck. Sumowsky, Werner, Drawings of the Rembrandt School, New York 1979.
"Da diese Zeichnung in Bezug zu den "Orientalen", die dem Schloss Windsor gehören, gesetzt werden kann - sie sind sicherlich zeitgleich entstanden - trifft die ursprüngliche Zuschreibung an Bol sicherlich zu. Selbst Hofstede de Groot hat diesen Standpunkt nicht ausgeschlossen (R.K.D.). Das Werk wurde von Rembrandts "Foras" in Leningrad (1634, ...) und in London (1635,...) inspiriert. Parkers Bezug auf Flinck ist verständlich, da dieses Motiv wiederholt in dessen Oeuvre erscheint (von Moltke 1965, S. 96, P.139 und Abb. 25; P.141 mit Abbildung; P.142 und Abb. 24), jedoch unterscheiden sie sich stilistisch und das Blatt entspricht nicht Flicks Zeichnungen. Gerson (R.K.D.) dachte dabei an H.G. Pot, angeblich wegen seiner Hirtenporträts (z.B. "Jost van den Vondel", Amsterdam; Emmens 1068, Abb. 22, Bernt 1969, Abb. 934; van Thiel und andere 1976, S. 453, A 2135 mit Abb.). Die Begründung für Trautscholdts Zuschreibung an Rottermund (R.K.D.) entzieht sich meiner Kenntnis." Sumowsky, New York 1979, Nr. 141
439
Schäferin (Lady as Shepherdess)
Brush and ink drawing
Estimate:
€ 8,000 / $ 8,000
Sold:

€ 7,475 / $ 7,475
(incl. 15% surcharge)
Ferdinand Bol - lots sold by Ketterer Kunst