Sale: 380 / Modern Art, June 04. 2011 in Munich

Lot 51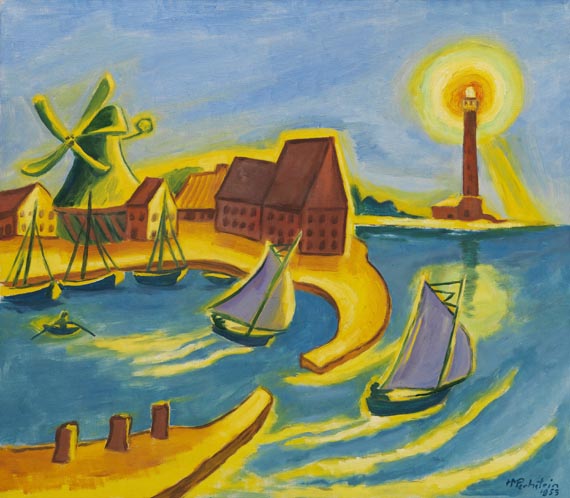 51
Fischerhafen auf Fehmarn, 1953.
Oil on canvas
Estimate:
€ 60,000 / $ 71,400
Sold:

€ 65,880 / $ 78.397
(incl. 22% surcharge)
Lot description
Oil on canvas
Signed and dated lower right. Once more signed and dated on verso, as well as titled and inscribed "HMPechstein Berlin Grunewald Warmbrunnerstr. 20". 70,5 x 80,5 cm (27,7 x 31,6 in)

The painting will be included into the forthcoming catalog raisonné of Pechstein's paintings, which is currently prepared by Dr. Aya Soika.

Max Pechstein's artistic talent was discovered and encouraged at a very early age. His conventional career, first as an apprentice with a Zwickau painting master, then at the Dresden Kunstgewerbeschule and finally at the Dresden Akademie under the decorative painter Otto Gußmann, provided Pechstein with a sound craftsmanship. His ceiling painting at the Dresden Arts and Crafts Exhibition in 1906, with such an unconventional color scheme that the organizers had it sprayed with gray paint to soften the colors, attracted Erich Heckel's attention. He then invited Pechstein to join the artist group 'Die Brücke' which had been founded the year before in opposition to Impressionism. The group's aim was to "attract all revolutionary and restless forces" (Schmidt-Rottluff) and an emphasis of the power of color in painting. In this environment Pechstein's Expressionist style developed further, concentrating on elaborating the focal point of the painting with a sparse painting technique. Pechstein moved to Berlin in 1908 and became a co-founder of the 'Neue Sezession'. He painted figures, still lives and landscapes in a moderately Expressionist style. Perhaps it was this, which lead to the artist's early and continuing success. From 1945 Pechstein taught at the Berlin Akademie der Künste. Before that time, during the Third Reich, he was slandered as a "degenerate" artist. Apart from paintings his oeuvre includes more than 850 woodcuts, lithographs and engravings.

Throughout his life Pechstein on and off spent the summers on the Baltic Sea. He loved the natural and pristine landscape and the simple people, with whom he felt associated. Pechstein's works with depictions of the sea, ships and activities of fisher- and sea men accordingly gain their effects through their simplicity and inner tension, which can only come into being through the artist's intensive personal witness. In his later paintings Pechstein follows knowledge gained at earlier points. He had explored all facets of Expressionism and returned to calmer paths. The form remains realistic, colors become lighter and more friendly again. He still sought the contrast of colors, as it becomes obvious in this work due to contrast of ther intensive yellow and the shades of blue found in the sky and the sea.

Herman Max Pechstein died in Berlin in 1955. He counts among the classics of German art of the 20\up5 th century and as a member of the artist group "Brücke" he belonged to the founding fathers of Expressionism. [SM].


51
Fischerhafen auf Fehmarn, 1953.
Oil on canvas
Estimate:
€ 60,000 / $ 71,400
Sold:

€ 65,880 / $ 78.397
(incl. 22% surcharge)
More offers for Hermann Max Pechstein

You might also be interested in

Hermann Max Pechstein - lots sold by Ketterer Kunst