Sale: 382 / Old Masters and Art of the 19th Century, Oct. 27. 2011 in Munich

Lot 60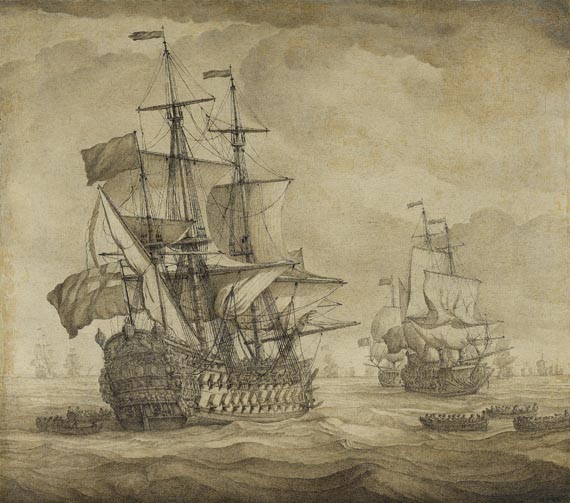 60
Englische Kriegsschiffe, 1680.
Estimate:
€ 70,000 / $ 74,200
Sold:

€ 78,080 / $ 82,764
(incl. 22% surcharge)
Grisaille on canvas.
Barely legible signed and dated lower right (reinforced). 56,2 x 63,5 cm (22,1 x 25 in)
We are grateful to Mr Roger Quarm, formerly National Maritime Museum, Greenwich, and Mr Remmelt Daalder, Het Scheepvaartmuseum, Amsterdam, for their expert advice.

Willem van de Velde was born the son of a captain in the Dutch town of Leiden in 1611. Close to nothing is known about his early years and his training, the first drawing in existence is dated 1638. He married Judith van Leeuwen in 1631, two years later his first son Willem the Younger was born, his second son Adriaan was born in 1636. Both decided to become artists as well. While Adriaan was entirely committed to landscape paintings, Willem the Younger became a close artistic partner of his father, after he had been in training with Simon de Vlieger. The family moved to Amsterdam in 1636 and van de Velde was active as an independent artist. In those days he executed a large number of all types of ships: Fishing boats and merchant vessels, large Dutch East-India trading ships and most of all detailed portraits of Dutch Navy ships. As early as in 1643 and 1648 he participated as an observer in naval battles in front of the Dutch coast, however, it was not before 1652, at the beginning of the First Anglo-Dutch War, that he was officially employed by the Dutch admiralty. From that point on he had a galiot and a captain at his command, so he could observe the entire battle and make numerous sketches of his observations. With a great love for historic accuracy he then executed large-sized paintings on the basis of these drawings. After Willem van de Velde had already spent time in England between 1660 and 1662, he and his son eventually settled at first in Greenwich and then for good in Westminster in 1672. Potential reasons for their relocation may have been family disputes among Willem the Elder and his wife, however, at a later point he also took her to London. On the other hand life in the Netherlands had become less safe after troops of Louis XIV of France had invaded the country and triggered a government crisis. By order of Charles II of England father and son at first made designs for large tapestries with scenes from important sea battles. Up until the definite end of animosities between England and the Netherlands in 1674, Willem the Elder once more witnessed naval battles, this time from the perspective of the English Navy. The change of masters can be clearly observed in his paintings, as the work's foreground is not dominated by Dutch ships any longer, but instead by English war ships.

century, are first and foremost characterized by a remarkable accuracy regarding the depiction of the individual ship, which is executed with a great love for the detail. Unlike some of his contemporary marine painters, it is not the naturalistic and atmospheric illustration of the sea that mattered to van de Velde, his focus was to male a depiction of the course of the battle that was as exact as possible. What is particularly striking is van de Velde's grisaille technique, which he almost brought to perfection in a great number of paintings. In doing so he draws with feather and brush on a white-primed canvas or wooden plate. By means of subtle hatching and soft wash, he attained high plasticity and a striking depth effect, without taking the risk of loosing pictorial details.

In the last years of his life up until his death van de Velde on and off resorted to naval battle motifs, however, he increasingly put a focus on peaceful maritime motifs. The later work of van de Velde is dominated by important scenes from the life of the English Royal Family: The king visiting the royal fleet, embarkation and magnificent royal arrivals. Willem van de Velde was active up until his death in London in 1693. [CB].


60
Englische Kriegsschiffe, 1680.
Estimate:
€ 70,000 / $ 74,200
Sold:

€ 78,080 / $ 82,764
(incl. 22% surcharge)