Sale: 393 / Post War/Contemporary Art, June 09. 2012 in Munich

Lot 201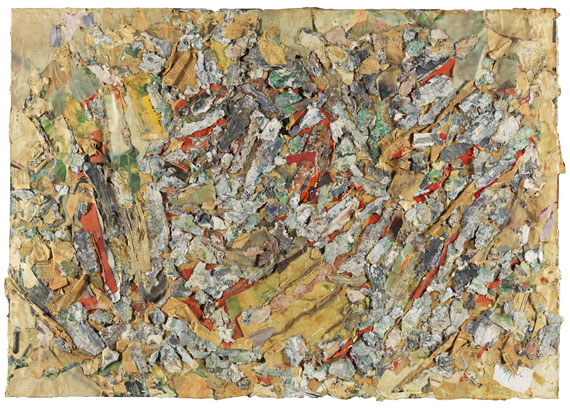 201
Ohne Kompaß, 1958.
Oil
Estimate:
€ 40,000 / $ 39,600
Sold:

€ 63,440 / $ 62,805
(incl. 22% surcharge)
Ohne Kompaß. 1958.
Oil and collage on wood, mounted on cardboard laminated with canvas.
Hoehme 58-19. Signed and dated lower right. Once more signed, dated, titled and inscribed "Düsseldorf Kaiserswerth" on verso, as well as with arrow indicating the direction. 77,5 x 101 cm (30,5 x 39,7 in).

PROVENANCE: Private ownership Rhineland (acquired directly from artist).

EXHIBITION: Deutsche Kunst 1959, travelling exhibition 1959: Baden-Baden, Caracas, Lima. (with label on verso).
G. Hoehme. Ölbilder, Collagen, Borkenbilder, Grabebilder, Schreibebilder 1950-1961, Kölnischer Kunstverein, Cologne 1962, cat. no. 45.
Gerhard Hoehme, travelling exhibition 1964: Städtische Kunstgalerie Bochum, Städtische Kunsthalle Mannheim, Kunstverein Freiburg im Breisgau, cat. no. 11 (with labels on verso).
Gerhard Höhme, Haus am Waldsee, Berlin 1965, cat. no. 17.
Collage 67, travelling exhibition 1967: Städtische Galerie im Lenbachhaus, Munich, Kunsthalle Recklinghausen, cat. no. 122.
Gerhard Hoehme. Bilder und Objekte, Ulmer Museum, Ulm 1967, cat. no. 5.
Gerhard Hoehme. Bilder - Wenn man nichts sieht, schaut man länger hin, travelling exhibition 1979: Städtische Kunsthalle Düsseldorf, Kunstverein Heidelberg, cat. no. 25, p. 62 (with illu. in black and white).

LITERATURE: Carlo Giulio Argan, Hans Peter Thurn, Gerhard Hoehme. Werk und Zeit 1948 - 1983, Stuttgart/Zurich 1983 (with illu. in black and white on p. 62).
Ex. cat. Gerhard Hoehme. Das Offene Bild, Kunstverein Brunswick and Overbeck-Gesellschaft Lübeck, Brunswick 1984 (with illu. in black and white on p. 58).
Ex. cat. Gerhard Hoehme 1957, Württembergischer Kunstverein, Stuttgart 1985 (with illu. in black and white).

The German painter, born in Greppin near Dessau on 5 February 1920, was a pilot during the Second World War before beginning his career as a painter. His enthusiasm for flying had a considerable influence on his art, particularly the viewpoint from above. Hoehme only began studying in Halle after the war in 1948 at the age of twenty eight. He went to the Kunstakademie in Düsseldorf in 1952. In the same year, he met the later director of the Galerie 22 Düsseldorf, Jean-Pierre Wilhelm, who introduced him to Jean Fautrier and Jean Dubuffet, the most important artists of Informel in Paris. Since then, Hoehme was a follower of the Informel. He helped J.-P. Wilhelm found his Galerie 22 in 1957, a gallery which existed until 1960 and which was a lively forum for Informel artists, musicians and writers. Hoehme joined the 'Lyrische Abstraktion' in 1955 and became a leading member of the Düsseldorf artist association 'Gruppe 53' in 1957. This was also the year of a decisive change in Hoehme's art: he began using unusual picture formats in the tradition of the 'shaped canvases' and mixed paints in order to study three-dimensional structures.

"Ohne Kompaß" (Without Compass) is a remarkable example of the "Borkenbilder" (Bark Pictures), made as of 1957, with which Hoehme abandons the conventional two-dimensional way of treating the canvas: "Pastose, in an undilated materiality the colors begin to live a life of their own: they dry and form slabs, reliefs or slugs, at times organic proliferation, just the barks, scratched of pieces of paint that give the name for this group of works. [..] The barks were soon collaged with other materials, e.g. newspaper, disseminated with letters or numbers [..] they form textures that inaugurate legibility." (Gottfried Boehm, Der Maler Gerhard Hoehme, in: Gerhard Hoehme Catalogue Raisonné, p. 21). This way Hoehme breaks the confinement of the given space and manages to conquer the space: "I was always reluctant to follow the legality of space. I was more interested in the legality of color, its streaming and growing, its matter and structure. [..] I have always had a desire for the open space, the third, fourth, fifth - up, to the side, forwards, even backwards, but without illusionistic depth." (Gerhard Hoehme 1957, quote after: Andreas Kühne, in: Künstler Kritisches Lexikon der Gegenwartskunst, vol. 40, issue 26, 4th quarter 1997, p. 14).

[KH].


201
Ohne Kompaß, 1958.
Oil
Estimate:
€ 40,000 / $ 39,600
Sold:

€ 63,440 / $ 62,805
(incl. 22% surcharge)
More offers for Gerhard Hoehme
You might also be interested in
Gerhard Hoehme - lots sold by Ketterer Kunst