Sale: 393 / Post War/Contemporary Art, June 09. 2012 in Munich

Lot 206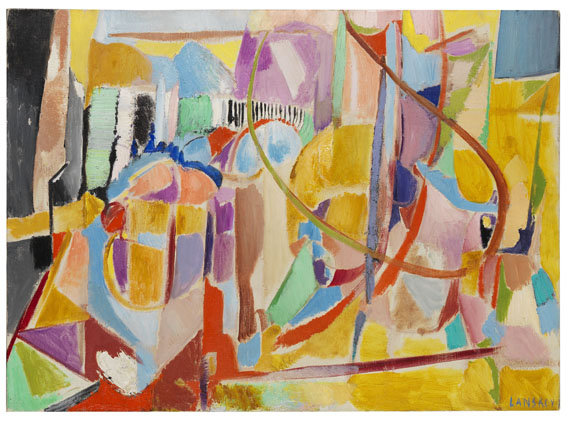 206
La vie des feuilles mortes, 1961.
Oil on canvas
Estimate:
€ 30,000 / $ 33,900
Sold:

€ 47,580 / $ 53.765
(incl. 22% surcharge)
La vie des feuilles mortes. 1961.
Oil on canvas.
Signed lower right. Titled and dated on verso. 73 x 100,3 cm (28,7 x 39,4 in).

We are grateful to the Cabinet Schoeller, Paris, for their oral confirmation of this work's authenticity. The work will be included into the forthcoming catalog raisonné.

EXHIBITION: André Lanskoy, Svensk-Franska Konstgalleriet, Stockholm, October 1961, cat. 305, no. 27 (with label on stretcher).

André Lanskoy was born Andrei Michailovitch Lanskoyin ,son of Comte Lanskoy, in Moscow on 31 March 1902. In the course of the Russian revolution André Lanskoy fled to Kiev in 1919 and started painting at the studio Soudeïkines. After a stay on the Krim he moved to Paris, which would not leave until his death. Soon Lanskoy began to study painting at the Académie de la Grande Chaumière. He was inspired by Van Gogh, Matisse and Soutine's figurative paintings and still lifes and already in 1923 qualified for the 'Salon d'Automne' where he was discovered by Wilhelm Ude, who arranged contacts for him and helped him with his first one-man show. Lanskoy exhibited at that time together with other Russian artists in Paris, e.g. Robert and Sonia Delauney, Leopold Survage and Ossip Zadkine. Soon after, museums and important private collections acquired his works. In the late 1930s, the artist gradually detached himself from figurative painting. As from 1943 he exclusively worked in the abstract. His continuous search for new means of expression led Lanskoy to take up book illustration, tapestry, mosaic, and collage. The Russian, who was close friends with Nicolas de Staël, with whom he exhibited in 1948 and who accompanied the development of his characteristic personal style around 1950. At that time and during the following decade Lanskoy's international fame was founded, e.g. by a showing of his most recent works at Fine Art Associates in New York in 1956. André Lanskoy is regarded as one of the most important protagonists of lyric abstraction of the 'Ecole de Paris' (Paris School) and was honored with several exhibitions, e.g. together with other artists at the documenta II in 1958 or at the overview showing 'Les Peintres Russes de l'école de Paris' at the museum of Saint Denis in 1960.

Just as Lanskoy's colors and forms move freely, the artist's position within the École de Paris is comparable. Lanskoy's works can not be pigeonholed, they are subject to a creativity that gives form to an idea beyond all confinements. His works have an air of something lyrical, sprung from a merry and friendly color world. The dynamization of the composition with regards to the scene's motion are hard to find in his early works. The composition remains on one level, a special feel for space is not attained. Lanskoy's works are encrypted messages, the title does not really help to decrypt the painting either.

André Lanskoy died in Paris on 22 August 1976. [KD].


206
La vie des feuilles mortes, 1961.
Oil on canvas
Estimate:
€ 30,000 / $ 33,900
Sold:

€ 47,580 / $ 53.765
(incl. 22% surcharge)
You might also be interested in
André Lanskoy - lots sold by Ketterer Kunst