Sale: 289 / Rare Books, Nov. 22./23. 2004

Lot 654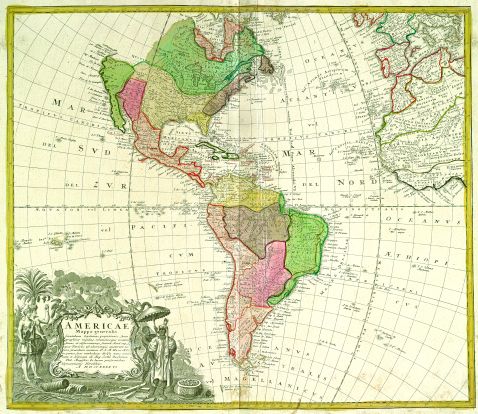 654
Atlas geographicus major. 2 Bde. Um 1765., 1765.
Estimate:
€ 18,000 / $ 19,800
Sold:

€ 35,100 / $ 38,610
(incl. 17% surcharge)
[Atlas geographicus major
Atlas major. 2 Bde.. exhibens tellurem seu globum terraqueum in mappis generalibus & specialibus per I. B. Homannum ejusque heredes editis]. 2 Bde.Mit
258 altkolor. doppelblattgr. Kupfertafeln (240 Karten und 18 Ansichten, Pläne u. a.).
[Nürnberg, Homann Erben ca. 1765].Ldr. d. Zt. Gr.-Folio.
Vgl. Sandler (Kat. Stadtarchiv Nürnberg) S. 135f. - Vgl. Nordenskiöld Coll. I, 95 und Phillips/Le Gear 358. - Äußerst umfangreiche Ausgabe des seit Erscheinen kontinuierlich erweiterten Atlas major, die Karten hier datiert von 1695-1763. Jeder Bd. mit Blattweisern, Bd. 1 mit hs. Register.
Bd. I mit 141 Kupfertafeln,
davon 134 Karten. Darunter 1 Himmelskarte sowie Erdteilkarten von Europa, Asien, Afrika und Amerika und zahlr. Länder- und Gebietskarten, darunter Amerika (13, die 2 Kanadakarten nicht koloriert), Asien (9), Belgien (9), Frankreich (20), Großbritannien (5), Italien (16) und Spanien (6). Ohne Weltkarte. - Weiter vorhanden eine Ansicht von Neapel sowie Pläne von Danzig, Madrid, Paris, Rom, St. Petersburg und Stockholm.
Bd. II mit 117 Kupfertafeln,
davon 106 Karten. Enthält die Deutschlandkarten, darunter 1 Postroutenkarte und 1 Meilenzeiger sowie Gebietskarten zu Belgien (1), Donau (3), Österreich (9) und Schweiz (2). Die Ansichten von Salzburg und Würzburg, die Pläne von Augsburg, Leipzig, Nürnberg, Stuttgart, Ulm und Wien; ferner 3 Bll. mit Plänen und Aufrissen zum Karlsruher Schloß.
Nur tlw. leicht fleckig und wasserrandig (ca. 25 Bll. stärker) bzw. etw. gebräunt, ca. 20 Bll. mit hinterl. Einrissen (5 größere), 4 Bll. im Rand bzw. Bund verstärkt, 2 Bll. mit Quetschspuren, wenige Karten knapp beschnitten. Insges. sauberes und wohl erhaltenes Exemplar.
240 double page engr. maps (238 coloured,
only 2 Canada maps uncoloured), and
18 double page coloured engr. views and plans.
- Partly slightly soiled, brownish and waterstained (ca. 25 leaves stronger), around 20 maps with backed tears (5 larger), 4 maps reinforced, 2 maps with additional creases, few maps trimmed. In the whole clean and well-preserved.
654
Atlas geographicus major. 2 Bde. Um 1765., 1765.
Estimate:
€ 18,000 / $ 19,800
Sold:

€ 35,100 / $ 38,610
(incl. 17% surcharge)
You might also be interested in
Johann Baptist Homann - lots sold by Ketterer Kunst