Sale: 289 / Rare Books, Nov. 22./23. 2004

Lot 1507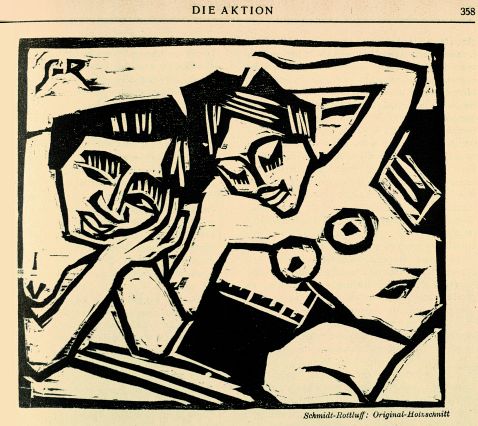 1507
Aktion. Hg. Pfemfert. Jgge. 2-13. 1912ff.
Estimate:
€ 3,000 / $ 3,570
Sold:

€ 9,945 / $ 11.834
(incl. 17% surcharge)
Lot description
Die Aktion.
Die Aktion, Jgge. II-XIII + 2 Beig. Zus. 14 Tle.. Wochenschrift für Politik, Literatur, Kunst. Hrsg. von Franz Pfemfert. Jgge. II-XIII in 12 Bdn.Mit
500 Orig.-Graphiken
verschied. Künstler. Berlin-Wilmersdorf 1912-23.Pp. d. Zt. (9) und HLwd. d. Zt. (3) Folio.
Raabe, Zeitschriften 4. - Raabe (Pfemfert) 230, 3. - Expressionismus. Kat. Marbach 1960, Nr. 52. 2. - Söhn HDO 402-403; 40401-41320. - Diesch 2841. - Jentsch 14. - Reed 262:
"The intellectual climate of Die Aktion always remained high. Yesterday's naturalism was opposed by today's policy of enlightenment. ... Every major contemporary writer appeared at some times in the periodical."
- Umfangreiche Folge der bedeutenden expressionistischen Zeitschrift,
12 frühe Jahrgänge der von 1911-32 erschienenen Publikation. - "Revolutionäre Zeitschrift für Politik, Literatur und seit 1913 auch für Kunst.
Eine der wesentlichen Taten und Zentren des Expressionismus.
Die Lyrik, die scharfen politischen Beiträge und die schwarzweißen Holzschnitte bestimmen das Bild dieser Zeitschrift, in der die neue Jugend zum ersten Mal, wie im 'Sturm' und im 'Pan', zu Worte kam. Vorbild für viele spätere Zeitschriften des Expressionismus." (Raabe, Zeitschr.) - Mit
Orig.-Graphiken
von C. Felixmüller, H. Richter, K. Schmidt-Rottluff, A. Segal, E. Schiele, A. Wach, G. Arndt, R. Berlit, R. Tillmann, B. Beye, A. Zacharias, G. Wolff, E. Gehre, B. W. Reimann, H. Zernack, F. W. Seiwert, E. M. Karpf, G. Tappert, R. Thomasius, F. Masereel, F. M. Jansen u. a. - Etw. gebräunt, 3 Bll. mit Einrissen (tlw. unschön hinterl.), 1 Bl. entfernt (Jg. VIII, S. 4/5), 1 Bd. durchgehend mit kl. Stoßspur. Einbde. leicht berieben. - 2 Beigaben.
1507
Aktion. Hg. Pfemfert. Jgge. 2-13. 1912ff.
Estimate:
€ 3,000 / $ 3,570
Sold:

€ 9,945 / $ 11.834
(incl. 17% surcharge)
- - lots sold by Ketterer Kunst