Sale: 289 / Rare Books, Nov. 22./23. 2004

Lot 36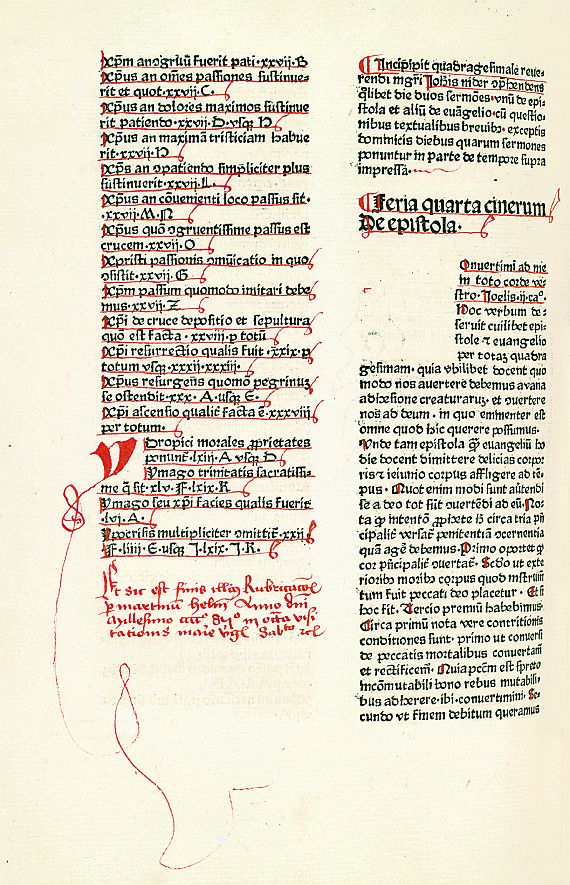 36
Sermones de tempore et de sanctis. 1479., 1479.
Estimate:
€ 12,000 / $ 14,280
Sold:

€ 10,179 / $ 12.113
(incl. 17% surcharge)
Lot description
Nider, Joh.,
Sermones (1).. Sermones de tempore et de sanctis.Mit zahlr. rot eingemalten Initialen (tlw. mit Randausläufern) und Holzschnitt-Druckermarke am Ende. Speyer, Peter Drach, 13. Nov. 1479.Zeitgenöss. österr. Lederband über Holzdeckeln mit 2 Messingschließen und reicher Blindpräg.: VDeckel mit rautenförmigen Lilienstempeln, umgeben von floraler Bordüre; RDeckel durch ein waagerechtes Mittelfeld in ein ob. und ein unt. Feld geteilt: beide mit unterschiedlich verlaufenden Diagonalstreifen, darinnen und dazwischen Stempel mit Blüten-, Hirsch-, Stern- und Gittermotiven sowie verschiedenartigem Bandwerk; in Lwd.-Kassette. Folio. 268 nn. Bll. 2 Sp. 44 Zeilen. Got. Type, rubriziert von Martinus Hehn (s. u.).
Hain 11803. - Goff N 217. - BMC II, 490f. - Proctor 2335. - BSB N-172. - Schieler S. 403ff. - Dritte Ausgabe. "Was Correctheit betrifft, verdient die Speierer Ausgabe den Vorzug vor der Cölner" (Schieler). - Nider war im 15. Jh. einer der bedeutendsten und gefeiertsten Prediger, seine 'Sermones de tempore et de sanctis' erschienen erstmals Esslingen um 1476 und wurden bis Ende des 15. Jhs. siebenmal verlegt. "Alle diese Predigten zeichnen sich aus durch großen Gedankenreichtum, strenge Logik, Klarheit der Eintheilung und Behandlung ... Die Sermones sind reiche Fundgruben für Prediger; wenn sie auch jetzt vergessen und nur in großen Bibliotheken als kostbare Schätze der Vergangenheit prangen, so überragen sie doch weit die meisten Erzeugnisse der Gegenwart in der Predigtlitteratur." (Schieler) - Vorlieg. Exemplar
mit längerer Eintragung des Erstbesitzers und Rubrikators Martinus Hehn
: "Ego martinus hehn filius fabri ex lambaco comparavi hunc librum pro duobus libris t[ribus] d[enaris] anno domini 83 dum eram cappellanus in gebolzckirchn" (Ich, Martin Hehn, Sohn des Faber aus Lambach [in Styria] habe dieses Buch für 2 Pfund und 3 Groschen gekauft, als ich Capellan in Geboldskirchen war). Weiterhin findet sich auf Bl. 154 ein (in Rot geschriebener) Vermerk Hehns, daß er im Jahr 1484 die Rubrikation abgeschlossen habe. - Zu Beginn und am Ende leicht wurmstichig (gering Buchstabenverlust), erste Bll. wasserrandig, sonst kaum fleckig; letztes Bl. angefalzt. Einbd. mit Schab- und kl. Wurmspuren sowie stellenw. erneuert (inkl. feste Vorsätze), Gelenke brüchig. Insgesamt schönes und breitrandiges Exemplar mit schönen, teils verspielten Lombarden.
Third edition of Nider's popular sermons. With numerous red initials and woodcut printer's device at end. 268 leaves, double column, 44 lines, Gothic type, rubricated by Martinus Hehn, who left a ms. note in red about finishing the rubrication in 1484 (leave 154) and an interesting inscription at end concerning the purchase in 1483 when he was priest of the chapel at Geboldskirchen, near Grieskirchen, Upper Austria. - In a contemp. Austrian binding of blind-tooled calf over wooden boards with different decorations to covers: the upper cover filled with impressions of a lozenge-shaped lily-tool inside a floral border, the lower cover divided horizontally by a double line of headed outline tools, each half decorated differently with diagonal strips, large and small rosettes, a lozenge-shaped stag, stars and quatrefoils and catches. - Few wormholes at beginning and end, first leaves waterstained, last leaf strengthened in the gutter. Binding rubbed, with few wormholes and partly renewed (incl. pastedowns), lower hinge split. Else wellpreserved copy with broad margins and partly playful lombards.
36
Sermones de tempore et de sanctis. 1479., 1479.
Estimate:
€ 12,000 / $ 14,280
Sold:

€ 10,179 / $ 12.113
(incl. 17% surcharge)
You might also be interested in

Johannes Nider - lots sold by Ketterer Kunst