Sale: 289 / Rare Books, Nov. 22./23. 2004

Lot 1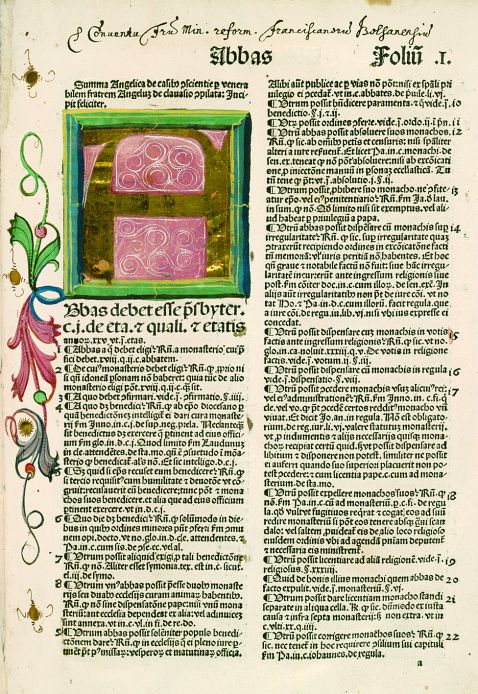 1
Summa angelica (5)., 1488.
Estimate:
€ 5,000 / $ 5,850
Sold:

€ 6,318 / $ 7.392
(incl. 17% surcharge)
Lot description
Angelus de Clavasio,
Summa angelica (5).. Summa angelica de casibus conscientiae.Mit prachtvoller großer
Eingangsinitiale mit Randleiste in Gold und Farben
sowie zahlr. rot (vereinz. blau) eingemalten Initialen, tlw. mit Randausläufern. Nürnberg, Anton Koberger, 28. Aug. 1488.Zeitgenöss. gotischer Schweinsldr. über Holzdeckeln mit Streicheisenlinien und Blindprägung sowie 2 Messing-Schließen. Folio. 1 w. Bl., 310 röm. num. Bll., 1 w. Bl. Got. Type. 2 Sp. 61 Zeilen.
GW 1927. - Hain/Cop. 5385. - Goff A 717. - BMC II, 432. - BSB A-527. - Polain 208. - Fünfte Ausgabe, die erste von insges. drei Koberger-Ausgaben. - Hauptwerk des Minoriten Angelus de Clavasio (1411-95), der als Kommissar für den Türkenkreuzzug auch ins Tagesgeschehen eingriff. Bei den Katholiken erfreute sich die 'Summa' großer Beliebtheit, von Luther wurde sie 1520 mit den päpstlichen Gesetzbüchern als "Summa plus quam diabolica" verbrannt. - Der schöne Einband stammt aus einer Augsburger Werkstatt, die bei Kyriss unter Nr. 80 (Tafeln 163-164) aufgeführt ist und zu den größeren zu zählen ist. Hervorzuheben ist der markante Stempel, der einen über einen Zaun springenden Hirsch darstellt. - Tlw. schwach gebräunt, gegen Ende mit kl. Wasserrand, Vorsätze mit kl. Wurmspuren. Einbd. berieben, Rücken am ob. Kap. mit. kl. Einriß, Schließen stilgerecht erneuert. Schönes, breitrandiges Exemplar in einem zeitgenöss. Einband, mit gest. Exlibris (kl. Fehlstelle) des Franziskanerklosters Bozen sowie dessen hs. Besitzvermerk vor Textbeginn.
First Koberger edition of Angelus' de Clavasio major work, called by Luther, who burned a copy in Wittenberg in 1520, 'Summa plusquam diabolica'. With numerous initials in red and splendid opening initial 'A' in burnished gold and several colours with leafy side border. Original German blind-stamped pigskin over wooden boards, one panel depicting a stag leaping a wattle fence (all stamps in Kyriss No. 80). Gothic type. - Partly slight browning, little waterstain at end, endpapers with slight worming. Binding rubbed, small tear to spine, clasps renewed in proper style. Fine and broadmargined copy with engr. bookplate of Monastery of the Reformed Franciscans (17th cent.) of Bolzano and their ms. ownership inscription to first text leaf.
1
Summa angelica (5)., 1488.
Estimate:
€ 5,000 / $ 5,850
Sold:

€ 6,318 / $ 7.392
(incl. 17% surcharge)