Sale: 294 / Rare Books, May 23./24. 2005

Lot 75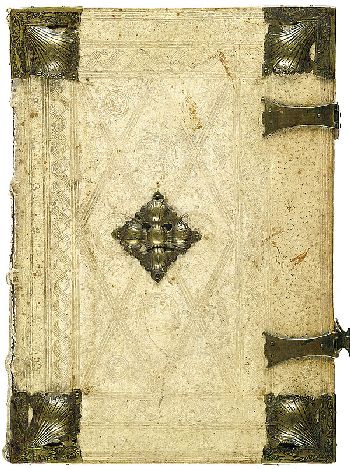 75
Vocabularius breviloquus. 1480., 1480.
Estimate:
€ 14,000 / $ 15,960
Sold:

€ 14,040 / $ 16.005
(incl. 17% surcharge)
Lot description
[Reuchlin, Joh.],
Vocabularius breviloquus. -
Guarinus Veronensis
, Ars diphthongandi. -
Johannes de Lapide
, De arte punctandi dialogus. -
Tractatus
de accentu.Mit
3 großen eingemalten Zierinitialen in Rot und Blau
sowie zahlr. eingemalten Lombarden in Rot. Basel, [Johann Amerbach] 1480.Zeitgenöss. Schweinsldr. über Holzdeckeln aus dem Kloster Buxheim: VDeckel mit Rahmen aus Spruchband-Rolle 'Maria' und inliegendem Rautenfeld aus dreifachen Fileten, darinnen versch. Stempel (Widder, Maria-Band, Blüten u. a.); VDeckel ferner mit Messing-Eck- und Mittelstücken mit blattförmigen Buckeln sowie 2 Messing-Schließen. Folio. 330 nn. Bll. (d. l. w.). Got. Type, rubriziert. 2 Sp. 54 Zeilen.
Copinger 6286. - Goff R 157. - Proctor 7558. - BSB R-145. - Polain 3340. - Van der Haegen 16.4. - Benzing, Reuchlin 3. - Vgl. VGT 882 (unveränd. Nachdruck 1481): "Eigenartige Texttype". - Dritte Ausgabe, die zweite bei Amerbach. Eines der ersten Bücher, die das ganze Alphabet für die Bogensignaturen benutzen. - "Der Vocabularius breviloquus ist ein lateinisches Wörterbuch, das Reuchlin wohl im Auftrag des Druckers Johann Amerbach zu Basel in jungen Jahren zusammengestellt hat. In keiner der zahlreichen Druckausgaben wird er als Verfasser bezeichnet. Aber nach seinem ausdrücklichen Zeugnis und einer Äußerung Melanchthons ist er als solcher anzusehen. In der Reuchlinliteratur ist stets von 25 Ausgaben bis zum Jahre 1504, in dem die letzte erschien, die Rede. Diese Zahl ist nicht mehr haltbar: es gibt in Wirklichkeit nur 22 sichere Ausgaben, davon 20 in der Wiegendruckzeit." (Benzing) - Vereinz. mit kl. Wasserrand im äußeren Fuß- oder Seitensteg sowie am Ende mit marginaler Wurmspur im Bundsteg. VDeckel und erste Lage gelöst, Lederband der Schließen erneuert. Vorsätze entfernt, wodurch die Holzdeckel und eine alte Pergamenthandschrift als Gelenkverstärkung zum Vorschein kommen.
Sehr schönes, innen sauberes und breitrandiges Exemplar aus der Kartause Buxheim
, fol. 1 und 2 mit deren hs. Besitzvermerk und Stempel. - Fol. 1 rc. (weiß) mit
Exlibris von Victor von Stedingk
und dessen eigh. Anmerkungen.Third edition, the second by Amerbach. One of the first books using the whole alphabet for the signatures. With 3 large intials, painted in red and blue, as well as numerous initials in red. 330 leaves (incl. last blank). Gothic type, rubricated throughout. 2 columns, 54 lines. Contemp. blindstamped pigskin over wooden boards from the bookbindery at Buxheim: cover decorated with roll border 'Spruchband Maria' and geometrical fillets, enclosing other stamps in lozenge shaped fields; front board with clasps, brass corner pieces and centre bosses. - Here and there marginal waterstaining and few neglegible wormholes. Front board and first quire detached, leather of the clasps renewed. Endpapers removed, showing wooden boards and the stripe of an old manucript on vellum. - Fine and untrimmed copy with broad margins. Title with stamp and ms. ownership inscription of the monastery at Buxheim. - Ex libris of Victor von Stedingk and his autograph pencilled notes on fol. 1 recto (blank).
75
Vocabularius breviloquus. 1480., 1480.
Estimate:
€ 14,000 / $ 15,960
Sold:

€ 14,040 / $ 16.005
(incl. 17% surcharge)
You might also be interested in

Johannes Reuchlin - lots sold by Ketterer Kunst