Sale: 294 / Rare Books, May 23./24. 2005

Lot 31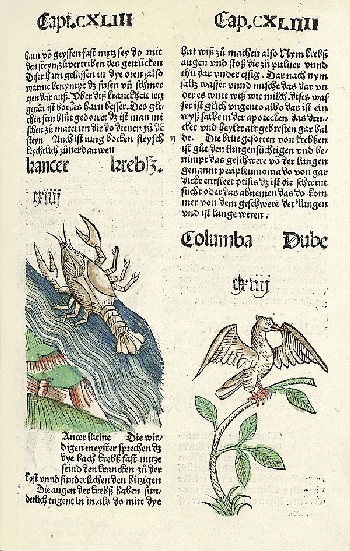 31
Gart der Gesundheit. 1486f., 1487.
Estimate:
€ 8,000 / $ 9,520
Sold:

€ 9,711 / $ 11.556
(incl. 17% surcharge)
Lot description
(Johannes de Cube,
Gart der Gesundheit).Mit
382 altkolor. Textholzschnitten
. Straßburg, Grüninger (ca. 1486-87).Restaur. Holzdeckelbd. d. Zt. mit 2 Messingschließen (Rücken und Bindung erneuert). Kl.-Folio. 213 (st. 224) Bll. Got. Type, 2-3 Sp., 43 Zeilen.
Cop. 3178. - BSB W-97. - Goff G 99 (nur 1 Expl. in Amerika). - Choulant 3. - Klebs 507, 3. - BMC I, 103. - Early Herbals 25. - Nicht bei Nissen und Pritzel. -
Ausgesprochen rare deutsche Hortus-Ausgabe
in einem 43-zeil. Wiegendruck, die erste aus der Offizin von J. Grüninger in Straßburg. Sie erschien ohne Druckerangabe und Datierung, als Druckjahr wurde lange Zeit 1485/86 vermutet (so BMC, Goff, Schreiber und Choulant), neuerdings wird die Ulmer Dinckmut-Ausgabe vom März 1487 als Vorlage für diesen Straßburger Druck angenommen, woraus sich eine Datierung nach dem 31. März 1487 ergibt (vgl. Amelung, Der Frühdruck im dt. Südwesten S. 229).
"Die Holzschnitte ... machen einen gefälligeren Eindruck als die Originale, da der Zeichner am Ende des Stengels gewöhnlich ein Stückchen sich zusammenrollender Rinde anbrachte, wodurch das Steife der älteren Ausgaben wesentlich gemildert wurde." (Schreiber, Die Kräuterbücher des 15. und 16. Jhs, S. XV) - Breitrandiges Exemplar, im ersten Drittel rubriziert und mit zahlr. eingemalten Initialen in Rot. In den breiten Rändern sowie auf zusätzlich eingebundenen kleineren Bll. sehr zahlr., tlw. längere Eintragungen, Anmerkungen und Ergänzungen von alter Hand, geschrieben in brauner Tinte. - Die meisten der in der Literatur verzeichneten Exemplare dieser seltenen Ausgabe sind unvollständig (so bei BSB, BMC, Choulant und Early Herbals); im vorlieg. Exemplar fehlen lediglich 2 Bll. der ersten Lage mit dem Titelholzschnitt und zwei weit. Holzschnitten (a/1 und a/8) sowie 9 Bll. der letzten drei Lagen (Register); der eigentliche Textcorpus liegt vollständig vor. Tlw. etw. finger- und schmutzfl. sowie wasserrandig, im ob. Seitenbereich nahezu durchgeh. braunfleckig. Ca. 20 Bll. mit ausbesserten bzw. hinterl. leichten Randläsuren. Einbd. (unter tlw. Verwendung des alten Lederbezugs) sowie Bindung und Vorsätze erneuert.
The first Grüninger edition of this early German herbal, scarce! 382 woodcuts in the text, in nice contemp. handcolouring. Restored contemp. calf on wooden boards, back and binding renewed. - 213 (instead of 224) leaves, partly rubricated. Slightly soiled and waterstained, nearly throughout foxed and brownish in the upper margins and textparts. Around 20 leaves with marginal tears (retouched). - With numerous contemp. marginalia and entrances.
31
Gart der Gesundheit. 1486f., 1487.
Estimate:
€ 8,000 / $ 9,520
Sold:

€ 9,711 / $ 11.556
(incl. 17% surcharge)
- - lots sold by Ketterer Kunst