Sale: 309 / Rare Books, May 21./22. 2007 in Hamburg

Lot 239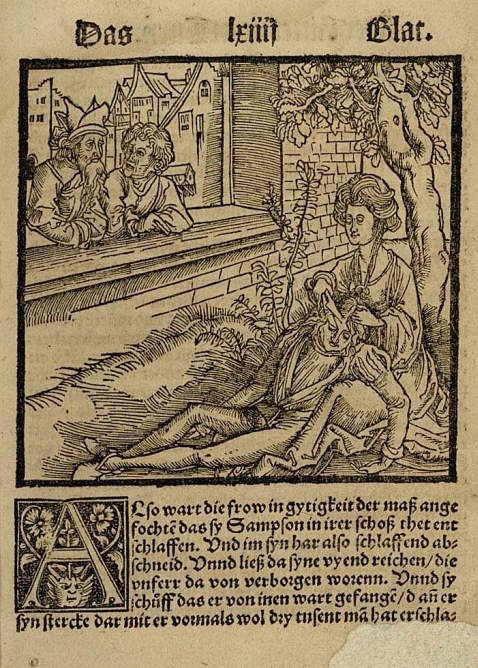 239
Spiegel der Tugend, 1519.
Sold:

€ 756 / $ 899
(incl. 20% surcharge)
Lot description
[La Tour Landry, G. de,
Der Ritter vom turn Oder der Spiegel der Tugent und Ersamkeyt, mit gar schönen und höflichen hystorien Exemplen, zu underwysung syner Kynd]. Mit
22 Holzschnitt-Illustrationen
(st. 45) und zahlr. Holzschnitt-Initialen. Straßburg, Joh. Knoblouch 1519. Blindgepr. weißer Pp. d. spät. 19. Jhs. 4to. Bl. LXIIII-CXVIII.
VD 16, L 652. - Goedeke I, 353, 5. - Muller II, 140, 248. - Heitz/Ritter 688. - Fünfte Ausgabe. - Der Autor der Originalausgabe lebte um 1370, der Übersetzer ist der Ritter Marquard vom Stein, seine Übersetzung erschien erstmals 1493. Die Holzschnitten nach der Ausgabe Basel 1513. - Ohne die ersten 63 num. Bll. und die letzten 5 nn. Bll., die ersten 2 w. Bll. mit von alter Hd. ergänztem Titel. - Tlw. leicht fleckig, 2 Bll. mit ergänztem Eckabriß (1 mit Bild- und Textverlust), 1 Bl. mit längerem Einriß (hinterlegt), tlw. im Bund vestärkt. Einbd. angeschmutzt und etw. bestoßen.
5th edition, first printed 1493. With 22 woodcut illustrations (of 45) and numerous woodcut initials. Later 19th. cent. card board. - Lacking the first 63 numb. ll. and the last 5 nn. ll. Partly stained, 2 ll. with defective corner (rebacked; 1 l. with loss of printed matter), 1 l. with longer tear (rebacked), partly reinforced in the gutter. Binding soiled and bumped.
239
Spiegel der Tugend, 1519.
Sold:

€ 756 / $ 899
(incl. 20% surcharge)