Sale: 348 / Rare Books, Nov. 17./18. 2008 in Hamburg

Lot 1748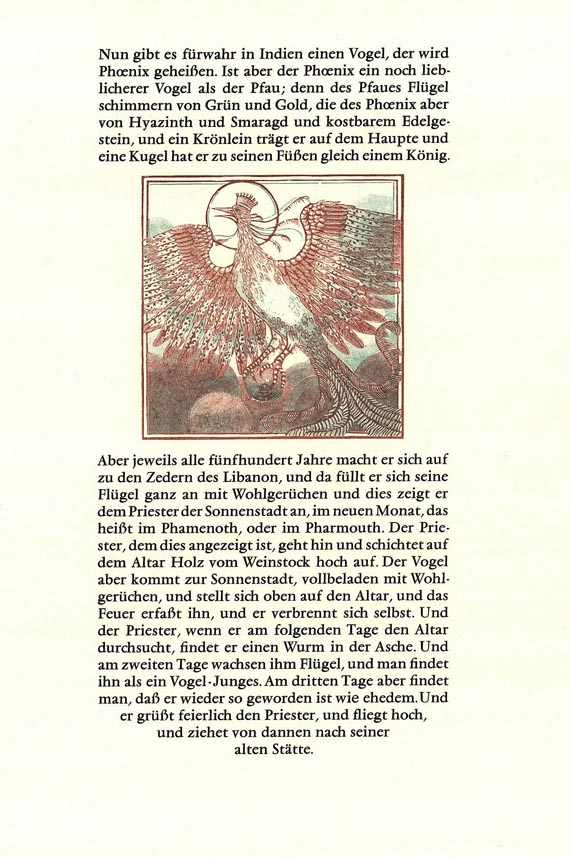 1748
Machandelboom. 1982.
Sold:

€ 648 / $ 609
(incl. 20% surcharge)
Raamin-Presse. -
Runge, Ph. O.,
Van den Machandelboom. Vom Machandelbaum. The Juniper. Ein Märchen. Zur Einleitung einiges aus dem
Physiologus
über den Vogel Phoenix. Dazu das
Lied des Vogels
in dreiundzwanzig Fassungen und fünf verwandte Märchen. Zum Abschluß aus dem 2. Buch Mose die ersten fünf Verse des dritten Kapitels. With
14 (13 in colours) orig. woodcuts by R. Quadflieg
. (Hamburg), Raamin-Presse 1982. Auburn orig. cardboard (by C. Zwang, Hamburg) with blind stamped lettering, in orig. slipcase. Folio.
Spindler 71, 13. - Tiessen VI, 19. - 1 of 180 numb. copies, signed by the artist in publisher's imprint (complete printrun 185). - 13. print of the Raamin press. - Composed of various character styles and copied on B. F. K. Rives. The fairy tale V
om Machandelbaum
"wurde 1806 von Philipp Otto Runge aufgeschrieben und 1812, nach der ersten Veröffentlichung im Jahre 1808 von Achim. v. Arnims Zeitschrift
Trösteinsamkeit,
von den Brüdern Grimm in ihre Sammlung aufgenommen" (publisher's imprint).
1748
Machandelboom. 1982.
Sold:

€ 648 / $ 609
(incl. 20% surcharge)
You might also be interested in
Philipp Otto Runge - lots sold by Ketterer Kunst