Sale: 348 / Rare Books, Nov. 17./18. 2008 in Hamburg

Lot 1450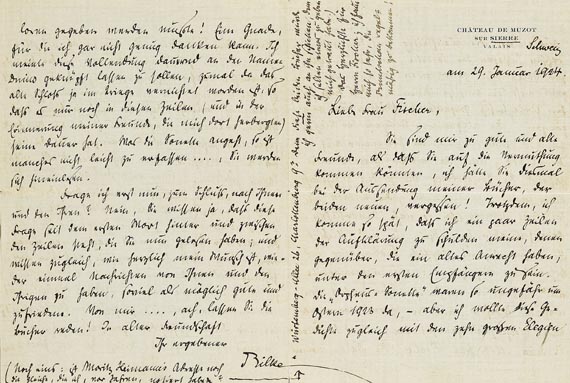 1450
1 eigh. Brief m. U. 1924.
Estimate:
€ 3,500 / $ 3,850
Sold:

€ 3,240 / $ 3,564
(incl. 20% surcharge)
Rilke, Rainer Maria.
Author, 1875-1926. Autographed letter with signature. Château de Muzot, 29. I. 1924. 4 pp. 8vo.
Long letter to Hedwig Fischer (wife of the publisher Samuel Fischer), about the delayed delivery of his newly released Orpheus sonett (Easter 1923) and the Duineser Elegien (February 1922), at the same time a reflection of the background of the elegies. "... ich wollte diese Gedichte zugleich mit den zehn großen Elegien aussenden, die gleichzeitig mit dem sehr raschen Entstehen der Sonette ... zur Vollendung gekommen waren, was übrigens nicht der einzige Grund ist, daß diese beiden Arbeiten sich gegenseitig stützen und ergänzen. Die allgemeine Ausgabe der Elegien fand ich dann schließlich im November auf Muzot vor, und da wieder schien es mir passend, die Versendung bis zu den weihnachtlichen Tagen hinauszuschieben ... dann fiel aber Unwohlsein ein und schließlich die Nothwendigkeit, ärztliche Beobachtung und Behandlung aufzusuchen: eine unerwartete und äußerst unerwünschte Abwesenheit von mehreren Wochen... In den Elegien (die mir besonders theuer sind) erkennen Sie jene, einst, 1912, auf Duino begonnenen zusammenfassenden Gedichte, die mir der Krieg soweit nach innen unterbrochen hatte, daß ich schon meinte, auf eine Fortführung und Vollendung für immer verzichten zu müssen. Mein jetziger stiller Wohnsitz, mit seiner großen - oft zu großen - Einsamkeit, hat mir dieses Gefährdete gerettet und so rein gerettet, daß nicht ein Bruchstück von früher verloren gegeben werden mußte! ... Ich meinte diese Vollendung dauernd an den Namen Duino geknüpft lassen zu sollen, zu mal da das Schloß ja im Kriege vernichtet worden ist, so daß es nur noch in diesen Zeilen (und in der Erinnerung meiner Freunde, die mich dort beherbergten) seine Dauer hat ..." - Nice, comprehensive letter.
1450
1 eigh. Brief m. U. 1924.
Estimate:
€ 3,500 / $ 3,850
Sold:

€ 3,240 / $ 3,564
(incl. 20% surcharge)
More offers for Rainer Maria Rilke
You might also be interested in
Rainer Maria Rilke - lots sold by Ketterer Kunst