Sale: 353 / Rare Books including Marine Art, May 18. 2009 in Hamburg

Lot 83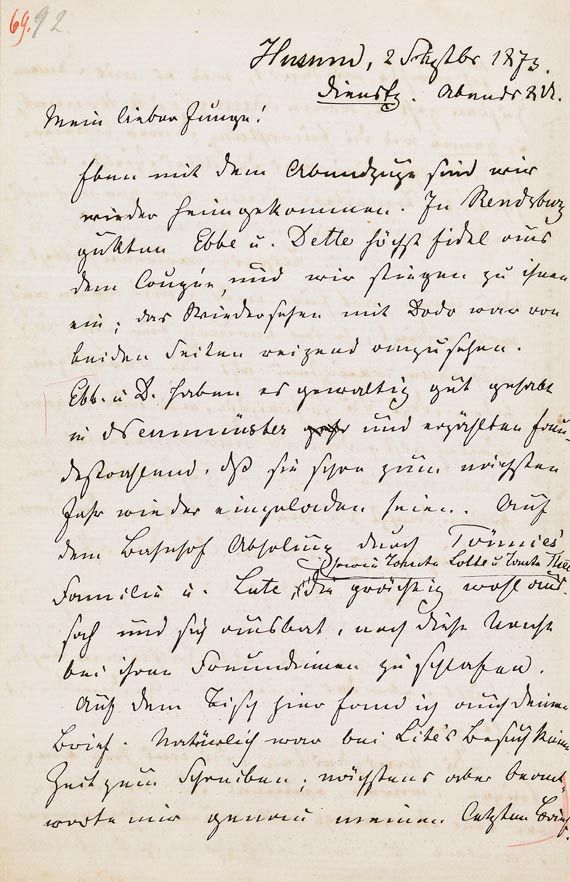 83
1 eigh. Brief an seinen Sohn Karl. 1873.
Estimate:
€ 1,800 / $ 2,034
Sold:

€ 2,040 / $ 2.305
(incl. 20% surcharge)
Storm, Theodor,
Dichter, 1817-1888. Eigh. Brief m. U. "dein Vater".Husum, 2. IX. 1873, "Dienstag Abends 8 U".
Ausführlicher und väterlich ermahnender Brief an seinen dritten Sohn Karl (1853-1899), der damals auf dem Leipziger Konservatorium Musik studierte.
"Mein lieber Junge! Eben mit dem Abendzuge sind wir wieder heimgekommen. In Rendsburg guckten Ebbe u. Dette [Storms Töchter Elsabe, geb. 1863, und Gertrud, geb. 1865] höchst fidel aus dem Coupée, und wir stiegen zu ihnen ein; das Wiedersehen mit Dodo [seiner jüngsten Tochter Friederike, geb. 1868] war von beiden Seiten reizend anzusehen. Ebb. u. D. haben es gewaltig gut gehabt in Neumünster und erzählten freudestrahlend, daß sie schon zum nächsten Jahr wieder eingeladen seien. Auf dem Bahnhof Abholung durch Tönnies' Familie u. Lute sowie Tante Lotte u. Tante Theo, die prächtig wohl aussah und sich ausbat, noch diese Nacht bei ihren Freundinnen zu schlafen. - Auf dem Tisch hier fand ich auch deinen Brief. Natürlich war bei Lite's Besuch keine Zeit zum Schreiben; nächstens aber beantworte mir genau meinen letzten Brief. Ich müßte wissen: 1, wie es mit deinem Husten geht, 2 wann Scherer zurück kommt, 3, genau wie die Einrichtung deiner Clavierstunden ist, und was du alles spielst. Du schreibst: Tonleiter. Wenn aber gar noch nichts weiter, so sieht es ja aus, als wenn du die ganzen 2 Jahre in Leipzig verloren hättest. Das wäre hart für mich; und wenn auch wohlverdient, so doch traurig für dich. Laß mich denn wenigstens jetzt die Beruhigung haben, daß du so fleißig, wie nur irgend möglich bist; daß du nur Zweierlei pflegst, deine Studien u. deine Gesundheit. Vergessen darst du nie, daß letztere die Vorbedingung zu allem Anderen ist (...) - 4. Septbr. Mein lieber Junge, bei meiner Ankunft hier fielen mir meine Geldsorgen so schwer aufs Herz und die von Jedem von Euch verbummelten Jahre, für welche das mit Noth u. Sorge herbeigeschaffte Geld völlig nutzlos verschwendet ist. Wäret Ihr fleißig gewesen, so wäre mir jetzt große Noth erspart. - Seid es denn jetzt; denn meine Erwerbsfähigkeit schwindet täglich (...) - Auf meinem Tisch fand ich mehrere Bücher von jungen Dichtern, so auch ein neues 'Eigene Wege' von Joh. Hinr. Fehrs, von dem ich dir einmal "Krieg u. Hütte" schickte. Schreib mir doch, ob du es gelesen (...) - Mama u. die Kinder grüßen dich. Schinken soll schon wieder einmal kommen. - Dein Vater."
Karl, der später Musiklehrer im Oldenburgischen Varel wurde und von seinem Vater die poetische Gabe geerbt hatte, ist in Storms Novelle Ein stiller Musikant verewigt worden. - Mit Numerierung und wenigen Anstreichungen von fremder Hand.
Autogaph letter, signed "dein Vater" (your father), written in a fatherly dunning manner, to his third son Karl, who was studying at the Leipzig conservatory. - With numbering and underscores by a hand other than that of the author.
83
1 eigh. Brief an seinen Sohn Karl. 1873.
Estimate:
€ 1,800 / $ 2,034
Sold:

€ 2,040 / $ 2.305
(incl. 20% surcharge)
Theodor Storm - lots sold by Ketterer Kunst