Sale: 366 / Rare Books including Marine Art, May 17./18. 2010 in Hamburg

Lot 165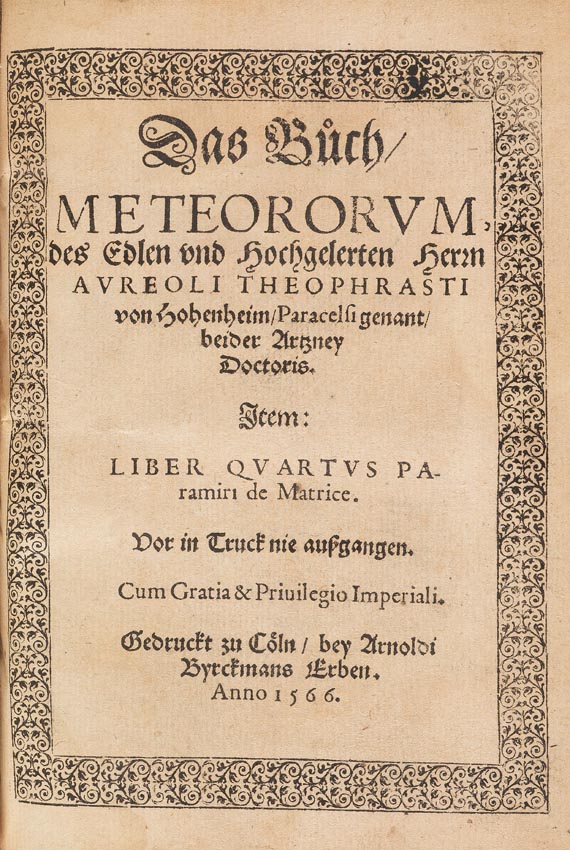 165
Philippus Theophrastus Paracelsus
2 Schriften, vorgebunden: Apotheker Ordnung, 1566
Estimate:
€ 1,000 / $ 940
Sold:

€ 2,040 / $ 1,917
(incl. 20% surcharge)
Paracelsus [d. i. T. B. von Hohenheim], Philosophiae ad Athenienses, drey Bücher. Von ursachen und Cur Epilepsiae .. Item, Vom urspurng, Cur oder heilung der contracten glidern. With 2 woodcut crests (rep.). Cologne, A. Birckmann Erben 1564. 103 unnumb. ll. - Bound in: Idem, Das Buch Meteororum. Item: Liber quartus paramiri de matrice. Vor in Truck nie außgangen. Ibidem. 1566. 1 (of 2) unnumb., 106 numb. ll. - Bound before: [Reformatio und erneuwerte Ordnung der Apotecken .. in deß Heiligen Reichs Freystadt Wormbs ..]. With woodcut printers device at the end. Frankfurt, N. Basse 1582. CXLVII pp. - Contemp. calf with blindtooled fillets and borders as well as arabesque cover vignette. 4to.

I: Sudhoff 65. - VD 16, P 528. - BM STC, German Books p. 139. - Not in Adams. - First edition. - "As the publisher does not mention a single word regarding this work's origin, his source has not been approved at all. The overblown preface refers to 'Theophrastus' in the third person, and are thus a clear proof for a revsion of the fragmentary work" (translation of quote from Sudhoff).
II: Sudhoff 73. - VD 16, P 425. - Zinner 2400. - Houzeau/L. 2644. - Not in BM STC and in Adams. - Rare first editon of this polemic writing against the meteorology of Aristotel. The second part of the book with the Liber de matrice on the fundamental differences between men and women. - Lacking the 2nd unnumb. ll. with portrait and coat of arms.
III: VD 16, W 4386. - Durling 4772. - Schelenz pp. 421f. and 424. - Not in BM STC and in Adams. - First edition. - Rare apothecarian order , "remarkable and unique .. In its 97 chapters the Worms order mentions everything that has to be considered in the business of a pharmacy" (translation of quote in Schelenz) - Lacking title leaf. First text l. with old stamp.
Somewhat browned and with traces of damp in places, with isolated small marginal blemishes. Binding ubbed and scuffed, joints slightly torn, pine ends chipped, flying endpapers removed.

Sammelband containing 2 scarce works by Paracelsus and 1 rare pharmacy regulation of Worms. Each in first edition. Contemp. blindtooled calf. - Lacking 1 nn. leaf with portrait and coat-of-arms in the 2nd part and the title-leaf in the 3rd part. Some browning, partly waterstained, here and there small marg. defects, first leaf with old stamp. Binding rubbed and bumped, joint torn, spine ends chipped, flying endpapers removed.


165
Philippus Theophrastus Paracelsus
2 Schriften, vorgebunden: Apotheker Ordnung, 1566
Estimate:
€ 1,000 / $ 940
Sold:

€ 2,040 / $ 1,917
(incl. 20% surcharge)
Philippus Theophrastus Paracelsus - lots sold by Ketterer Kunst