Sale: 373 / Rare Books including Marine Art, Nov. 22. 2010 in Hamburg

Lot 83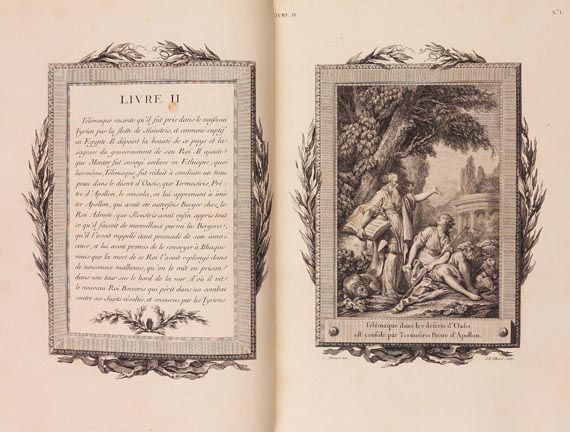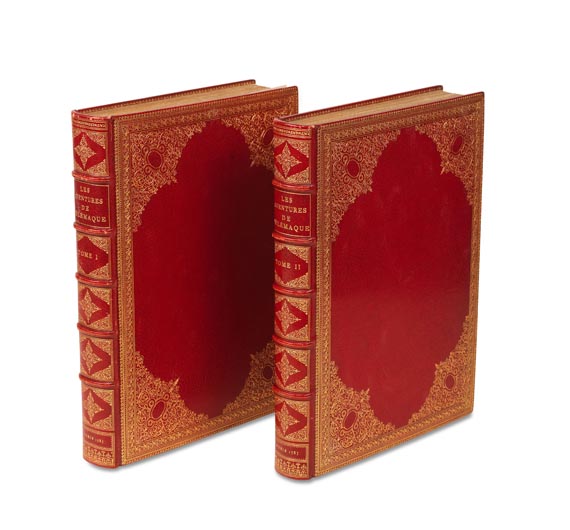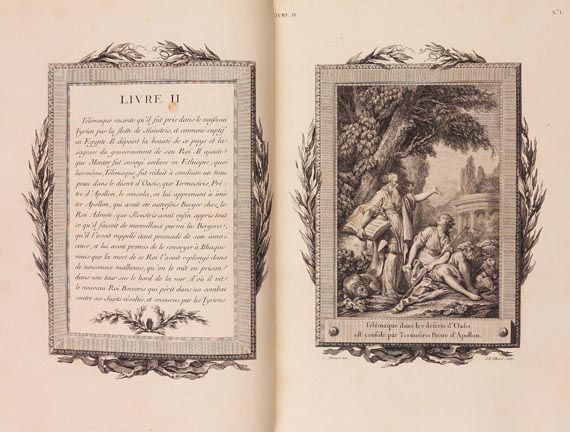 83
Les aventures de Télémaque. 1773-1785
Estimate:
€ 6,000 / $ 6,120
Sold:

€ 4,560 / $ 4.651
(incl. 20% surcharge)
Fénelon, [F. Salignac de la Mothe], Les aventures de Télémaque (fils d'Ulysse). 2 Bde. Mit gest. Titel von Montulay, 72 Kupfertafeln und 24 gest. Textbll. mit Bordüre nach Ch. Monnet von J. B. Tilliard , sowie mit zusätzl. 6 Tuschzeichnungen und 143 Kupfertafeln. Paris, "l'imprimerie de Monsieur" [P. F. Didot le jeune] 1785. Rote Maroquinbände d. 19. Jhs. (sign. "Cuzin" und "Marius Michel, Doreur") mit reicher Rücken- und Deckelverg. sowie Steh- und breiter Innenkantenvergoldung im Stil des 18. Jhs., mit GGoldschnitt, in marmor. Pp.-Schubern d. Zt. Gr.-4to. 4 Bll., 309 S.; 1 Bl., 297 S.

Cohen/Ricci Sp. 384f. - Sander 664. - Lewine S. 181. - Kat. Fürstenberg 130. - Zweite Buchausgabe mit den Kupfern nach Ch. Monnet von J. B. Tilliard, zugleich erste Ausgabe der Kupfer auf besserem, breitrandigem Papier; eine der schönsten illustrierten Bücher des 18. Jhs. in Frankreich. Die Suite der Kupfer von Tilliard nach Ch. Monnet erschien bei Didot bereits 1773, eine erste Buchausgabe zusammen mit Fénelons Dichtung erfolgte 10 Jahre später. - Angereichertes Exemplar mit zusätzlich zwischengebundenen Tafeln mit Telemaque-Illustrationen: Enthalten sind u. a. 6 zeitgenöss. Tuschzeichnungen (1 ankoloriert) nach den Kupfern von Tilliard; eine Folge von 24 der Kupfer nach Monnet von Tilliard auf aufgewalztem China, mit Schrift, jedoch ohne die Bordüre; eine Folge von 14 Kupfern nach Monnet von Grignion auf aufgewalztem China, mit englischer Untertitelung und ohne die Bordüre (ersch. London, Kearsly 1775); eine Folge von 24 Kupfern nach Souville u. a., aus der Pariser Fénelon-Ausgabe 1730 sowie eine Folge mit dem gest. Porträt nach Saint-Aubin (mit Darstellung des Fénelon) und 24 Kupfertafeln (vor aller Schrift) nach Moreau le Jeune von Renouard (Ausg. Paris 1790). - Der prächtige historisierende Maroquin-Einband von Francisque Cuzin (1836-1890), mit reichem Golddekor im Stil d. 18. Jhs. von Marius Michel (père, 1821-1890 und fils, 1846-1925), "besonders bedeutende Einbandkünstler in ihrer Zeit " (LGB V, 176). - Tlw. leicht gering stockfleckig und gebräunt. Ecken sowie die Bünde von Bd. I stellenw. leicht beschabt, Schuberkanten berieben. Insgesamt schönes, breitrandiges Exemplar in den prachtvollen Einbänden. - Mit Exlibris der französischen Bibliophilen Leon Rattier und Amand Fonder.

Second book edition with the illustrations of Monnet and Tilliard, and at the same time first large-paper edition. With engr. title, 72 engr. plates and 24 engr. text leaves with borders after Ch. Monnet by J. B. Tilliard, enriched with altogether 149 additional plates with illustrations for Telemaque (6 ink drawings and 143 copper plates from other editions). Red morocco by Cuzin with rich gilt decoration in 18th century style by Michel Martin. In slipcases. - Partly slightly foxed and browned. Raised bands of vol. I here and there rubbed, edges of slipcases rubbed. Overall fine large-paper copy in a magnificent binding. With bookplates of Leon Rattier and Amand Fonder.


83
Les aventures de Télémaque. 1773-1785
Estimate:
€ 6,000 / $ 6,120
Sold:

€ 4,560 / $ 4.651
(incl. 20% surcharge)
Francois Fénelon - lots sold by Ketterer Kunst