Sale: 379 / Rare Books, May 23. 2011 in Hamburg

Lot 34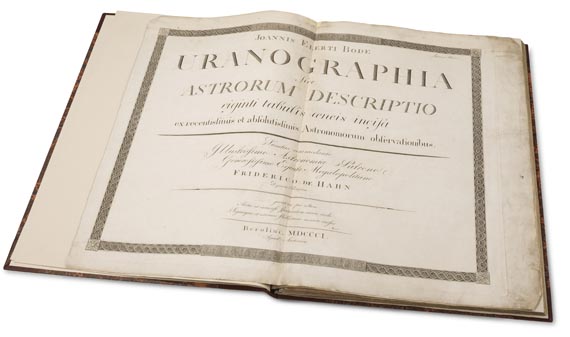 34
Uranographia. 1801
Estimate:
€ 12,000 / $ 14,400
Sold:

€ 13,440 / $ 16.128
(incl. 20% surcharge)
Lot description
Bode, J. E., Uranographia sive astrorum descriptio. Sumtus commodante .. Fr. de Hahn. Atlasband. Mit doppelblattgr. gest. Titel mit Bordüre und 20 doppelblattgr. gest. Sternkarten. Berlin, Selbstverlag 1801. Neuer HLdr. Gr.-Folio. 2 Bll. (Vorwort und Index)

Kenney 24. - Warner S. 39. - Poggendorff I, 217f. - Schröder I, 289, 25. - DSB II, 220f. - Schwemin 16. - Kartographisches Hauptwerk von Johann Elert Bode (1747-1826) und zweiter von ihm herausgegebener Sternatlas, der als umfangreichstes Werk seiner Art neue Maßstäbe setzte. - Die schönen, auf kräftigen Foliobögen gedruckten Karten zeigen die beiden Hemisphären des nördl. und südl. Sternenhimmels und 18 weitere Karten mit den Sternbildern. - "[Bode's] two sky atlases were for a long time indespensable tools for astronomers: the 'Vorstellung der Gestirne', which according to the example set by John Flamsteed's atlas, contained more than 5.000 stars; and the Uranographia , which surpassed all its predecessors by listing over 17.000 stars and containing, for the first time, the nebulae, star clusters, and double stars discovered by William Herschel." (DSB) - Bode, gebürtiger Hamburger und astronom. Autodidakt, war Direktor der Berliner Sternwarte und - neben zahlr. weiteren Publikationen - Herausgeber des Astronomischen Jahrbuches. Die durch die Vielfalt der privaten und wissenschaftl. Beobachtungsbeiträge nicht zu vermeidenden Ungenauigkeiten in den Karten der Uranographia glich Bode durch ein bereits ein Jahr später hrsg. Korrekturverzeichnis aus. "Unter den astronom. Autoren des 18. Jhs. nimmt er den ersten Rang ein." (ADB III, 1) - "Bode's Uranographia, successor to the celestial atlases of Bayer, Hevelius, and Flamsteed, was the most extensive and the last great atlas of its kind " (Warner) - Zustand: Gest. Titel etw. fleckig, linker Rand bis an die Platte abgerissen, die beiden Textbll. an den Seiten mit hinterl. und ergänzten Randeinrissen und Eckabriß, die Karten im Rand leicht finger- und staubfl. und im ob. Rand bis in die Darstellung etwas wasserrandig, 2 Karten mit hinterl. Randeinriß bis knapp in die Darstellung. Insgesamt gutes Exemplar des hochbedeutenden Werkes.

Major cartographic work by the German astronomer Johann Elert Bode, one of the most important authors in this field of the 18th century. Doublepage engr. title and 20 doublepage celestial charts. Modern half calf. - Engr. title somewhat stained with left margin torn off up to the platemark, text leaves with rebacked marginal defects, engr. maps slightly finger- and duststained in the margins and waterstained in the upper margin, touching the illustration by about 10 cm, 2 maps with rebacked marginal tear.


34
Uranographia. 1801
Estimate:
€ 12,000 / $ 14,400
Sold:

€ 13,440 / $ 16.128
(incl. 20% surcharge)
More Images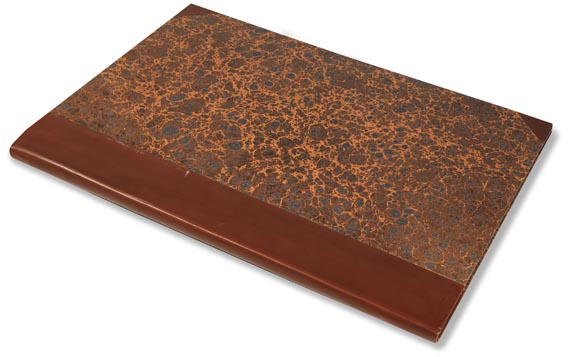 Cover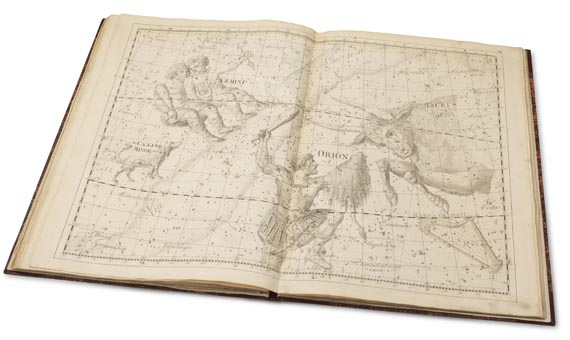 Johann Elert Bode - lots sold by Ketterer Kunst