Sale: 379 / Rare Books, May 23. 2011 in Hamburg

Lot 185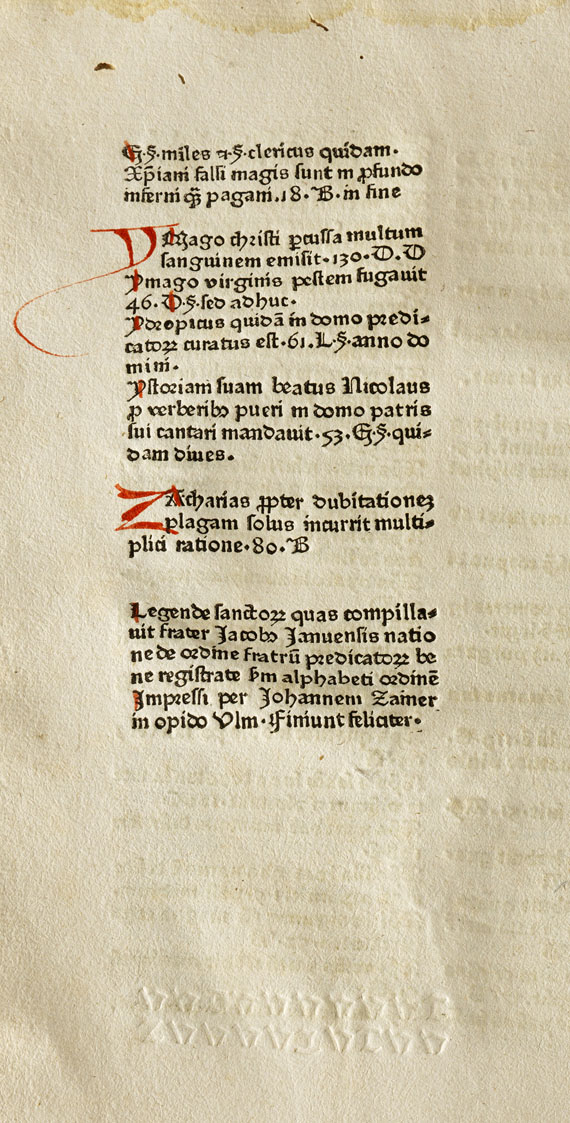 185
Legenda aurea. um 1476 7(19)
Estimate:
€ 5,000 / $ 5,500
Sold:

€ 9,960 / $ 10,956
(incl. 20% surcharge)
Jacobus de Voragine, Legenda aurea. Mit 1 großen Holzschnitt-Initiale und eingemalten Lombarden in Rot . Ulm, Johann Zainer d. Ä. [um 1478]. Spätgot. Kalblederband über abgeschrägten Holzdeckeln mit reicher Blind- und Rollenpräg.: VDeckel mit dopp. Rahmenaufbau aus Streicheisenlinien, Außenfelder mit Maria-Spruchband, Ecken mit Rosettenstempel, Innenfeld mit Rankenbordüren; RDeckel in den Außenfeldern mit rhombischem Doppeladler, Ecken und rautengemustertes Innenfeld mit Rosettenstempel; Rücken mit Palmettenstempeln zwischen den Doppelbünden; Schließenreste. Folio. 411 nn. Bll. (ohne das erste weiße Bl.). Got. Type. 41 Zeilen, stellenw. rubriziert.

GW M11322. - Goff J 87. - BSB I-73. - Polain 4477. - Vgl. Amelung, Frühdruck, Nr. 33 (zur Datierung). - Nicht im BMC. - Eine von drei lateinischen Ausgaben der Legenda Aurea bei Johann Zainer. "Von den drei dicht aufeinanderfolgenden Drucken, die wahrscheinlich alle aus dem Jahr 1478 stammen, scheint der unfirmierte der erste zu sein. Er hat als einziger nur das übliche kurze Inhaltsverzeichnis .. während die beiden anderen zusätzlich ein ausführliches, alphabetisch angelegtes Sachregister .. enthalten, an dessen Schluß sich jeweils das Impressum Zainers befindet" (Amelung). Das vorlieg. Exemplar unterhalb dieses Impressums mit zwei Reihen Großbuchstaben in Blinddruck, wohl ein Probedruck zur Erfassung der Spaltenbreite. - Schöner breitrandiger Druck mit Témoins und zeitgenöss. Marginalien , hervorzuheben ist die große Holzschnitt-Initiale nach romanischem Vorbild, ebenso die zeitgenöss. saubere Eintragung auf dem Innendeckel, unterhalb mit Widmungsvermerk eines Andreas Krafft, dat. Februar 1494. Bemerkenswert ferner die Textilabdrücke auf einigen Bögen durch das sog. Feuchtverfahren, eine technische Besonderheit zur Verbesserung der Druckqualität, die sich vor allem bei Johann Zainer findet (vgl. A. Schulte, Über das Feuchten des Papiers mit nassen Tüchern bei Joh. Zainer ; in Gutenberg-Jb. 1941, S. 19-22). - Tlw. wasserrandig (insbes. in der 2. Hälfte), vereinz. gleichmäßig etw. gebräunt, Registerbll. zu Beginn mit kl. Wurmspur im w. Rand, unt. Schnitt mit Tintenspuren, sonst innen sauber. Letztes Bl. mit breitem Randabschnitt (ohne Textverlust). Einbd. beschabt und bestoßen, wenige Fehlstellen im Bezug, Rücken mit spät. hs. Rückentitel in Weiß. Insges. gutes und vollständiges Exemplar.

Not in BMC. - One of three Latin editions of the Legenda Aurea by Johann Zainer. With 1 large woodcut initial and lombards drawn in red. Late Gothic calf binding over slanted wooden boards with rich blind- and roll-tooling. 411 unnumb. ll. (lacking first blank l.). Fine broad-margined print with témoins and contemp. marginalia. Dedication notice to Andreas Krafft, dated February 1494. What is also remarkable are the textile impressions on some sheets which originate from a printing technique for which moist sheets are employed, a technical particularity which results in an improved quality, it was especially used by Johann Zainer (cf. A. Schulte, Über das Feuchten des Papiers mit nassen Tüchern bei Joh. Zainer; in Gutenberg-Jb. 1941, pp. 19-22). - With waterstains in places (particularly affecting 2nd half), with isolated even browning in places, with small trace of worming in white margins at beginning of index ll., with ink stains to lower edge, else inside clean. Last l. with broad piece of margin cut off (no loss of printed matter). Binding scraped and scuffed, few defective spots to covering, spine with later ms. lettering in white. All in all fine and complete copy.


185
Legenda aurea. um 1476 7(19)
Estimate:
€ 5,000 / $ 5,500
Sold:

€ 9,960 / $ 10,956
(incl. 20% surcharge)
You might also be interested in
Jacobus de Voragine - lots sold by Ketterer Kunst