Sale: 405 / Rare Books, May 27./28. 2013 in Hamburg

Lot 32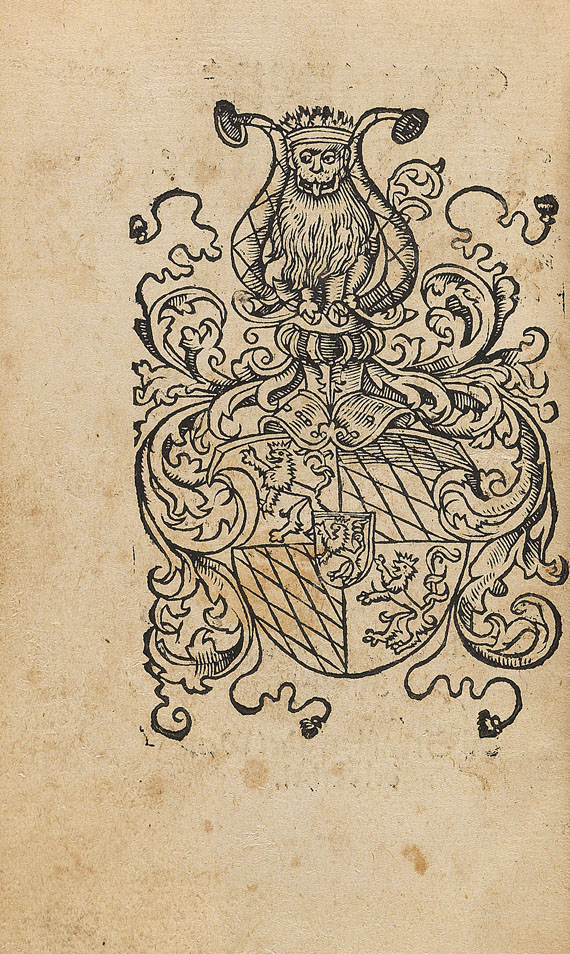 32
Regiment. 1544
Estimate:
€ 2,500 / $ 2,850
Sold:

€ 2,280 / $ 2.599
(incl. 20% surcharge)
Lot description
Diokles von Karystos, Regiment Für alle zufallende kranckheit des leibs, auch wie man die leibsgebresten so ietz- und vorhanden sol abschaffen .. Durch Hieronimum Bock ins teutsch gestellet. Mit blattgr. Wappenholzschnitt auf Titel verso. Straßburg, Wendel Rihel (1544). Mod. Pgt. 15 : 10 cm. 22 nn. Bll.

Erste deutsche Ausgabe, zugleich erste Einzelausgabe des Textes überhaupt (erschien lateinisch zuvor als Anhang in L. Vallas De urinae significatione , Straßburg 1528). Äußerst selten , kein Exemplar im JAP und im ABPC. - Medizingeschichtlich bedeutendes Diätetikon, verfaßt als Brief an den makedonischen König Antigonus II. und übersetzt von dem berühmten Botaniker Hieronymus Bock. Das Werk des attischen Arztes Diokles (4. Jh. v. Chr.), der bei den Athenern als 'zweiter Hippokrates' in hohem Ansehen stand, ist nur in Fragmenten überliefert. Die Autorschaft der vorliegenden Schrift wurde verschiedentlich in Zweifel gezogen, es gilt indessen als sein bedeutendstes Werk. "Als erster Arzt schrieb er in attischem Dialekt; die Fragmente zeigen den Einfluß der sizilischen Ärzteschule (Lehre von den vier Säften und vom Pneuma, Bedeutung des Herzens), des Hippokrates (Lehre vom Körper als einem Organismus) und des Aristoteles (strenge Methode und Terminologie). Ein längeres Bruchstück zeigt die Hochschätzung der richtigen Lebensweise. Sein Stil ist sehr sorgfältig" (Tusculum-Lexikon). - Der Index Aurelensis verzeichnet zwischen 1546 und 1573 vier Übersetzungen des Werkes (ohne die vorliegende). - Mit gedruckter Widmung an Wolfgang Pfalzgraf bei Rhein, Herzog von Bayern. - 1 Bl. verbunden. - Gering fleckig, 1 S. mit leichten Buntstiftspuren im weißen Rand.

VD 16, ZV 4580 (nur 1 Expl.!). - Nicht im Index Aurel., BM STC, bei Adams, Wellcome, Choulant, Muller (Straßburg), Schweiger etc.

First German edition, and first separate edition of this text in general (Latin version publ. in Valla's "De urinae significatione", 1528). Extremely rare, not in Index Aurel., BM STC, Adams, Wellcome etc.! With fullpage heraldic woodcut on verso of title. Modern vellum. 1 leaf misbound. Weakly spotted, 1 page with light traces of crayon in the blank margin.


32
Regiment. 1544
Estimate:
€ 2,500 / $ 2,850
Sold:

€ 2,280 / $ 2.599
(incl. 20% surcharge)
More Images