Sale: 385 / Rare Books, Nov. 21. 2011 in Hamburg

Lot 1015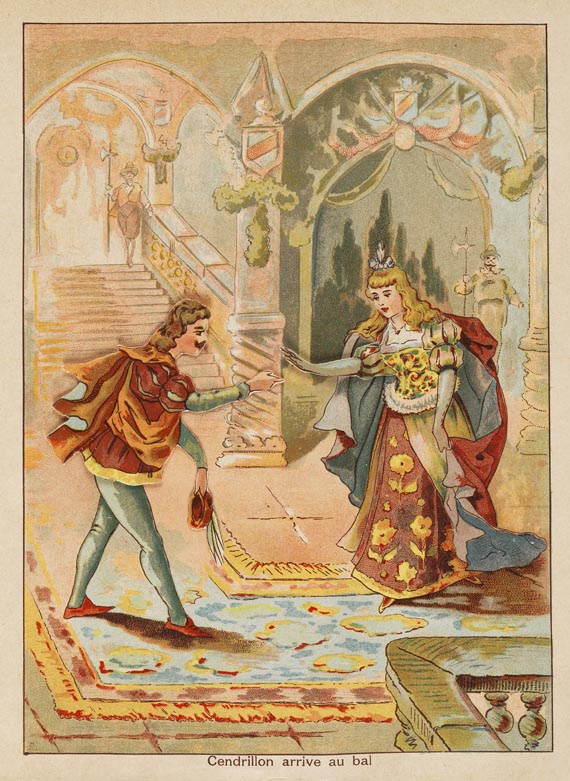 1015
Cendrillon. (170), 1900.
Sold:

€ 288 / $ 293
(incl. 20% surcharge)
Bourgade, A., Cendrillon ou la pantoufle de verre. Mit 6 farblithogr. Tafeln mit beweglichen Ziehelementen und 12 Illustrationen. Paris, A. Capendu [um 1900]. OHLwd. mit farb. VDeckelillustration. 4to. 1 Bl.

Nicht in den einschläg. Kinderbuchbiliographien. - Vermutl. erste Ausgabe. - Aus der Reihe Librairie enfantine illustrée . - Bewegliches Märchenbuch mit der Erzählung von Ch. Perrault, hier in der Bearbeitung von A. Bourgade. - Die lieblich illustrierten Tafeln nehmen den kleinen Leser auf eine märchenhafte Reise mit und zeigen Cendrillons Schicksal: ihre Begegnung mit der Fee, Kutschfahrt, erstes Treffen und Tanz mit dem Prinzen sowie die Flucht aus dem Schloß und schließlich die erfolgreiche Anprobe des gläsernen Schuhs. Jede Taf. ist mit einer kleinen Bildunterschrift versehen. - Gut erhaltenes, voll bewegliches Exemplar.

Not in the relevant children book bibliographies. - Presumably first edition. - From the series 'Librairie enfantine illustrée'. With 6 color-lithogr. plates with movable elements and 12 illustrations. Orig. half cloth with front board illu. in colors. 4to. 1 l. - Well preserved, fully functioning copy.


1015
Cendrillon. (170), 1900.
Sold:

€ 288 / $ 293
(incl. 20% surcharge)
Armand Bourgade - lots sold by Ketterer Kunst