Sale: 385 / Rare Books, Nov. 21. 2011 in Hamburg

Lot 16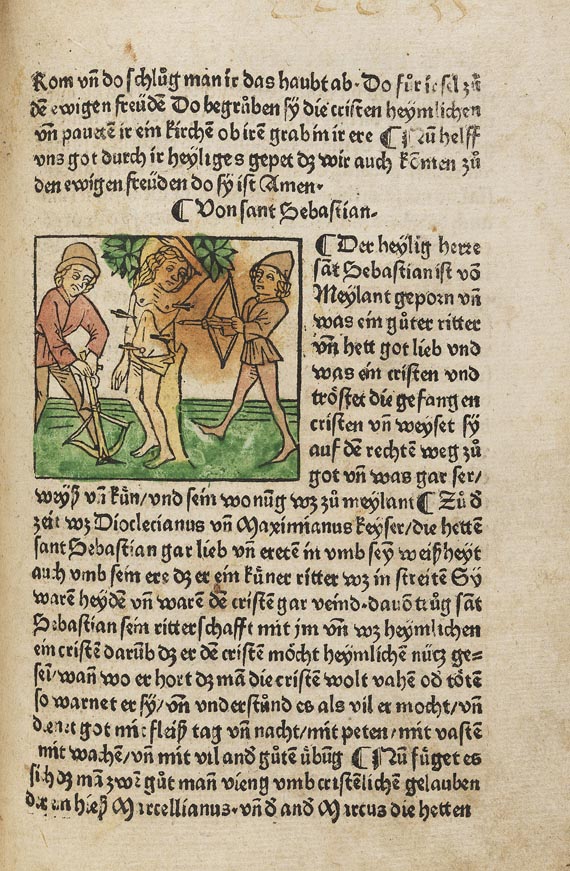 16
Das Leben der Heiligen (Legenda aurea). 2 Bde. (C9/C17)., 1477.
Estimate:
€ 25,000 / $ 26,500
Sold:

€ 45,600 / $ 48,336
(incl. 20% surcharge)
Jacobus de Voragine, Leben der Heiligen (Legenda aurea sanctorum, deutsch). Winterteil und Sommerteil. 2 Bde. Zus. mit über 200 altkolor. Textholzschnitten (einige wdh.), 2 altkolor. Maiblumen-Initialen sowie 1 altkolor. floralen Holzschnitt-Bordüre am Beginn des Winterteils. [Augsburg, Johann Bämler 1477]. Spätgot. Holzdeckelband mit Blindprägung (Winterteil) und Lederband d. spät. 19. Jhs. (Sommerteil). Folio. 493 (st. 512) nn. Bll.; 430 (st. 466) nn. Bll. Got. Type. 27-29 Zeilen. Der Sommerteil durchgeh. rubriziert und in Rot foliiert.

Sommerteil : Hain 9971. - Goff Suppl. J 157a. - BSB H-12. - Hubay 1561. - Schreiber 4301. - Schramm III, S. 19 u. 25. - GW M11357 (verz. nur das vorlieg. Expl.). - Vom Winterteil sind außer dem vorliegenden keine weiteren Exemplare bekannt! Es gilt noch heute, was Hain vor knapp 200 Jahren schrieb: "De parte hiemali nihil constat." - Extrem seltene Ausgabe , die vollständig mit beiden Teilen weder im Handel noch in den einschlägigen Bibliotheken nachgewiesen ist. Der vorliegende Winterteil ist das einzig bekannte Exemplar und wurde kürzlich dem Gesamtkatalog der Wiegendrucke (GW) für die Überarbeitung des noch vorläufigen Eintrags zur Verfügung gestellt.
Zweite Ausgabe bei Johann Bämler, erschien dort erstmals 1475. Die erste deutsche Ausgabe überhaupt erschien 1472 bei Günther Zainer in Augsburg. Die Holzschnitte wurden aus Bämlers erster Ausgabe von 1475 übernommen und sind laut Schreiber Nachschnitte der Illustrationen der Zainer-Ausgabe. Die Schnitte des Winterteils sind meist mit den Farben Grün, Blaßgelb, Altrosa, Ocker und Blau koloriert, während diejenigen des Sommerteils durchweg kräftiger illuminiert sind, vor allem bei den Figuren und dem szenischen Vordergrund, wo auch Zinnoberrot, Rotbraun, Maisgelb und Aquamarin verwendet wird. Eine leuchtende Wirkung erhalten die Bilder zudem durch den orange kolorierten Rahmen.
Detaillierte Kollation auf Anfrage. Zustand Winterteil : Es fehlen insges. 19 Bll., darunter ca. 18 Holzschnitte. Vorhanden insges. 112 st. 130 (?) Holzschnitte. - Durchgeh. (finger-) fleckig, die ersten Bll. stärker, und vereinz. wasserrandig, 8 Bll. mit größeren ergänzten Fehlstellen (Textverlust), einige Einrissen (meist hinterl.), vereinz. kleinere Läsuren, im Bundsteg. tlw. verstärkt. Einbd. bestoßen und tlw. leicht wurmstichig, Rücken unter Verwendung des alten Materials erneuert, Gelenk mit Einriß, bewegl. Schließenteile entfernt. - Exemplar aus der Bibl. von Georg Kloss (Exlibris), später in der Slg. Detlef Mauss (Blindstempel auf Vorsatz).
Zustand Sommerteil : Fehlen insges. 36 Bll., darunter 33 Holzschnitte (insges. 95 statt 128 Holzschnitte). - Meist etw. fingerfleckig und vereinz. wasserandig, 8 Bll. mit ergänzten Fehlstellen (Text- und Bildverlust, 4 Bll. stärker), vereinz. ergänzte oder hinterl. Randläsuren, einige alte Marginalien. Einbd. etw. berieben, Gelenk mit Einriß, Ecken und ob. Kap. mit wurmbedingten Fehlstellen. - Exemplar aus der Bibl. Donaueschingen (Sotheby's 1. Juli 1994), danach in der Slg. Mauss.

Extremely rare edition, there is no recorded copy for the complete edition with both parts, neither in commerce nor in the relevant bibliographies. This 'Winterteil' is the only known copy and was made available to the 'Gesamtkatalog der Wiegendrucke' (GW) for revision of the provisional entry. Second edition by Johann Bämler, there first publihed in 1475. Together with more than 200 woodcuts in the text in old coloring (some rep.), 2 Maiblumen initials in old coloring as well as 1 floral woodcut border in old coloring at the beginning of the 'Winterteil'. Contemp. calf over wooden boards with blind-tooling (Winterteil) and late 19th century calf binding (Sommerteil). Folio. 493 (of 512) unnumb. ll.; 430 (of 466) unnumb. ll. Gothic type. 27-29 lines. 'Sommerteil' rubricated throughout and foliated in red.
Detailed collation on request. Condition 'Winterteil': Lacking 19 leaves with ca. 18 woodcuts. Contains altogether 112 of 130 (?) woodcuts. - With thumbing throughout, first ll. stronger and with isolated waterstains, 8 ll. with mended defective spots (loss of printed matter), some tears (mostly rebacked), isolated small blemishes. Gutter margin partly reinforced. Binding scuffed and with slight traces of worming in places, spine renewed using the old material, joint with tear, movable claps parts removed. - Copy from the library of Georg Kloss (ex-libris), later in the collection Detlef Mauss (blindstamp on endpaper). - Condition 'Sommerteil': Lacking 36 leaves with 33 woodcuts. Contains altogether 95 of 128 woodcuts. Mostly somewhat thumbed and with isolated waterstains, 8 ll. with mended defective spots (loss of printed matter, 4 ll. stronger), isolated mended or rebacked marginal blemishes, some old marginalia. Binding somewhat rubbed, joint with tear, corners and upper spine end with defective spots due to worming. - Copy from the library Donaueschingen (Sotheby's 1st July 1994), afterwards in collection Mauss.


16
Das Leben der Heiligen (Legenda aurea). 2 Bde. (C9/C17)., 1477.
Estimate:
€ 25,000 / $ 26,500
Sold:

€ 45,600 / $ 48,336
(incl. 20% surcharge)
You might also be interested in
Jacobus de Voragine - lots sold by Ketterer Kunst