Sale: 391 / Rare Books, May 21. 2012 in Hamburg

Lot 564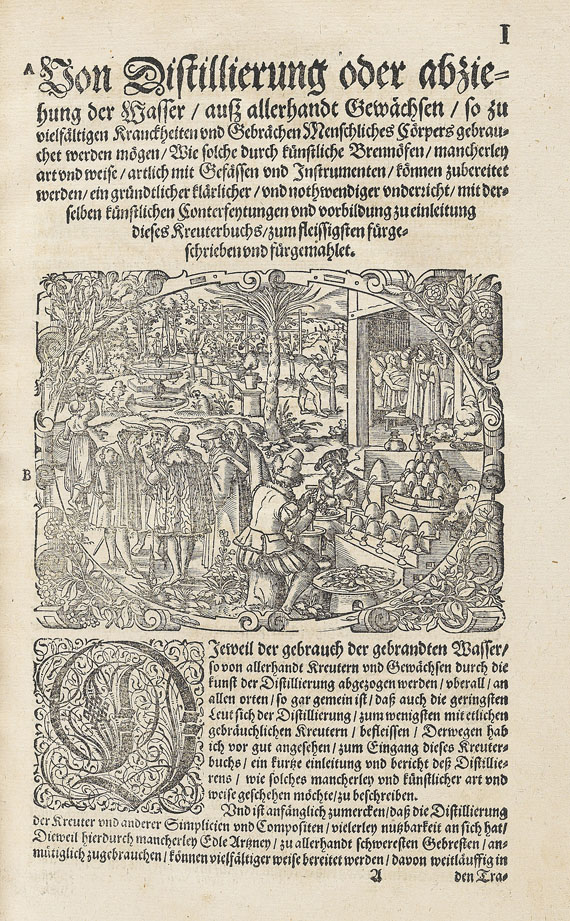 564
Kreuterbuch. 1593.
Estimate:
€ 4,000 / $ 4,680
Sold:

€ 3,600 / $ 4.212
(incl. 20% surcharge)
Lot description
Lonicer, A., Kreuterbuch, kunstliche Conterfeytunge der Bäume, Stauden, Hecken, Kräuter, Getreyde, Gewürze .. Mit Titelholzschnitt , Holzschnitt-Porträt , großer Holzschnitt-Druckermarke am Ende und ca. 800 Textholzschnitten . Frankfurt, Chr. Egenolff Erben 1593. Zeitgenöss. Schweinslederband auf 4 Bünden mit reicher Blind- und Rollenprägung. Folio. 14 nn., 382 röm. num., 4 nn. Bll. (d. l. w.) - Angeb.: Wirsung, Chr. , Ein new Artzney Buch darinn fast alle eußerliche und innerliche Glieder deß menschlichen Leibs, sampt ihren Kranckheiten und Gebrechen .. in Druck ubergeben, durch J. Th. Tabernaemontanus. Mit Titelholzschnitt von Jost Amman. Neustadt a. d. Haardt, M. Harnisch 1592. 6 (st. 14) Bll., 850 S., 1 w. Bl., 116 Bll. Register.

Guterhaltener Sammelband mit zwei bedeutenden naturwissenschaftlichen Werken des 16. Jhs.
I: VD 16, L 2425. - Nissen 1228. - Neunte deutschsprachige Ausgabe bei Egenolff Erben. Enthalten sind neben Pflanzen, Tieren und Mineralien auch zahlreiche Abbildungen von Destilliergeräten. "Lonicerus brachte in seinen weitverbreiteten Kräuterbüchern eine selten übersichtliche Abhandlung über die Destillationsmethoden seiner Zeit. Sie ist übersichtlich und in ihren Holzschnitten sehr gut veranschaulicht." (Heilmann, Kräuterbücher S. 233) - "Seinen wissenschaftlichen Standpunkt kennzeichnet, daß z. B. im Bilde dem staunenden Leser das Ausschlachten eines Walfisches vorgeführt und ausführlich geschildert wird, daß man ihn erbeutet, wie auch später noch dargestellt wird, in der Art, daß ihm der Jäger die Nasenlöcher zukeilt." (Schelenz S. 432)
II: VD 16, W 3610. - Durling 4754. - Wellcome I, 6756. - Siebente Ausgabe des reichhaltigen Arzneibuches in der Bearbeitung des Tabernaemontanus. Mit ausführl. dt. und lat. Register. - Fehlt 1 w. Bl. sowie ein eigenständiger Teil der Vorstücke (7 Bll.); die vorhandenen Textteile so komplett.
Zustand: Vereinz. gering fleckig, wenige Ecken mit Knickspur, vord. flieg. Vorsatz nahezu gelöst und mit zeitgenöss. Eintragungen, Innendeckel mit Kaufvermerk von 1596. Einbd. etw. fleckig und Ecken leicht bestoßen.

Well-preserved Sammelband with 2 important renaissance works. I: With woodcut on title, printer's device and ca. 800 woodcuts in text. - II: With woodcut on title by J. Amman. Lacking a closed part (7 leaves) of the prelims. - Contemp. blindstamped pigskin on 4 raised bands. - Here and there slight staining, few corners with creases, front flying endpaper nearly detached and with contemp. inscriptions, pastedown with entry of acquisition dat. 1596. Binding somewhat stained, edges slightly bumped.


564
Kreuterbuch. 1593.
Estimate:
€ 4,000 / $ 4,680
Sold:

€ 3,600 / $ 4.212
(incl. 20% surcharge)
You might also be interested in