Sale: 397 / Rare Books, Nov. 19./20. 2012 in Hamburg

Lot 544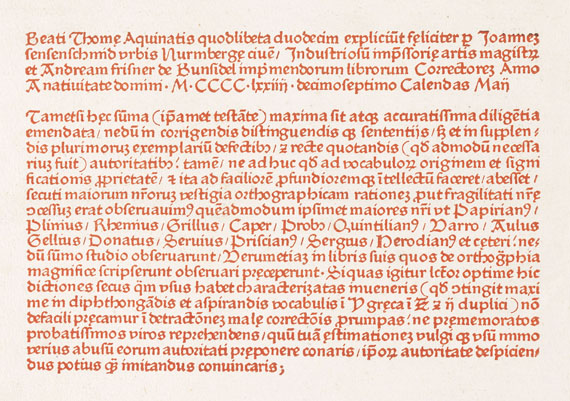 544
Questiones de duodecim quodlibeta. 1474
Estimate:
€ 3,000 / $ 3,120
Sold:

€ 3,840 / $ 3.993
(incl. 20% surcharge)
Thomas von Aquin, Quaestiones de duodecim quodlibet. Nürnberg, Johann Sensenschmidt und Andreas Frisner, 15. April 1474. HLwd. d. 19. Jhs. Gr.-Folio. 136 nn. Bll. (das erste weiß). Got. Type. 2 Spalten. 48 Zeilen. Incipit und Kolophon in Rotdruck.

Dritte Ausgabe der Quaestiones des Thomas von Aquin, die einzige bei Johann Sensenschmidt, dem ersten Drucker Nürnbergs . Zugleich einer der ersten Drucke Sensenschmidts mit seinem Gesellschafter Andreas Frisner, Professor in Leipzig, der vor allem als Korrektor wirkte. - Sauberer und breitrandiger Druck in Sensenschmidts schöner Gotico-Antiqua-Type. "Seinen Typen italienischen Charakters wird besondere Schönheit nachgerühmt" (Geldner). - Das 1470 erstmals erschienene Werk enthält eine Sammlung von Abhandlungen zu zahlreichen Fragen des kirchlichen und weltlichen Lebens in willkürlicher Zusammenstellung. - Die Tabula an den Anfang gebunden (*4, das erste weiß), wie in den Expln. der BSB und bei Polain. - Bl. a1 und letztes Bl. mit Stempel "The Allan Library", letzte Bll. mit wenigen kl. hinterl. Läsuren, das erste leere Bl. recto angeschutzt. Einbd. fleckig und berieben, VGelenk eingerissen.

Hain/Cop. 1402. - GW M46333. - Goff T 184. - BMC II, 406. - BSB T-250. - Polain 3718. - Geldner I, 161.

Scarce edition by Sensenschmidt, Nuremberg's first printer. One of his earliest printings together with Andreas Frisner (cf. Geldner I, 161). Colophon printed in red. 19th cent. half cloth. 136 nn. leaves (first blank). Gothico-Roman Type. 2 columns. 48 lines. - Last leaves with few small backed spots, first blank on recto soiled. Binding stained and rubbed, front joint torn. Allan copy (stamp on leaf a1 and last leaf).


544
Questiones de duodecim quodlibeta. 1474
Estimate:
€ 3,000 / $ 3,120
Sold:

€ 3,840 / $ 3.993
(incl. 20% surcharge)
Thomas von Aquin - lots sold by Ketterer Kunst