Sale: 405 / Rare Books, May 27./28. 2013 in Hamburg

Lot 420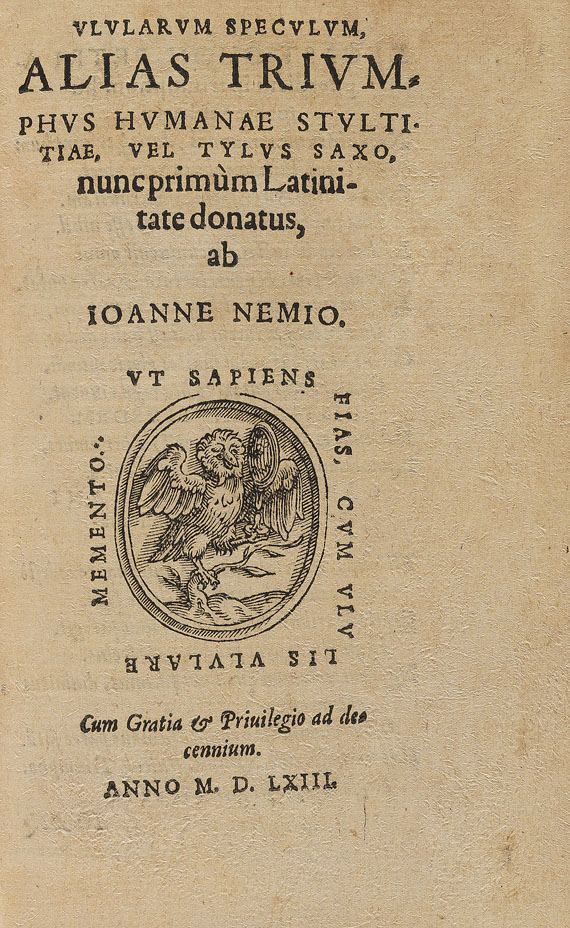 420
Ulularum speculum. 1563.
Estimate:
€ 7,500 / $ 8,550
Sold:

€ 8,280 / $ 9.439
(incl. 20% surcharge)
Lot description
Eulenspiegel. - Nemius, J., Ulularum speculum, alias triumphus humanae stultitiae, vel Tylus Saxo, nunc primum Latinitate donatus. Mit schöner Holzschnitt-Vignette (Eule mit Spiegel) auf dem Titel. O. O. u. Dr. 1563. Mod. HLdr. mit goldgepr. RTitel. 8vo. 38 nn. Bll.

Seltene Ausgabe eines der seltensten Till Eulenspiegel-Versionen , nämlich der ersten Adaptation in Versen von dem Humanisten und neo-lateinischen Dichter Johannes Nemius (ca. 1520 bis nach 1580), der es in Anlehnung an den von ihm bewunderten Erasmus und dessen Lob der Torheit umdichtete. Der in s'Hertogenbosch geborene Nemius studierte in Köln und wurde später Rektor der Lateinschulen in Nimwegen, Amsterdam und s'Hertogenbosch. Sein vorliegendes Werk erschien erstmals 1558 in Utrecht bei Herman Borculo. Die vorliegende zweite Ausgabe enthält am Ende die Druckerlaubnis für die Utrechter Erstausgabe, wobei Borculo als Drucker genannt wird. Ob diese zweite Ausgabe nun tatsächlich von Borculo gedruckt oder ob die Druckerlaubnis schlechterdings übernommen wurde, konnte bislang nicht entschieden werden. - Schöner Druck in Kursiv mit gedruckten Marginalien in Antiqua. Die Titelvignette zeigt eine Eule, die in einen Spiegel blickt, mit dem umlaufenden Motto "Ut sapiens, fias, cum ululis ululare memento". - Ohne die letzten 2 weißen Bll. - Gleichmäßig schwach gebräunt.

VD 16, ZV 2293. - Adams U 37. - M. Winkler, Der Lateinische Eulenspiegel des Joannes Nemius (Tübingen 1995), S. 24 f. und 55 (Abb.).

Second edition of one of the rarest Tyl Ulenspiegel (Till Owlglass) versions: the first adaptation of the entire story of Tyl Ulenspiegel in Neo-Latin verses by the humanist Joannes Nemius, a fiery admirer of Erasmus and his "Laus stultitiae". First published Utrecht 1558. With nice woodcut vignette on title (owl holding a mirror). Mod. half morocco. 38 nn. leaves (lacking last 2 blanks). - Even slight browning, else good copy.


420
Ulularum speculum. 1563.
Estimate:
€ 7,500 / $ 8,550
Sold:

€ 8,280 / $ 9.439
(incl. 20% surcharge)