Sale: 405 / Rare Books, May 27./28. 2013 in Hamburg

Lot 471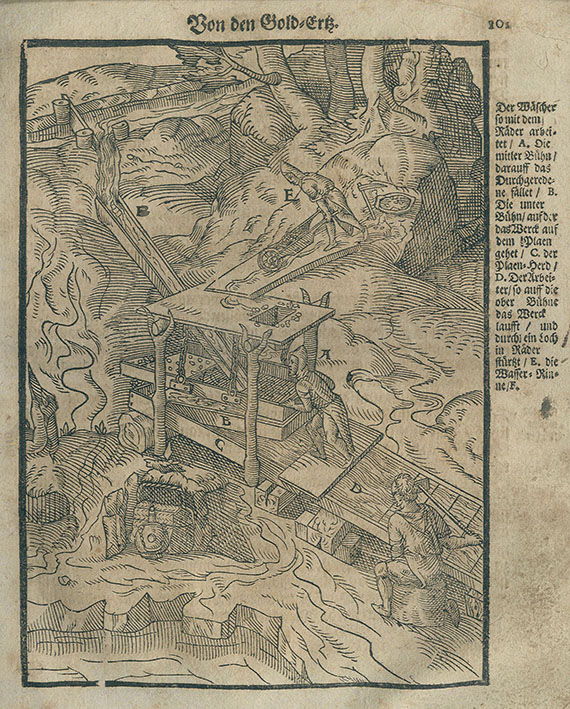 471
Aula Subterranea. 1684
Sold:

€ 432 / $ 505
(incl. 20% surcharge)
Lot description
Ercker, L., Aula subterranea domina dominantium subdita subditorum. Das ist: Untererdische Hofhaltung .. Oder Gründliche Beschreibung derjenigen Sachen, so in der Tieffe der Erden wachsen, als aller Ertzen der Königlichen und gemeinen Metallen, auch fürnehmster Mineralien .. Anitzo .. auffs neue mit vielen nützlichen und nohtwendigen Stücken und Secreten .. mercklich vermehret [durch Joh. H. Cardalucius] zusambt angehängter Auslegung der Terminorum und Red-Arten der Bergleute. 2 Tle. in 1 Bd. Mit gest. illustr. Titel und 41 großen Textholzschnitten . Frankfurt, Joh. D. Zunner 1684. Pp. um 1900. Folio. 7 Bll., 220 S.; 123 S., 2 Bll., 68 S.

Zweite Ausgabe der erweiterten Fassung der Beschreibung allerfürnemisten mineralischen Ertzt unnd berckwercks Arten (EA Prag 1574), mit den gleichen Holzschnitten versehen. - Mit dem seltenen Anhang von C. Berward Phraseologiae Metallurgicae zur Sprache im Bergbau. - "Eines der besten Bücher über Metallhüttenwesen und Probierkunde , die je erschienen sind, reich mit schönen Abbildungen geziert, von größter Sachkunde zeugend" (Ferchl S. 144). - "Erker's Beschreibung may be ragarded as the first manual of analytical and metallurgical chemistry .. Ercker's account of the fact that zinc precipitates other metals from solutions .. is to be found only in the 1684 and later editions" (DSB). - Die Tafeln zeigen unter anderem die Arbeiten in den Schmelzhütten des 17. Jhs. - Etw. gebräunt und stärker wasserrandig, tls. fleckig. Einbd. mit Gebrauchsspuren, Rücken entfernt.

DSB IV, 394. - Lipperheide Pd 4 Anm. - Hoover Coll. 284. - Darmstaedter, Probierbüchlein S. 92. - Vgl. Ferguson I, 244 ff.


471
Aula Subterranea. 1684
Sold:

€ 432 / $ 505
(incl. 20% surcharge)
Lazarus Ercker - lots sold by Ketterer Kunst