Sale: 405 / Rare Books, May 27./28. 2013 in Hamburg

Lot 405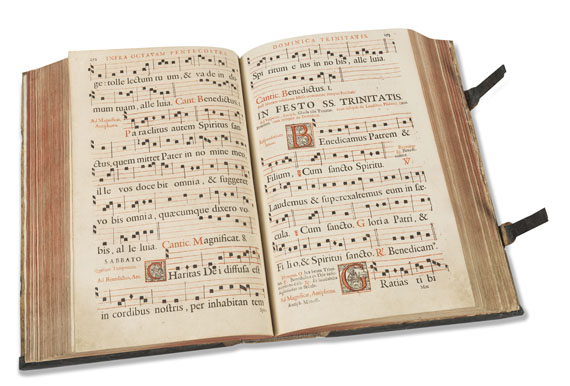 405
Antiphonale Diurnum (auf Papier). 1625
Estimate:
€ 1,500 / $ 1,710
Sold:

€ 2,520 / $ 2.872
(incl. 20% surcharge)
Lot description
Antiphonale diurnum, dispositum iuxta breviarium monasticum, Pauli V. pontificis maximi auctoritate nuper recognitum .. Pro omnibus sub regula sanctissimi patris Benedicti militantibus. Mit gest. Titelvignette und sehr zahlr. figürl. Holzschnitt-Initialen in Rot- und Schwarzdruck . Toul, S. Belgrand 1625. Zeitgenöss. Schweinslederband über Holzdeckeln mit 8 Messing-Buckeln, 2 Messing-Kantenbeschlägen und 2 Messing-Schließen. Groß-Folio (51 : 33 cm). 1 Bl., 464, LXXXII (st. LXXXVIII) S.

Großformatiges, seltenes Antiphonale in einem zeitgenöss. Holzdeckelband. Schöner großzügiger Druck in Rot und Schwarz und in unterschiedlichen Schriftgrößen gesetzt, schwarze Quadratnoten auf 4 roten Linien, mit Hunderten von dekorativen Holzschnitt-Initialen. Ein- und angebunden 16 Bll. mit Ergänzungen von sauberer zeitgenöss. Hand, druckähnlich geschrieben in roter und schwarzer Tinte. - Fehlen gegen Ende 3 Bll. (K1, L1 und L4) sowie 3 Bll. (?) Vorstücke. Leicht fleckig (wenige Bll. deutlicher), vereinz. schwach gebräunt, tls. mit hinterl. oder verstärkten Randmängeln, 4 Bll. mit gr. Fehlstelle (Textverlust, hs. ergänzt). Einbd. schwach berieben, wenige kl. Wurmspuren, Deckelbezüge gering gewellt.

Large-sized, finely printed antiphonar with engr. title-vignette and hundreds of fig. woodcut initials in red and black. Contemp. pigskin over strong wooden boards with 8 brass pieces, 2 brass clasps and 2 brass fittings covering the lower edges. 51 : 33 cm. - Lacking 3 leaves towards end and presumably 3 preliminary leaves. Bound in 16 additional leaves with ms. antiphonary notes by fine contemp. hand. - Slight staining (few leaves stronger), here and there minor browning, partly with backed or strengthened marginal defects, 4 leaves with large defective spot (loss of text, supplied by hand). Binding slightly rubbed, few small wormholes, covering minim. wavy.


405
Antiphonale Diurnum (auf Papier). 1625
Estimate:
€ 1,500 / $ 1,710
Sold:

€ 2,520 / $ 2.872
(incl. 20% surcharge)