Sale: 405 / Rare Books, May 27./28. 2013 in Hamburg

Lot 85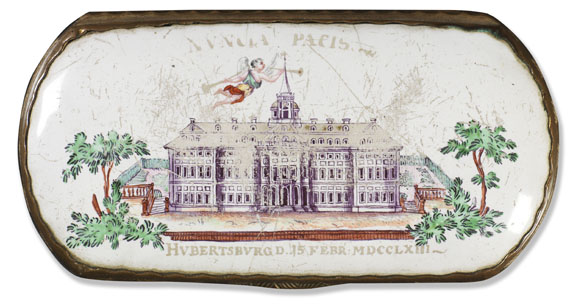 85
Schnupf-Tabak Dose. Preußen, 1763
Sold:

€ 636 / $ 744
(incl. 20% surcharge)
Lot description
Siebenjähriger Krieg. - Schnupftabakdose. Messing mit Emailbezug, mit farb. Bemalungen auf der Innen- und Außenseite des Deckels sowie den Außenseiten (inkl. Boden) der Dose. Sachsen 1763. Ca. 9 : 4 : 4,5 cm.

Hübsch gestaltete Schnupftabakdose, angefertigt anläßlich des Friedens von Hubertusburg, der den Siebenjährigen Krieg 1756-63 zwischen Preußen, Österreich und Sachsen beendete: der Deckel zeigt auf der Außenseite eine Ansicht des Schlosses, mit der Inschrift "Hubertsburg [sic] d. 15. Febr: MDCCLXIII" (d. i. der Tag der Unterzeichnung des Friedensvertrages), über dem Schloß schwebt ein geflügelter Friedensbote mit Posaune und Inschrift "Nuncia Pacis". Die Innenseite des Deckels zeigt die Figur der Germania in einer idyllischen Landschaft mit pflügendem Bauer; in den Händen hält sie ein Zepter und einen Kornhalm, über ihrem Kopf befindet sich die Inschrift "Iam redire audit" (nun wagt sie, zurückzukehren), zu ihren Füßen "Germania pacata" (friedreiches Deutschland). Die Außenseiten der Dose zeigen kleine Szenen mit Putti, der Boden eine kleine Landkarte der Umgebung von Hubertusburg in Sachsen. Insgesamt ein dekorativ gestaltetes Erinnerungsstück an das historische Datum. - Dieser so wichtige Friedensschluß, der Preußens Stellung als europäische Großmacht festigen sollte, war seinerzeit Motiv für zahlr. "Souvenirs", so findet man auch Münzen mit ähnlichen Motiven und Guckkastenblätter mit Ansichten von Schloß Hubertusburg. - Zustand: Außenseite von Deckel u. Boden stellenw. beschabt (Ansicht d. Schlosses leicht betroffen), Emaillebezug im Innern des Deckels und der Dose gesprungen, an der Innenkante vereinz. mit kl. Absplitterungen, Messing stellenw. oxidiert. Insgesamt sehr gut erhalten.

Brass snuff-box with enamel coating. Saxony 1763. Painted in color with a view of Schloß Hubertusburg, the castle, where the peace treaty of the Seven Years War between Prussia, Austria and Saxony was signed on February 15th, 1763; an allegorical figure of Germany, putti in idyllic landscapes and a small map of the area of Hubertusburg. Typical souvenir of this memorable date. - Lid and side of box slightly scraped (view of Hubertusburg partly affected), enamel coating cracked, insides of brim with few small missing chips, brass oxidized in places. Overall well preserved, decorative souvenir.


85
Schnupf-Tabak Dose. Preußen, 1763
Sold:

€ 636 / $ 744
(incl. 20% surcharge)
More Images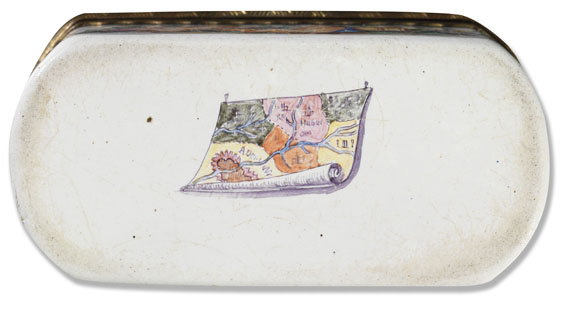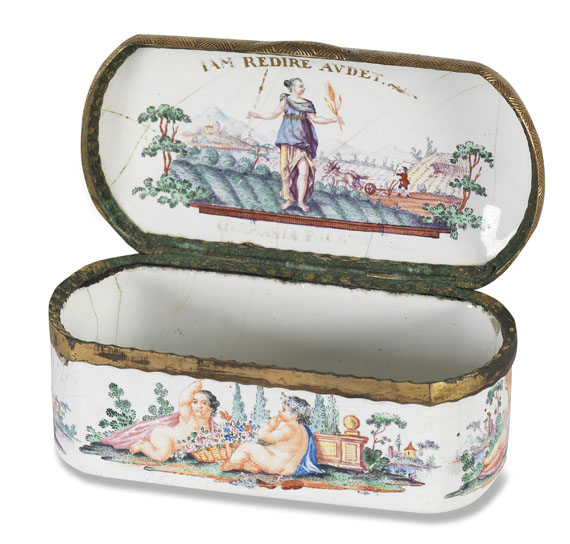 You might also be interested in