Sale: 421 / Rare Books, May 18./19. 2015 in Hamburg

Lot 563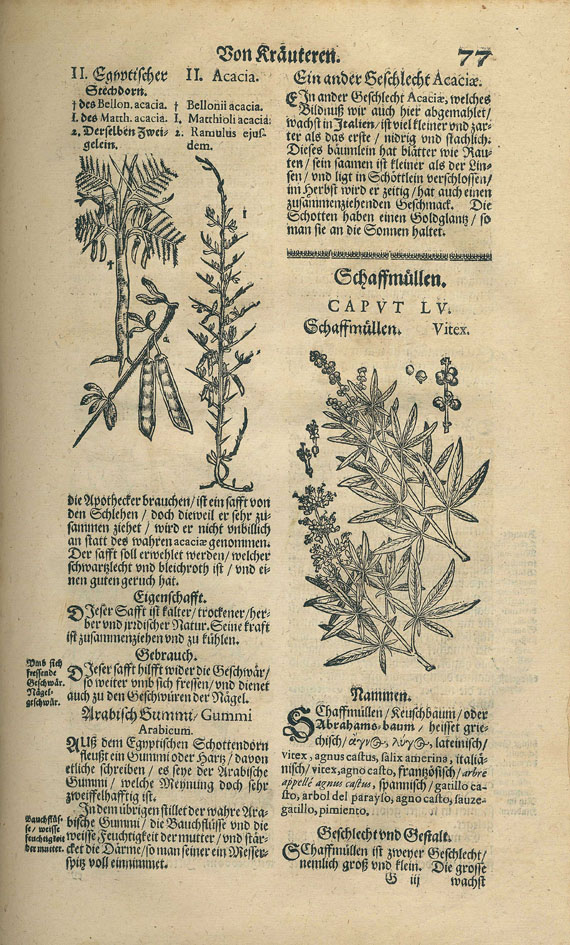 563
Neu vollkommenes Kräuter-Buch. 1678
Sold:

€ 960 / $ 1.084
(incl. 20% surcharge)
Mattioli, Pietro Andrea, Neu vollkommenes Kräuter-Buch von allerhand Gewächsen der Bäumen, Stauden und Kräutern, die in Teutschland, Italien, Franckreich und in andern Orten der Welt herfür kommen .. Zum Vierten mal außgerfertiget durch Joachim Camerarius. Jetzund aber als ein neues Werck verbessert und vermehret von Bernhard Verzascha. Mit gest. Frontispiz, gest. Porträt und über 1000 Pflanzenholzschnitten . Basel, J. Decker 1678. Etw. spät. HLdr. Folio. 4 Bll., 792 S., 36 Bll.

Erste Ausgabe in der Bearbeitung des Basler Stadtarztes Verzascha. - "Wie schon oben angedeutet, gelangten die Holzstöcke des Becher'schen Kräuterbuches nach Basel und von ihnen stammen die Abbildungen in dem Neu Vollkommen Kräuterbuch von Bernhard Verzascha .. Auf dem Titelblatt kommen die Namen Matthiolus und Camerarius noch vor; der Text ist zur Hauptsache noch derjenige der Mattioli-Übersetzung von Camerarius; stellweise sind einige Zusätze medizinischer Natur und einige wenige neue Abbildungen hinzugefügt" (Schmid, Über alte Kräuterbücher S. 124). - Verzaschas Ausgabe bildet die Grundlage für das Kräuterbuch von Zwinger. - Etw. gebräunt, stellenweise fleckig, Titel und Frontisp. mit hinterlegt. Randläsuren, Frontisp. an einigen Stellen mit laienhaftem Kolorit, Porträt oben etw. eng beschnitten u. mit restaur. Eckabriss, Gelenke verstärkt. Berieben, teils mit Kratzspuren u. stellenweise beschabt (tlw. ausgebess.), Kanten bestoßen.

Nissen, Bot. 1311. - Wellcome IV, 81. - Heilmann S. 262. - Krivatsy 7577 (etw. abweichende Kollation).

First edition in the revision of the Basel appointed physician Verzascha, whose edition laid the basis for Zwinger's herbal. With engr. frontispiece, engr. portrait and more than 1000 plant woodcuts. Somewhat later half calf. Folio. 4 ll., 792 pp., 35 ll. (of 36). - Lacking last blank l. - Somewhat browned, stained in places, title and frontispiece with rebacked marginal blemishes, frontispiece amateurishly colored in places, portrait somewhat cropped close at top and with mended defective corner. Rubbed, partly scratched and scraped (partly mended), edgeworn.


563
Neu vollkommenes Kräuter-Buch. 1678
Sold:

€ 960 / $ 1.084
(incl. 20% surcharge)
Pietro Andreas Matthioli - lots sold by Ketterer Kunst