Emil Nolde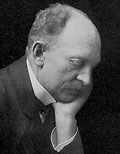 1867 Nolde/Nordschleswig
1956 Seebüll/Schleswig-Holstein


The German painter and graphic artist Emil Nolde was born in the town of Nolde on August 7, 1867. His original name was Emil Hansen, but as of 1901 he calls himself after his place of birth. The young country boy's artistic talent shows from an early point on. He does an apprenticeship with a Flensburg furniture maker in 1884, later he attends the Sauermannsche Schnitzschule (Carving School) until 1888. In 1889/90 Emil Nolde studies at the Karlsruhe School of Applied Arts. He makes designs for furniture producers in Munich and Karlsruhe.
In 1890/91 he is in Berlin. In 1892 he finds employment as an art teacher at the school of the Museum of Industry and Commerce in St. Gallen. This is where he makes caricatures of the Swiss mountains in form of giants and natural beings, he successfully publishes the drawings as motifs for postcards, so that Nolde suddenly finds unexpected financial security for years.
In 1898 he begins to study painting at the Munich painting school of Friedrich Fehr, a year later he attends the Hölzel school in Dachau. However, Nolde is still far from the desired aim of being a great painter, he has to work hard and is often in doubt about his talent as an artist, but in the long run he continues his quest.
He is in Paris in 1899/1900, where he attends the Académie Julian. As of 1901 he has got his own studio in Berlin. He falls ill with tuberculosis, and spends the summer months up until 1913 at his parent's farm in Northern Schleswig, in Jutland, on the island Alsen. He travels to Italy in 1904/05.
Emil Nolde joins the "Berlin Secession" in 1906. The same year he shows works at the gallery Arnold in Dresden, calling the attention of the "Brücke" (Bridge) artists, who then seek to get in touch with him. Nolde joins the "Brücke", but remains a loner, so that he leaves the group again in 1907.
In 1911 Nolde becomes member of the "New Berlin Secession". In 1913/14 he and his wife Ada go on a journey through the Souh Sea, capturing their impressions in sketches and watercolors throughout their entire journey.
The artist moves to Utenwarf in 1916. In 1926 he and his wife settle in Seebüll, where he also builds his studio. Nolde does not stay untroubled by the drastic changes in cultural politics and is stigmatized as degenerate in 1933. He is dismissed from the Prussian Academy of Art of which he had been a member since 1930. Some 1052 of his works are removed from German museums, as of 1941 an occupational ban is imposed on him.
During the following years up until his death he mostly makes watercolors in small formats that he calls the "Ungemalten Bilder" (Undrawn Pictures). More than 1.300 sheets are made, landscapes, figures, flower still lifes in intensive and bright colors. Nolde is a master of coloring.
Emil Nolde dies in seebüll on April 13, 1956. The studio and house are turned into a museum called "Foundation Ada and Emil Nolde" in 1956.
Sale 418 - Nov. 17/18., 14
Lot 411301822 - in 116 days
1911
12,000 EUR / 16,200 $ Place Bids
Details in German
Sale 415 - June 06, 14
Lot 325
Woodcut 1917
11,000 EUR / 14,850 $ Place Bids
Details
Related artists
Putz, Leo
Sale 415 - June 06, 14
Lot 12
Oil on canvas Um 1930
14,400 EUR / 19,440 $ Place Bids
Details
Barlach, Ernst
Sale 419 - Dec. 05, 14
Lot 113004606 - in 134 days
Bronze 1921
13,000 EUR / 17,550 $ Place Bids
Details in German
1 more offer
Rohlfs, C.
Sale 415 - June 06, 14
Lot 81
Watercolor 1920
12,000 EUR / 16,200 $ Place Bids
Details
1 more offer
Kirchner
Sale 415 - June 06, 14
Lot 313
Woodcut in colors 1907
80,000 EUR / 108,000 $ Place Bids
Details
3 more offers
Grosz, George
Sale 415 - June 06, 14
Lot 354
Pen and India ink drawing Um 1920/21
9,000 EUR / 12,150 $ Place Bids
Details
Macke, August

Sale 419 - Dec. 05, 14
Lot 114001720 - in 134 days
Watercolor 1907/08
6,000 EUR / 8,100 $ Place Bids
Details in German
Kandinsky, W.
Sale 415 - June 06, 14
Lot 47
Woodcut 1907- 1912
4,000 EUR / 5,400 $ Place Bids
Details
Ziegler, R.
Sale 415 - June 06, 14
Lot 111
Oil on canvas Wohl 1950
4,000 EUR / 5,400 $ Place Bids
Details
Pechstein

Sale 419 - Dec. 05, 14
Lot 114002497 - in 134 days
Lithograph 1923
4,000 EUR / 5,400 $ Place Bids
Details in German
Feininger, L.
Internet Auction
ends in 10 day(s)
Woodcut 1918
Starting bid: 3,930 EUR Place Bids
Details
1 more offer
Schmidt-
Rottluff
Sale 415 - June 06, 14
Lot 320
Woodcut 1911
10,000 EUR / 13,500 $ Place Bids
Details
6 more offers
Heckel, Erich
Sale 415 - June 06, 14
Lot 335
Woodcut in colors 1919
35,000 EUR / 47,250 $ Place Bids
Details
3 more offers
Mataré, Ewald
Sale 415 - June 06, 14
Lot 122
Woodcut in colors 1963/64
2,200 EUR / 2,970 $ Place Bids
Details
Jawlensky
Sale 419 - Dec. 05, 14
Lot 114001170 - in 134 days
Watercolor 1930
10,000 EUR / 13,500 $ Place Bids
Details in German
5 more offers
Mueller, Otto
Internet Auction
ends in 3 day(s)
Woodcut 1912
Starting bid: 1,130 EUR Place Bids
Details
More Current Offers: 14