Jorge Castillo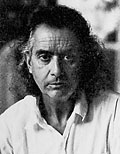 1933 Pontevedra/Spanien



The Spanish painter, graphic artist and sculptor Jorge Castillo was born in Pontevedra in the province of Galicia in 1933. At the age of one his family emigrated for political reasons to Argentina, where Castillo spent his childhood and youth in Buenos Aires. Already in his youth first autodidactic artistic works came into existence. In 1941 he won a competition and got admitted at the École des Beaux Arts in Buenos Aires. Disappointed by the way the school works he left it again after a short period of time. In 1948 he began an apprenticeship as a tracer and further educated himself. An intense co-operation developed from the acquaintance with the Argentinean woman artist Raquel Forner. In 1955 Castillo returned to Spain and lived at first in Madrid creating surrealistic ink paintings and gouaches which he presented at his first exhibition at the Galería Altamira in Madrid in 1959. At the beginning of the 1060s Castillo moved to Barcelona, followed by a two-year stay in Paris. By relocating his life to Geneva in 1966, which was interrupted by long summer stays in Boissano at the Ligurean coast, he got the possibility to work with printed graphics. The following years his most important series of etchings came into existence et al. 'Die Welt des García Lorca' (1972) and 'Grands amants' (1973). When he was prompted by the events in Palomares - American aeroplanes dropped atomic bombs on the village - to execute a monumental triptych composition, he gained international approval and one year later he was invited to the documenta in Kassel with this work. In 1969 Castillo received a scholarship from the DAAD and went to Berlin, where he broadened his painting œuvre. He did not return to Barcelona until 1975. Since the beginning of the 1980s Castillo lived in New York and accepted orders for public sculptures in La Coruña, Messina and Barcelona. Jorge Castillo is counted among the most important Spanish artists of Surrealism and Informel and has gained recognition in Europe, South America and the USA. Since 1959 he received several exhibitions and took part in the Biennales in Sao Paulo and Venice. His work was honoured et al. by the 'I. Internationale der Zeichnung' in 1964 and received the Darmstädter Preis für Malerei in 1975.
Sale 420 - Dec. 06, 14
Lot 411401360 - in 36 days
Etching in colors 1973
2,500 EUR / 3,125 $ Place Bids
Details in German
Related artists
Kippenberger
Sale 420 - Dec. 06, 14
Lot 114002989 - in 36 days
Oil 1982
140,000 EUR / 175,000 $ Place Bids
Details
Helnwein, G.
Sale 420 - Dec. 06, 14
Lot 114003653 - in 36 days
Acrylic 1997
50,000 EUR / 62,500 $ Place Bids
Details
Cragg, Tony
Sale 420 - Dec. 06, 14
Lot 114004268 - in 36 days
Bronze 1997
40,000 EUR / 50,000 $ Place Bids
Details
Condo, George
Sale 420 - Dec. 06, 14
Lot 114003374 - in 36 days
Oil on canvas 2007
40,000 EUR / 50,000 $ Place Bids
Details
Saint-
Phalle
Sale 420 - Dec. 06, 14
Lot 114002997 - in 36 days
Multiple 1993
40,000 EUR / 50,000 $ Place Bids
Details
Weischer, M.
Sale 420 - Dec. 06, 14
Lot 114002957 - in 36 days
Oil on canvas 2009
35,000 EUR / 43,750 $ Place Bids
Details
Behn, Fritz

Sale 419 - Dec. 05, 14
Lot 114003712 - in 35 days
Bronze Wohl um 1935
30,000 EUR / 37,500 $ Place Bids
Details
Longo, Robert
Sale 420 - Dec. 06, 14
Lot 114004312 - in 36 days
Chalks 2008
25,000 EUR / 31,250 $ Place Bids
Details
4 more offers
Miró, Joan
Sale 419 - Dec. 05, 14
Lot 114003392 - in 35 days
Colored chalk drawing 1971
25,000 EUR / 31,250 $ Place Bids
Details
Fetting, Rainer
Sale 420 - Dec. 06, 14
Lot 114004314 - in 36 days
Acrylic 1980
25,000 EUR / 31,250 $ Place Bids
Details
4 more offers
Hausner, Xenia
Sale 420 - Dec. 06, 14
Lot 114004204 - in 36 days
Acrylic on paper 2000
20,000 EUR / 25,000 $ Place Bids
Details
Schmidt-
Rottluff
Sale 419 - Dec. 05, 14
Lot 114002653 - in 35 days
Brush and India ink 1968
18,000 EUR / 22,500 $ Place Bids
Details
Kürten, Stefan
Sale 420 - Dec. 06, 14
Lot 114004258 - in 36 days
Oil on canvas 2004
16,000 EUR / 20,000 $ Place Bids
Details
1 more offer
Christo und Jeanne-
Claude
Sale 420 - Dec. 06, 14
Lot 114004368 - in 36 days
Photography 1982
15,000 EUR / 18,750 $ Place Bids
Details
Penck (d.i. Ralf Winkler)
Sale 420 - Dec. 06, 14
Lot 114003545 - in 36 days
Oil crayon 1979
15,000 EUR / 18,750 $ Place Bids
Details
More Current Offers: 147