Werner Gilles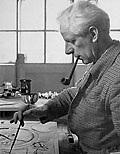 1894 Rheydt/Rheinland
1961 Essen


After World War I Gilles studied under of Walther Klemm at the academy of Weimar, but still in 1919 he changed to the class of Lyonel Feininger at the newly found Bauhaus and stayed at this school for art and design until 1923. During this time Gilles was friends with Gerhard Marcks and Oskar Schlemmer. He decided on a stay in Italy in 1921/22. After his studies, Gilles' life is characterised by frequent travelling: After one more trip to Italy he stayed in Düsseldorf, Paris and Berlin from 1925 to 1930. In 1932, during his first visit to the Italian island of Ischia, the artist discovered the things that stimulated his imagination for painting: the combination of antique heathen elements and components of the western Christianity, of the past and the present. Gilles found the main subject of his pictures in this southern landscape: He described the serene as well as the threatening side of this primeval landscape in his oil and watercolour paintings; he captured its essence in ever-changing variations, which he creates in the open countryside. Gilles' favourite theme came to fruition in two Orpheus-cycles (1947, 1949) and in the watercolour paintings for the Tibetan book of the dead, which were created in the fifties and combine the images of the Orpheus-cycles with elements of Christianity and Buddhism. His late work incorporated various stylistic impulses. Instead of the early southern landscapes of the twenties, using mainly bright, pastose local colours contrasted with black, oriented around the Murnau school and the Blauer Reiter, the end of the thirties is characterised by a classical use of forms in his drawings and paintings. During and after the war his works are determined by a simplifying stylisation of things and figures and his compositions became more two-dimensional. Gilles spent the winter in Munich and the summer on the island of Ischia from 1951 on. Werner Gilles died in Essen on 23 June 1961.
Related artists
Jawlensky

Sale 419 - Dec. 05, 14
Lot 114003285 - in 36 days
Oil 1917
120,000 EUR / 157,200 $ Place Bids
Details
Arp

Sale 419 - Dec. 05, 14
Lot 114003291 - in 36 days
Bronze 1938
10,000 EUR / 13,100 $ Place Bids
Details
Miró, Joan
Sale 419 - Dec. 05, 14
Lot 111004133 - in 36 days
Lithograph in colors 1971
4,000 EUR / 5,240 $ Place Bids
Details
Ring, Thomas
Sale 419 - Dec. 05, 14
Lot 114003130 - in 36 days
Oil crayon 1927
4,000 EUR / 5,240 $ Place Bids
Details
2 more offers
Morgner, W.
Sale 419 - Dec. 05, 14
Lot 111004113 - in 36 days
Charcoal drawing 1913
2,500 EUR / 3,275 $ Place Bids
Details
Zügel, Oskar
Sale 419 - Dec. 05, 14
Lot 114003618 - in 36 days
Oil on canvas Wohl um 1960
2,000 EUR / 2,620 $ Place Bids
Details
Schumacher, E.
Gallery Sale
Lot 830
Etching and aquatint 1967
360 EUR / 472 $
Details in German