Sale: 300 / XXth Century Classics, June 02. 2006

Lot 5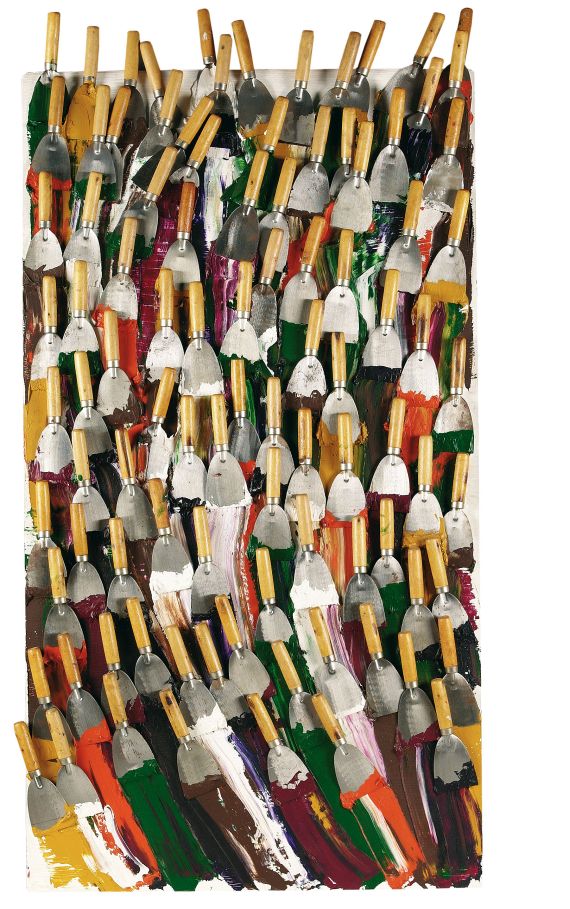 5
And metal, 1987.
Acrylic
Estimate:
€ 25,000 / $ 26,500
Sold:

€ 33,320 / $ 35,319
(incl. 19% surcharge)
And metal. 1987.
Acryl und Spachtel auf Sperrholz.
Unten mittig auf einem Spachtel mit gravierter Signatur (kopfstehend). 154 x 80 cm ( 60,6 x 31,4 in).
Das Werk ist im Archives Denyse Durand-Ruel, Rueil-Malmaison, unter No. 4329 verzeichnet
PROVENIENZ: Marisa del Re Gallery, New York.
Ausstellung: Arman. Paintings, Marisa del Re Gallery, New York, 10.3.-9.4.1988 (mit Abb.).
Einer der bedeutendsten internationalen Objektkünstler ist der 1928 geborene Franzose Armand Pierre Fernandez. Aus der Bekanntschaft mit Yves Klein entwickelt sich die Idee zu gemeinsamen Happenings und Aktionen, die die beiden Künstler 1953 durchführen. Beeinflusst durch Arbeiten von Kurt Schwitters entstehen 1955 die neodadaistischen "Cachets" (Stempelabdrücke), gefolgt von den "Allures" (Abdrücke von in Farbe getauchten Gegenständen) und später den "Coupés" (zerschnittene Gegenstände) und "Colères" (zertrümmerte und dann aufgeklebte Gegenstände). 1958 findet in der Galerie Iris Clert in Paris eine Ausstellung statt, die den Künstler aufgrund eines Druckfehlers auf dem Katalogeinband dazu bewegt, seinen Namen in Arman zu ändern. Anfang der 1960er Jahre entwickelt er die berühmten "Poubelles" (Objekte in Form von Plexiglaskästen mit eingegossenem Hausmüll), aus denen die sog. "Accumulations" (Ansammlungen gleicher Gegenstände in Schaukästen) hervorgehen.
Unsere Materialassemblage "And metal" gehört zu der Werkgruppe der "Accumulations". Sie führt die in den sechziger Jahren entstandenen Arbeiten, in denen Arman das Material der Malerei thematisiert, mit neuer Akzentsetzung fort. Bei der Serie der Farbtuben von 1966-68 hat er die Farbe aus den Tuben gedrückt und in Streifen angeordnet. In "And metal" entfalten die installierten Spachtel durch ihre neuartige Komposition einen Rhythmus, der ihre eigentliche Formeigenschaft und Bedeutung überraschend verändert und erweitert. Arman verdeutlicht in dieser für ihn charakteristischen Arbeit, dass Gegenstände mit gleicher Funktion vom Äußeren her keineswegs identisch sind, sondern individuelle Eigenschaften besitzen, die erst in einer Anhäufung sichtbar werden. Zudem wird bei all diesen selbstreflexiven Malereien die Farbe zum Objekt und die Darstellung des Verbrauchs zum dekorativen Schaustück.
Armans Werke werden seit den 1950er Jahren auf internationalen Ausstellungen gezeigt, zudem ist der Künstler auf der documenta 3 und 6 in Kassel vertreten. Er stirbt am 22. Oktober 2005 in New York. [LB]
5
And metal, 1987.
Acrylic
Estimate:
€ 25,000 / $ 26,500
Sold:

€ 33,320 / $ 35,319
(incl. 19% surcharge)
You might also be interested in
Arman Fernandez - lots sold by Ketterer Kunst