Sale: 315 / Modern Art, June 12. 2007 in Munich

Lot 138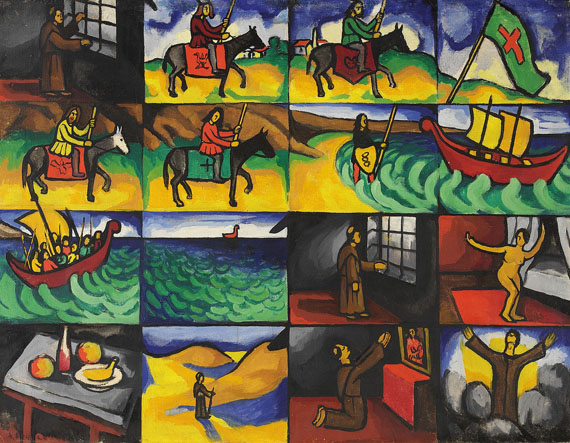 138
Der Mönch, 1918.
Oil on canvas
Estimate:
€ 30,000 / $ 36,000
Sold:

€ 30,000 / $ 36.000
(incl. 20% surcharge)
Lot description
Der Mönch. 1918.
Öl auf Leinwand.
Links unten signiert. 69 x 89 cm ( 27,1 x 35 in).
PROVENIENZ: Aus dem Nachlass des Künstlers.
Galerie Kunzen, Berlin.
Ausstellung: Die Carl-Laszlo-Sammlung. Teil einer Kunstsammlung aus Basel, Kunsthalle - Hauptstädtische Gemäldegalerie des Historischen Museums Budapest, 1996, Kat.Nr. 546, S. 169 (mit Abb. S. 104).
Die Geschichte eines Mönchs hält Segal 1918 während seines mehrjährigen Aufenthaltes in Ascona fest. Das Gemälde ist Teil der sog. Gleichgewichtsphase ("period of equi-balance"). Seine Motivation zu diesen Werken erläutert Segal 1927/28 in der Rückschau auf sein Werk: "Ich erkannte, dass der Kunst der Wunsch nach Harmonie und Gleichgewicht anhaftet. Ich fragte mich, weshalb eine gute Komposition einen dominierenden Teil haben muss. Es gibt keine dominierenden Elemente in der Natur [...]. So entstanden diese Bilder, die in Quadrate geteilt sind und deren Rahmen auch bemalt sind. Jeder Teil hatte dieselbe Bedeutung. [...] Auch diejenigen meiner Bilder gehören zu der "Gleichgewichts-Phase", die "narrativen" Charakters sind. Sie versuchen zu einer literarischen Ausdrucksform zu finden. Sie sind ein Protest gegen die herrschende Meinung, der zufolge das erzählende literarische Element in der Malerei nicht erlaubt sei. Für mich hingegen ist nichts unmöglich. Die Bildebene spaltet sich in gleiche Teile, wovon jeder eine Episode der Erzählung aufnimmt. Verbunden durch graphische Schöpfung, wird die Erzählung zum malerischen Ganzen. Jene Phase des optischen Gleichgewichts war die erste Etappe meines eigenen Weges von 1916 an" (zit. aus: Arthur Segal, About myself (1927/28), in: Memorial exhibition of oil paintings, woodcuts, sculpture (1894-1944) by Arthur Segal, Ausst.Kat. The Royal Society of British Artists Galleries, London 18.09.-1.10.1945, S. 6f.). [MD]
Zustand: Guter Gesamteindruck. Ränder und Ecken partiell minimal berieben. Vereinzelte winzige Farbabreibungen. Wenige winzige oberflächliche Kratzer. Im Bereich des knieenden Mönches (2. Feld von rechts in der unteren Reihe) schwache Druckspur. Feld in linker oberer Ecke partiell mit gelockerter Farbschicht.
138
Der Mönch, 1918.
Oil on canvas
Estimate:
€ 30,000 / $ 36,000
Sold:

€ 30,000 / $ 36.000
(incl. 20% surcharge)
You might also be interested in
Arthur Segal - lots sold by Ketterer Kunst