Sale: 330 / Modern Art / Post-War, Dec. 05. 2007 in Munich

Lot 453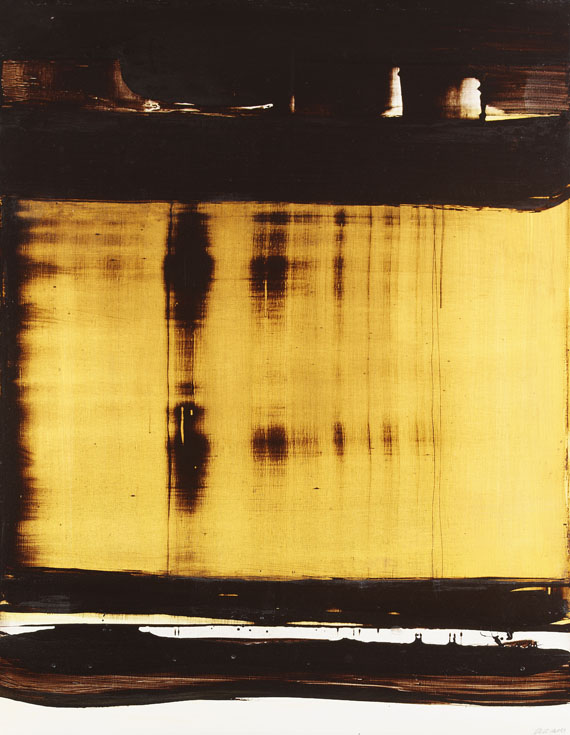 453
Peinture 127 cm x 99 cm, 23 septembre 1977, 1977.
Oil on canvas
Estimate:
€ 120,000 / $ 127,200
Sold:

€ 180,000 / $ 190,800
(incl. 20% surcharge)
Peinture 127 cm x 99 cm, 23 septembre 1977. 1977.
Öl auf Leinwand.
Encrevé 761. Rechts unten signiert. Verso signiert und betitelt. Auf der umgeschlagenen Leinwand mit den Maßangaben. 127 x 99 cm ( 50 x 38,9 in).
PROVENIENZ: Galerie Birch, Kopenhagen 1984.
Privatsammlung Dänemark.
Ausstellung: Soulages, The Seibu Museum of Art, Tokio 1984 (auf dem Keilrahmen mit dem Etikett).
1941 beginnt Soulages seine künstlerische Ausbildung an der École des Beaux-Arts in Montpellier. Ab 1946 unterhält er ein Atelier in Courbevoie bei Paris und knüpft Kontakte zu Künstlern wie Domela, Picabia, Hartung und Léger. Zwischen 1949 und 1952, bereits nach Paris übergesiedelt, entwirft Soulages auch Bühnenbilder für das Theater. Neben Reisen nach Mexiko und in die USA kommt seinem Besuch in Japan 1958 wohl besondere Bedeutung zu: Frühe Eindrücke der strengen romanischen Architektur und der keltischen Monumente seiner Heimat vermischen sich mit ostasiatischer Kalligrafie, deren Einfluss in seinen Bildern deutlich spürbar ist. Seine gestischen, doch kompositionell ausgewogenen Bilder bestechen mit der schlichten Eleganz ihrer schwarzen oder braunen Balkenschrift auf hellen Farbgründen. In seinen späteren Werken benutzt der Künstler breite Gummispachtel oder Roll- und Walzenbürsten als Malwerkzeuge, die die ästhetische Wirkung seiner wuchtigen Schraffuren beeinflussen. Als bedeutender Vertreter der École de Paris und der informellen Kunst ist er in den 1950er und 1960er Jahren wiederholt auf der documenta vertreten, schon 1960/61 findet in Hannover, Essen und Den Haag seine erste große Retrospektive statt. In der Folgezeit erhält er zahlreiche internationale Kunstpreise.
Seit Beginn der 1960er Jahre findet nicht nur die Farbe Eingang in die Arbeiten Pierre Soulages', sondern auch ein Spiel mit Leerstellen, welche die Zweidimensionalität der Bilder in Frage zu stellen vermögen. Diese Werke bilden eine folgerichtige Phase zwischen den großangelegten schwarzen Zeichen auf hellem Grund, die den Beginn seines Schaffens dominieren, und den späten Arbeiten, in denen die Farbe die Fläche vollständig bedeckt. Die Perforationen, die auch die vorliegende Arbeit mitbestimmen, sind nicht aufgemalt, sondern im Malprozess ausgespart und bilden so Durchblicke zu einer "hinter der Fläche übriggebliebene[n] Dimension" (Hans Platschek, Das Licht ist schwarz, in: Künstler. Kritisches Lexikon der Gegenwartskunst, München 1998, S. 10). Das schwer lastende Schwarzbraun, das die Fläche dominiert und den flirrenden, warmen Goldton in einen ordnenden Rahmen fasst, wird durch diese Durchbrüche verletzlich, der dahinter liegende helle Grund scheint die Arbeit von rückwärts zu beleuchten und verleiht ihr eine faszinierende Leichtigkeit und Transparenz.
1994 wird der Künstler in Japan durch den "Praemium Imperiale" für Malerei geehrt. Pierre Soulages lebt und arbeitet in Sète und Paris. [NB]
Zustand: Von guter Erhaltung. Vereinzeltes kaum merkliches Craquelé an der linken Kante oben und der rechten Kante unten. Rechte obere Ecke mit minimaler Bereibungsspur.
453
Peinture 127 cm x 99 cm, 23 septembre 1977, 1977.
Oil on canvas
Estimate:
€ 120,000 / $ 127,200
Sold:

€ 180,000 / $ 190,800
(incl. 20% surcharge)
You might also be interested in
Pierre Soulages - lots sold by Ketterer Kunst