Sale: 330 / Modern Art / Post-War, Dec. 05. 2007 in Munich

Lot 206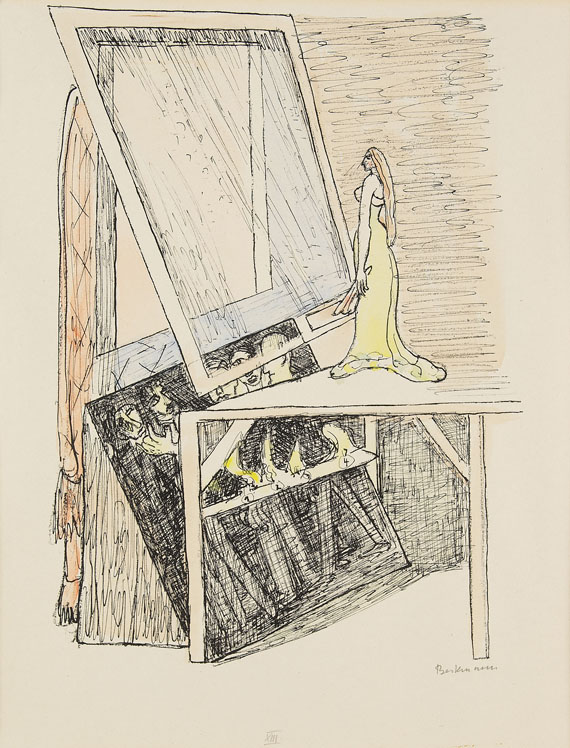 206
Zauberspiegel (Magic Mirror), 1946.
Lithograph
Estimate:
€ 40,000 / $ 46,400
Sold:

€ 27,600 / $ 32.015
(incl. 20% surcharge)
Zauberspiegel (Magic Mirror). 1946.
Lithografie, aquarelliert.
Hofmaier 369 B b (von B b). Signiert, nummeriert und bezeichnet mit der Blattnummer "XIII". Exemplar 18/90. Auf festem, einseitig glattem Velin 30,5 x 21,7 cm ( 12 x 8,5 in). Papier: 40 x 30 cm (15,8 x 11,8 in).
Eines von insgesamt 5 aquarellierten Exemplaren.
Bl. 13 der Mappe "Tag und Traum" ("Day and Dream"), hrsg. von Curt Valentin, New York 1946.
PROVENIENZ: Privatsammlung Süddeutschland.
Seine künstlerische Ausbildung erhält Max Beckmann von 1900 bis 1903 an der Großherzoglichen Kunstschule in Weimar, hauptsächlich bei dem norwegischen Landschaftsmaler Carl Frithjof Smith. Nach dem Studienabschluss und einigen Aufenthalten in Paris, Genf und Florenz lässt sich Beckmann 1907 in Berlin nieder und wird Mitglied der dortigen Sezession. Bei Kriegsausbruch meldet er sich freiwillig als Berufssoldat und wird daraufhin nach Ostpreußen und Flandern geschickt. Als Beckmann 1915 vom Militär entlassen wird, zieht er nach Frankfurt am Main, wo er bis 1933 an der Städel-Kunstschule unterrichtet. Der Frühstil Beckmanns steht unter dem Einfluss des deutschen Impressionismus, hierbei v.a. Lovis Corinths, bis ihn die Kriegserlebnisse schließlich zu einem expressionistischen, der Neuen Sachlichkeit verwandten Ausdruck führen. Der Individualismus seines Stils äußert sich seit den 1920er Jahren in einer intensiven Auseinandersetzung mit der Dingwirklichkeit, welche sich formal in einem expressiven, die Form umreißenden grafischen Gerüst niederschlägt. Hauptthema ist der einsame bedrohte Mensch in einer apokalyptischen Welt. Mit zunehmender Macht der Nationalsozialisten erfährt Beckmann eine immer stärkere Diffamierung, die schließlich neben der Entlassung aus dem Lehramt zur Entfernung seiner Werke aus den öffentlichen Sammlungen in Deutschland führt.
Die Mappe "Tag und Traum" ("Day and Dream"), aus der unser Blatt stammt, gehört zu den letzten grafischen Arbeiten Beckmanns. Seit 1937 im holländischen Exil lebend, bekommt er von dem in New York ansässigen Verleger und Kunsthändler Curt Valentin, den er schon aus Berliner Tagen kennt, das Angebot, eine Grafikmappe zu schaffen. Beckmann hat freie Hand bei der Gestaltung und komponiert noch einmal eine Folge seiner wichtigsten Themen. Ein Selbstporträt, Alltagsszenen, Religiöses, Mythologisches und allgemeine Reflexionen über das menschliche Dasein scheinen sich aus heutiger Sicht zu einer letzten großen Rückschau auf sein Werk zu vereinen. Bei der Aquarellierung der insgesamt fünf Folgen wählt Beckmann ganz unterschiedliche Farbgebungen. Durch seine zurückhaltende Farbigkeit behält unser Blatt weitgehend den Charakter einer grafischen Arbeit, bei der die Farben einen subtilen psychologischen Effekt erzielen.
1947 nimmt Beckmann das Angebot einer Gastprofessur an der Washington University Art School in St. Louis an und siedelt in die USA über. Es folgen kürzere Lehraufträge an der Universität von Colorado in Boulder, an der Brooklyn Museum Art School in New York und im Sommer 1950 am Mills College in Oakland, Kalifornien. Am 27. Dezember desselben Jahres stirbt Max Beckmann in New York. [KR]
Zustand: Guter Gesamteindruck.
206
Zauberspiegel (Magic Mirror), 1946.
Lithograph
Estimate:
€ 40,000 / $ 46,400
Sold:

€ 27,600 / $ 32.015
(incl. 20% surcharge)
More offers for Max Beckmann
You might also be interested in
Max Beckmann - lots sold by Ketterer Kunst