Sale: 345 / Modern Art / Post War, June 04./05. 2008

Lot 366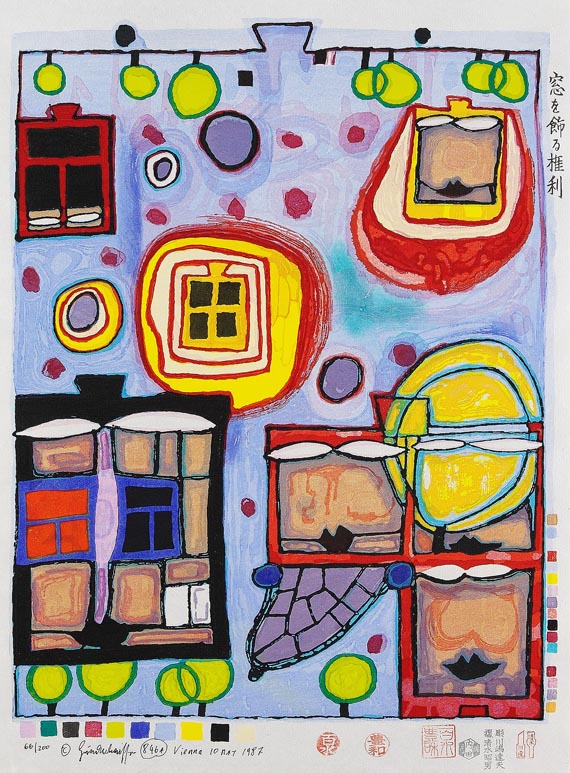 366
Friedensreich Hundertwasser
Joy of Man, 1986.
Woodcut in colours
Estimate:
€ 24,000 / $ 27,840
Sold:

€ 24,240 / $ 28.118
(incl. 20% surcharge)
Joy of Man. 1986.
Kassette mit 6 japanischen Farbholzschnitten, Titel- und Textblatt, herausgegeben von Galerie de l'Etoile, S.A., 1988.
Fürst HWG 92-97. Alle signiert, datiert und nummeriert sowie mit dem Copyright-Zeichen und der Werknummer. Im Stock japanisch bezeichnet. Mit drei japanischen inkan-Stempeln, den Stempeln des Holzschneiders und des Druckers sowie einem weiteren japanischen Stempel. Im Kassetteninnendeckel nochmals nummeriert. Exemplar 66/200. Auf Japanbütten. Bis 53 x 39,5 cm (20,9 x 15,5 in). Papier: 57 x 42 cm (22,4 x 16,5 in). cm ( in)Der exzentrische Vorzeigekünstler Wiens gibt sich erst 1949 den Künstlernamen Hundertwasser. Nach der Matura verbringt der Künstler drei Monate an der Akademie der Bildenden Künste bei Prof. Robin Christian Andersen. Doch mehr als das kurze Studium prägen ihn die Werke der Künstler Egon Schiele und Walter Kampmann, deren Ausstellungen er besucht. Ausgedehnte Reisen führen ihn nach Italien, wo er René Brô kennen lernt, dem er nach Paris folgt. Hundertwasser will dort seine künstlerische Ausbildung an der Ecole des Beaux-Arts fortsetzen, verlässt diese aber bereits am ersten Tag. Richtungsweisende Eindrücke erhält er seit den 1950er Jahren auf seinen zahlreichen, zum Teil abenteuerlichen Reisen, u.a. nach Marokko, Tunesien, Tokio und Sibirien. Ausgehend vom Wiener Jugendstil, Klee und den orientalischen Miniaturen entwickelt er einen abstrakt-dekorativen, flächigen und farbenprächtigen Malstil mit den charakteristischen, ornamentalen Spiral- und Labyrinthformen, Kreisen, Mäandern und biomorphen Formen. In den 1960er Jahren kann der Künstler große Erfolge verbuchen wie 1962 mit einer Retrospektive im österreichischen Pavillon auf der Biennale in Venedig.
Fest steht: "durch keine seiner vielfältigen Arbeiten, Leistungen und öffentlichen Aktivitäten hat Hundertwasser so viel Ansehen und Bekanntheit erlangt wie durch seine Grafik. Wenn heute gesagt werden kann, 'Friedensreich Hundertwasser gehört zu den bedeutendsten Künstlern der Gegenwart', so kann der Beitrag der Grafik daran nicht hoch genug eingeschätzt werden (zit. nach: Walter Koschatzky, Friedensreich Hundertwasser, Zürich 1986, S. 10). Ein wunderbares Zeugnis dieser Kunst liefert unsere Kassette mit sechs japanischen Farbholzschnitten.
1981 erfolgt die Berufung zum Leiter der Meisterschule für Malerei an die Akademie der Bildenden Künste in Wien. Sichtbares Zeugnis seiner architektonischen Vorstellungen legt das bekannte Hundertwasserhaus in Wien ab, mit dessen Bau 1983 begonnen wird. Es folgen zahlreiche bedeutende Projekte, wie das "Thermendorf Blumau - das Hügelwaldland" (1993-1997), die "Waldspirale von Darmstadt" (1998-2000) und die "Grüne Zitadelle von Magdeburg" (1998-2005). Noch ein Jahr vor seinem Tod arbeitet Hundertwasser an seinem Catalogue Raisonné mit und präsentiert das Architekturprojekt Bahnhof Uelzen. [KR]
PROVENIENZ: Privatsammlung Süddeutschland.
Enthalten sind: Window right. Peace treaty with nature. Right to create. Homo humus humanitas. The second skin. The right to dream. Gedruckt von Akio Shimizu, Kyoto 1986. Lose Bogen in Original-Papierumschlägen, in Original-Holzkassette. Vollständig
In guter Erhaltung. Untere Ecken teils kaum merklich beschnitten. Ränder teils unbedeutend gebräunt.
366
Friedensreich Hundertwasser
Joy of Man, 1986.
Woodcut in colours
Estimate:
€ 24,000 / $ 27,840
Sold:

€ 24,240 / $ 28.118
(incl. 20% surcharge)
More offers for Friedensreich Hundertwasser
You might also be interested in
Friedensreich Hundertwasser - lots sold by Ketterer Kunst