Sale: 342 / Modern Art / Sideways, Dec. 03. 2008 in Munich

Lot 252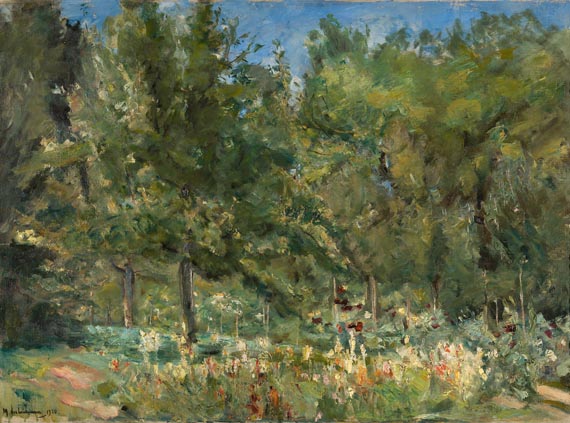 252
Der Nutzgarten in Wannsee nach Westen, 1920.
Oil on canvas
Estimate:
€ 250,000 / $ 262,500
Sold:

€ 390,400 / $ 409,920
(incl. 22% surcharge)
Der Nutzgarten in Wannsee nach Westen. 1920.
Oil on canvas.
Eberle 1920/18. Signed and dated lower left. 66 : 88 cm (25,9 : 34,6 in). Max Liebermann began capturing his immediate environment on paper at the age of nine. When the renowned Berlin painter Carl Steffeck saw drawings by the fifteen-year-old, he recommended that the boy's talent should be encouraged as much as possible - much against his parents ideas. Steffeck gave Liebermann his first drawing lessons and encouraged him to attend the Weimar Akademie. Liebermann studied in Weimar for three years until 1872. A trip to Düsseldorf in 1871 took the young artist to Mihály Munkácsy, a Hungarian painter who lived here. Liebermann was inspired by Munkácsy's Realism. Still under this impression, Liebermann painted his first large painting, 'Die Gänserupferinnen' (Girls plucking Geese). The unadulterated realism of this work, which was much rejected among the critics, was to become typical of Liebermann's art. He spent the years 1873 to 1878 in Paris and the artist colony of Barbizon. Here he studied the art of Millet, whose paintings of simple farm workers had a strong influence on him. His striving to elevate the life and work of the simple man to the realms of art in an unpretentious simplicity was not generally accepted. Liebermann continually fought for acceptance. Only after turning towards motifs and scenes of bourgeois life did he become the celebrated and sought after painter of the liberal bourgeoisie of the turn of the century. He spent the years 1878 to 1884 in Munich and then returned to his native town Berlin in 1884. Liebermann was an important personality not only as an artist but also as an art politician. At the beginning of 1892 he was a member of the 'Erste Sezession Deutschland', an organisation which he chaired in Berlin from 1898 to 1911. His home town honoured Liebermann by appointing him professor at the Königliche Akademie der Künste.
When Max Liebermann acquired a property on Wannsee in 1909 on which to build a summer villa, he probably did not suspect how important the garden would be during the lean years of the First World War and its aftermath. The kitchen and cutting garden, an integral part of the family plan for self-sustainment, did, however, have its beauties, which Liebermann was quick to discover. The charming juxtaposition of vegetables and flowers together with shrubs and trees provided Liebermann with an inexhaustible supply of motifs. Liebermann produced a considerable number of paintings on the grounds in Wannsee. There he enjoyed his freedom to the full to experiment with handling his medium and arrived at surprisingly unconventional solutions. The Wannsee pictures are what enrich the artist's œuvre in old age to such an astonishing degree. Unlike the numerous portraits Liebermann did on commission, the Wannsee pictures are notable for the spontaneity with which the motifs are captured and remarkable freshness of interpretation.
From 1920 to 1932, he was the president of the Preußische Akademie der Künste. Liebermann retreated from the political world in the last years of his life. He became severely ill in 1934 and died three months later in isolation in his Berlin apartment. [KD]
PROVENIENZ: Kurt and Herrmann Lion, Kreuzlingen (1970s).
Private ownership Switzerland.
This work's complete proceeds will be donated to the Kids Love Foundation, a charity foundation for disadvantaged children.
In very good condition, colours still fresh. With a small pastose black stain in the centre of the image. Two spots in the canvas that were padded in former times, recto not visible.
252
Der Nutzgarten in Wannsee nach Westen, 1920.
Oil on canvas
Estimate:
€ 250,000 / $ 262,500
Sold:

€ 390,400 / $ 409,920
(incl. 22% surcharge)
You might also be interested in
Max Liebermann - lots sold by Ketterer Kunst