Sale: 343 / Post War / Contemporary Art, Dec. 04. 2008 in Munich

Lot 503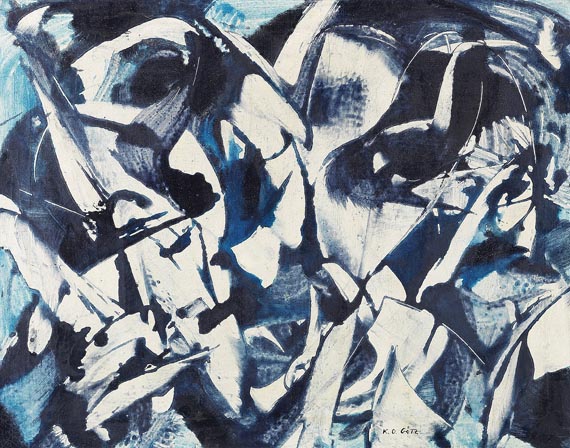 503
Bild vom 16.2.54/I, 1954.
Mixed media
Estimate:
€ 10,000 / $ 11,000
Sold:

€ 31,720 / $ 34,892
(incl. 22% surcharge)
Bild vom 16.2.54/I. 1954.
Mixed media on canvas.
Signed on the lower margin. Once more signed and dated on the reverse. 55 : 70 cm (21,6 : 27,5 in). [NB] Karl Otto Götz was born in Aachen on 22 February 1914. He started painting when he went to secondary school in 1924. In 1930 he began to create abstract paintings, shortly afterwards he had experimented with collages. Life became increasingly difficult for Karl Otto Götz due to the National Socialist's take-over. Götz got by selling landscape paintings to tourists, but was banned from painting and exhibiting due to his abstract splash paintings and surrealistic works. Götz served between 1939 and 1945, but was able to maintain his connections to art. 1939 to 1940 he stayed in Dresden, where he met the art critic Will Grohmann. 1941 to 1945 Götz was based in Norway. In 1943 he met Willi Baumeister in Stuttgart, with whom he kept in touch until Baumeister's death in 1955. Nearly all of Karl Otto Götz's early works went up in flames in Dresden in 1945.
After the war Götz settled in Königsförde near Hameln. Götz was a co-publisher of the magazine 'Meta' from 1948 to 1953. During the late 1940s abstract compositions, surealistic photo-experiments and abstract-figurative monotypes emerged. He abandoned figurative art altogether in 1949 and was the first German to join the COBRA group. In 1950 Götz moved to Frankfurt / Main and participated in the important Quadriga-exhibition. He regularly spent time in Paris, where he kept in touch with Jean Fautrier, Sam Francis, Hans Hartung, Georges Mathieu, Wols and André Breton. In 1955 Götz participated in the exhibition of the group "ZEN 49" as well as in the exhibition "Peintures et sculptures non-figuratives en Allemagne d'aujourd'hui" of the Paris Cercle Volney. In 1957 his works were shown at the exhibition "Lebendige Farbe- Couleur vivante" in Wiesbaden as well as 1957/58 at the exhibition "Eine neue Richtung der Malerei" of the Kunsthalle Mannheim. In 1959 he was one of the exhibiting artists at documenta II in Kassel.
Karl Otto Götz is one of the main representatives of German Informel of international standing. Between 1959 and 1979 he held a chair at the art academy in Düsseldorf. At that time he had a formative influence on artists as diverse as HA Schult, Sigmar Polke or Gerhard Richter. Since 1975 the artist has been living and working in Wolfenacker in the Westerwald.
EXPERTISE: We are grateful to Joachim Lissmann, K.O. Götz und Rissa-Stiftung, for his help in cataloguing this lot
AUSSTELLUNG: K.O. Götz - K.R.H. Sonderborg, Kestner-Gesellschaft Hannover, 1956, cat.no. 13 (with the label on the stretcher).
K.O. Götz - K.R.H. Sonderborg, Kölnischer Kunstverein, 1957 (with the label on the stretcher).
Stretcher softly pushing through, there partially softly rubbed. With minor craquelé and isolated tiny brown stains.
503
Bild vom 16.2.54/I, 1954.
Mixed media
Estimate:
€ 10,000 / $ 11,000
Sold:

€ 31,720 / $ 34,892
(incl. 22% surcharge)
You might also be interested in
Karl Otto Götz - lots sold by Ketterer Kunst